A while back, while perusing the good ole internet, I stumbled on a recipe for Stuffed Blueberry French Toast. Sounded good to me, so I printed it off and had it stashed in my stash of to-make recipes. That recipe finally had it's day. My sister and I were craving something naughty, and I mentioned that I had this recipe I had been wanting to try. We pulled out everything to make it and soon enough, realized that the ingredients were kinda whack. The idea sounded very similar to bread pudding, except it had a zillion eggs in it. A zillion. That would be gross, right? We thought so. So, last minute, we scrambled and decided to jazz up a recipe for bread pudding, that we already loved, with some blueberries, cream cheese, and blueberry syrup. Blueberry Bread Pudding. Good decision, I promise.
So, I apologize for not having step-by-step pictures, like I usually do. I didn't expect our made-up recipe to be as good as it was, or to be sharing it with you. Setting up all my photography crap can be a pain! But, after we ate this baby, I was like, "Hello. Stop eating. I have to snag a picture." Besides, you don't need step-by-step pictures, this Blueberry Bread Pudding is as easy as your mom. Ha, not really. I was gonna say as easy as pie, but then I remember that I stink at making pie, so that analogy doesn't really work. And, your mom probably isn't easy either. So, I don't know. Easy as eating cupcakes. Easy as getting backed up on laundry. Easy as forgetting the library books are due. Easy as staying in your jammies all day. Easy as not working out. It's pretty easy. Don't be scared.
Blueberry Bread Pudding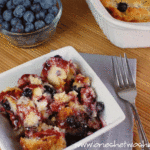 Blueberry Bread Pudding
Ingredients
1 10

oz

loaf of day-old French bread

crumbled

4

cups

milk

2

cups

sugar

8

TBS.

butter

melted

3

eggs

2

tsp.

vanilla

1

cup

or small plastic container of fresh blueberries

1

bar of cream cheese

chopped up into small chunks

Smucker's Blueberry Syrup
Instructions
Combine all ingredients in a large bowl.

Pour into buttered 9x13 dish.

Place in 350 degree oven.

Bake for 1 hour and 25 minutes or until top is golden brown.

Serve warm with blueberry syrup.
* So, you could probably find a recipe for homemade blueberry syrup. Or, you can keep it simple, and buy Smucker's Blueberry Syrup, to drizzle on top. I always find it in the cereal aisle, by the maple syrup.
* If you love bread pudding, you should also check out these recipes: New Orleans Bread Pudding (the base of this Blueberry Bread Pudding recipe), and Butterscotch Bread Pudding.
Enjoy!