Every year, I think about how I can make Christmas more meaningful for my children, bring Christ back into Christmas. I don't ever want them to be blinded by all the talk of presents and Santa, and forget what Christmas is really about… our Savior. So, this year is different, because of a book that I am SO excited about! There's this super neat lady and friend in my neighborhood that has the coolest Christmas family tradition that she does with her kids and grand-kids. I have loved hearing about it and was so excited when she (and her daughter) finally detailed it all out in a book, so other people can do it too! What she has put together is seriously so special and the most perfect way to teach the family about the Savior, His birth, and His life. I'm excited this year to have my family think about being a little kinder, a little more loving and a little more focused on giving than receiving. Just what we need!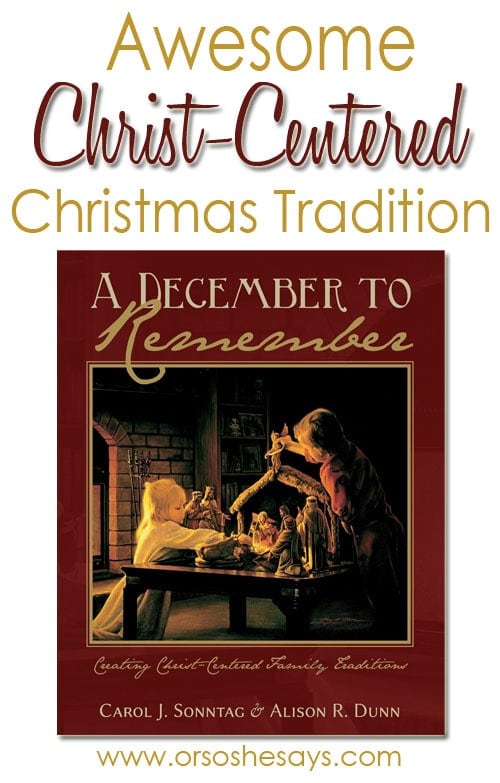 The book is called, A December to Remember… and, it's so fitting. So basically, with the guidance of the book, for 12 days in December, the family will sit down together, open a small gift, read a Christmas book, sing a song, do an activity or be given a challenge. Everything is already planned for you! All you have to do is purchase or prepare a few items (listed in the book.) Really, it is super SIMPLE and ADAPTABLE. If for some reason, you're feeling a little too busy to complete it the traditional way, there are several suggestions for ways to simplify that will still bring that special spirit into your home.
Something I love about the book is that it doesn't matter if you don't have young children at home. There are several other versions in the book for adults and teenagers. You will be amazed at how many options there are for this Christmas tradition!!
So, basically you need this book. That's what I'm trying to say. AND, it would make a great gift idea too! You could give the book alone, pair it with a nativity, some of the stories mentioned in the book, a picture of Christ, and/or a plate of goodies!
Oh, but wait. What's a blog post without a giveaway?!? Lame. That's why I convinced Carol (my sweet, awesome neighbor lady) to give away a couple books to you lovely ladies. And, she totally agreed to it. So, one winner will win her book, A December to Remember and another winner will win her book WITH a nativity AND 7 of the children's books mentioned in her book!!
Ready to enter??
a Rafflecopter giveaway
Also, you can follow A December to Remember on
Facebook
,
Instagram
, and
Pinterest
.
For more great ideas for Christmas traditions, check out these posts: 25 Days of Christ, 24 Days of Family Christmas Activities, Christmas Eve at My House, Christmas Advent Tradition