I hope you had a great weekend! We decided to escape and haul the kiddos down to Central Utah to my grandparents' house. Have you ever been to Capital Reef National Park?? It's right by there and SOOO beautiful! You'll have to find me on Instagram and check out the view from my G-pa's backyard. It's pretty dang amazing.
But, now it's back to business. I've been scrolling through my zillions of emails, finding my favorite deals of the week to share with you. Hope you love them! And… don't forget, She Picks! 2014 starts the last week of November, so gear up for weeks of gift ideas for everyone on your list!
First up, current giveaways you should DEFINITELY enter:
25 Days of Christ (this is such a cute family tradition and gift! Be sure to enter!)
Everyone's a winner with The Holiday Hot List Digital Coupon Book! Just enter your email on this post to get your own.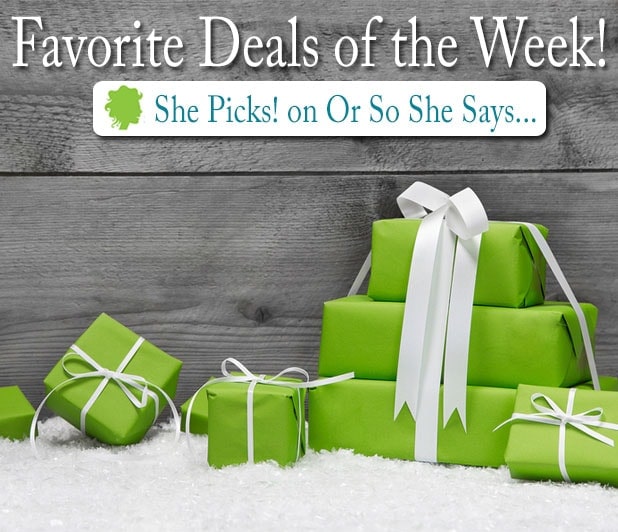 Now on to She Picks! My Favorite Deals of the Week:
Michael's is one store that always comes in handy for the holidays! If there's a holiday project I need to make, a party to throw, or a gift to give, this is always a must-stop shop for me. It's where I bought all my supplies for this fun silk screened snowflake mug!
– 50% off any one regular priced item. Click here and use code FESTIVE50 (expires 11/22/14)
Hancock Fabrics is offering 20% off your entire order! Click here and use code AFTTN. Expires 11/19/14


I love the DownEast Basics pencil skirt on sale right now for just $26.99! Also, I have a DownEast coupon JUST for OSSS readers in my Holiday Hot List Coupon Book, get it today and find lots of great holiday deals!
Great deals this week at The Body Shop! Their products make great stocking stuffers and gifts for women.
Today is the last day of buy 3, get 3 free, plus free shipping!
Starting tomorrow (11/18) through Wednesday, get 50% off bath & body.
On November 20 – 23rd, get 40% off their whole site. Awesome!
Have any Frozen-obsessed children in your house? Starting Tuesday, Target is giving a free Frozen Sing-along DVD with any $50 dollar Frozen purchase! (11/18 – 11/22)
Also, starting today you can get the limited edition TOMS shoes at Target! Plus, every pair of shoes you buy equals a meal, blanket, or shoes going to charity. Awesome!
If you haven't seen it already, Wal-Mart has released their Black Friday ad! Check it out!