Last weekend, one of my new contributors took me to breakfast. It was awesome, for several reasons. One of them being because SHE is awesome. (Check out her blog, Lindsay Ross Blog!) The other reason is because I got to have the yummiest pancakes that I've been thinking/drooling about ever since. And, so I made some. Bad, bad girl. I can't stop eating them and I'm going to gain a million pounds! Aghhh! We're leaving on a cruise this weekend, and here I am splurging already.
So, these are mega-easy. (Mega is my new word-of-choice, just so you know.) Oh, maybe I should tell you what they are first…
Banana Pecan Pancakes with Buttermilk Syrup … a.k.a. Heaven, On Your Plate.
Back to being 'easy'. Originally my plan was to make these with my BEST EVER BUTTERMILK PANCAKE RECIPE, but once I started thinking about these pancakes, I needed them immediately. Like in 10 minutes, as opposed to 15. So, I busted out my hefty bag of Krusteaz Buttermilk Pancake Mix and had heaven on my plate in 10 minutes.
And really, in the future, if I'm dumping pecans and bananas in my pancake batter and drowning the pancakes in buttermilk syrup, I think I'm liking the idea of pancake mix for this recipe. It made it 5 minutes faster (that matters) and I had less dishes to do afterwards (sweet!) When I'm sticking to the basics, I'll use my favorite pancake recipe (mentioned above.)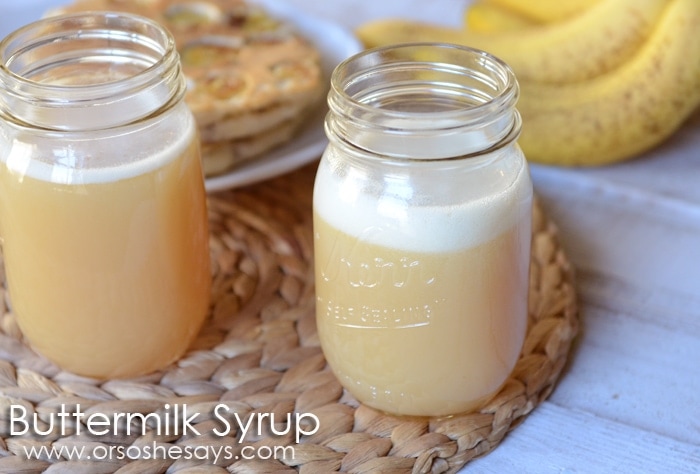 So anyway, for the pancakes I mixed the mix with water (as directed) and dumped a handful of chopped pecans in. Once I poured about a half cup of batter into the fry pan, I placed the banana slices all over it. Fried up, done.
Meanwhile, I texted my mom and said, 'Mom, can I have the awesome buttermilk syrup recipe you told me about?' She sent it right over, and 10 minutes later, I had 3 small mason jars filled with goodness. I've never made my own syrup before. I guess I figured it was some time consuming process. But, no. It was so FAST, you guys. One pot, dump everything in, let it boil, done. This stuff is soooo good and now I'm anxious to try lots of other flavors. This buttermilk syrup is PERFECT for these Banana Pecan Pancakes. Perfect.
The pancakes are pretty common sense to make, especially if you're using a mix. If you don't want to use a mix, I would suggest my pancake recipe. My point, I don't need to share a recipe for those. All you have to do is add chopped pecans and bananas. The real focus of this post is the Buttermilk Syrup that you're going to need for your common sense/awesome pancakes.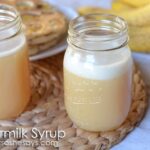 Buttermilk Syrup (on Banana Pecan Pancakes!)
Ingredients
2

cups

buttermilk

1

stick butter

8 TBS

2

tsp.

baking soda

4

cups

sugar

1/3

cup

light corn syrup

1

TBS.

vanilla

or other flavoring... coconut, pineapple, etc.
Instructions
Combine all ingredients in large saucepan, except for the vanilla/flavoring.

Stir and bring to a boil. Let boil for 5 minutes, stirring regularly.

Remove from heat, add vanilla/flavoring.

Serve over waffles, pancakes, crepes, or even ice cream!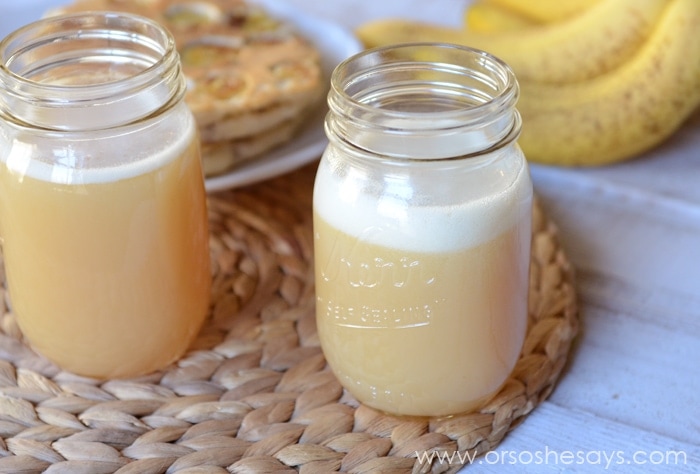 A few other recipes that would go great with this Buttermilk Syrup:
My Favorite Buttermilk Pancakes