Hello Everyone! Happy September! This is Maria stopping by from Shopgirl again, and I am so excited that fall is finally on its way! As fun as the summer was, I'm ready for some cooler weather already. And even though it's not officially fall quite yet, it is September, and in my mind, that means it's time to start all those fall crafts. I have a fun & simple one to share with you today. I love burning candles, especially in the fall, because I love how they instantly cozy up a space, and I wanted to share one of my candle projects with you today, using a recycled old sweater. See, this is why I never throw things away… you just never know when you might need them!!! For a craft project, of course! So here's how you can make a candle cozy for candle jars this fall: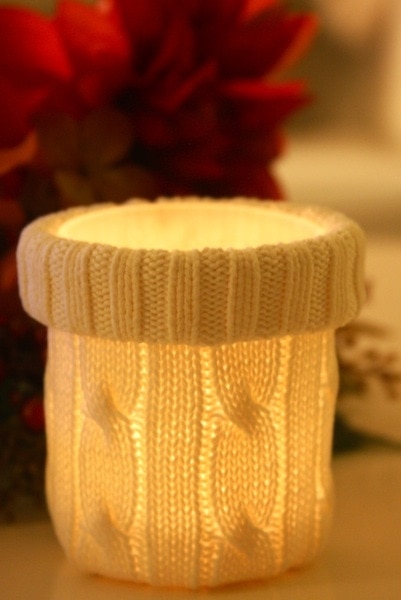 YOU WILL NEED
Old sweater (preferably the sleeve part of an old sweater)
Small glass jar or cleaned out old candle jar
Scissors & Hot Glue Gun
Tea Light/Candle
DIRECTIONS
First, gather all your supplies. I used a small, old candle jar and cleaned it out first (you can find my post on how to remove wax from a glass jar HERE). I used the sleeve part of a sweater to fit the candle jar (it happened to fit perfectly, but you can always just use a different part and sew the sides together). I rolled down the top part and cut off the bottom part, leaving about a half inch sweater boarder around the bottom. I then hot glued that on the bottom of the jar, making sure it was stuck on well and wasn't too bumpy, so the jar wouldn't stand unevenly. Then, all you need to do is add a tea light inside the jar, and you have a cute little candle cozy to brighten your home for the fall!
For more candle ideas, check out these posts:
Pumpkin Candle Holders (Check out my tutorial HERE!)
How to remove wax from jars (Check out my tutorial HERE!)
For more fall inspired projects and recipes, come and visit me over at Shopgirl! I hope that you all have a great week and an even better month of September! I'll be back again next month with more delicious and crafty fun to share with you all! See you again soon!