Dudes. We're in trouble. These babies are addicting. My kids came home from cooking class with plates full of these (last week it was the Mozzarella Sticks.) After taking just one bite, we headed straight to the neighbors to give away an entire plate. The last thing I needed was to scarf 3 plates of Whatchamacallit Cereal Bars, 2 was enough. So, I think most of us have tried peanut butter bars, as well as caramel bars… Whatchamacallit combines the two, and you have to try them!
I have a special place in my heart for the actual Whatchamacallit candy bars. When I was little, my family went to Hershey World. While touring the factory, an employee pulled me and a few siblings aside and asked if we would be part of a special experiment. It reminded me of that creepy dude on Charlie and the Chocolate Factory who whispered in the kid's ears, except not creepy at all. We were brought to a private room and were given several forms of Whatchamacallit bars and were asked our opinion on the taste of each one. Fun, huh?!? So, I like to tell myself that the heavenly goodness the people of the world experience, when they bite into a Hershey's Whatchamacallit Bar, is due, in part, to my valuable 10 year old opinion. You are totally welcome.
Alrighty, so granted, one is a candy bar and the other is a cereal bar, so don't yell at me that they're not exact. But, the taste is pretty darn close, if you ask me. Hope you like them!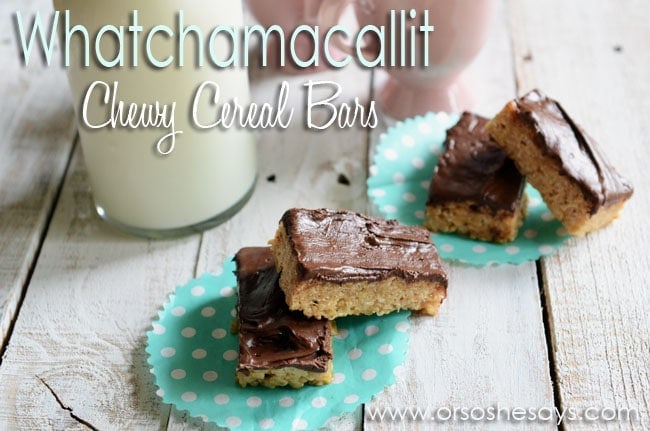 Whatchamacallit Cereal Bars ~ Knock-Off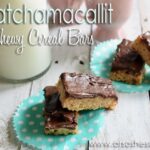 Whatchamacallit Cereal Bars ~ Knock-Off
Ingredients
6

cups

Rice Krispy cereal

3

TBS

butter

10.5

oz.

marshmallows

1/4

cup

corn syrup

1

cup

peanut butter

15

oz.

soft caramels

2

TBS

milk

1/4

tsp.

salt

11.5

oz

milk chocolate chips

1

TBS

shortening
Instructions
Pour cereal in large bowl.

In a large pan, melt the butter.

Add the marshmallows to butter, melt, and stir over low heat.

Add the corn syrup and peanut butter. Stir until combined.

Pour mixture over cereal and mix well.

Press mixture into sprayed 9x13 pan.

In large microwave safe bowl, place unwrapped caramels, milk, and salt. Heat about 3 minutes, stopping to stir every 1 minute.

Pour melted caramel mixture over cereal layer. Spread with spatula.

In another microwave safe bowl, heat the chocolate chips and shortening for 30 seconds, repeatedly until melted and smooth.

Spread chocolate over caramel layer.