So, I told y'all on Facebook how I went to this Rhodes Rolls demonstration for food bloggers, at their headquarters in Salt Lake. It was pretty fun to get some new ideas of things to make with their frozen dough rolls. Having pre-made dough on hand is so convenient, and it's good! I normally only use their rolls to make fry bread for Navajo tacos, but now I have a plethora of easy ideas. Really. So, after the demonstration, they let us try several of the different goodies that they made…rolls, orange rolls, monkey bread, cobbler, and my very favorite…cheese stuffed breadsticks. I went back for seconds, and they were gone! I knew that would be the first recipe that I would make on my own. Oh, and the orange rolls, hello. So, they had these orange rolls sitting out for us, and I was dying. They were so good. I asked the lady how to make them, and she laughed, "they're just frozen, all ready ready for you!" I was like, "Crap, that's too easy. Now I'm going to make them every second." Sometimes I think its a good thing that bread is such a chore to make.
Anyway, so last night we went to a family gathering, and I needed to bring something. So, I decided on the Cheese Stuffed Breadsticks. They were a hit! I had to spend the night reassuring people that I'm not as awesome as they think. They're just Rhodes Rolls, ya know? Who has time to make cheese stuffed breadsticks without frozen dough??? Not me.
So, to make these you will need: a bag of frozen Rhodes Rolls (I used the Texas sized ones, hence the massive size. Next time, I will probably use regular size), a bag of string cheese (enough for each roll), a bag of Sour Cream and Onion chips, melted butter, and any dipping sauce you might want.
Defrost your rolls. I just put them in a gallon sized ziploc bag, and place them in the fridge to defrost for a couple hours. If you want them to defrost sooner, just leave them out on the counter, or use the microwave (just be careful to not overdo it.) Take one roll and use your hands to roll it in a small tube, then use a rolling pin to smooth it out into a flat 7″ piece. Set a piece of string cheese on top and seal the dough around it. Set aside and work on the rest.
After all the breadsticks have been formed, brush each one in melted butter and roll in crushed Sour Cream and Onion chips.
Set on a sprayed sheet pan, seam side up. If you put the seam down, the melted cheese tends to escape. Cover the sheet with plastic wrap and let the breadsticks rise, until about doubled in size. For a quicker rise, heat your oven to 175 degrees, then turn it off. Let the breadsticks sit in the warmed oven while rising. Takes about an hour and a half.
Heat the oven to 350 degrees, and bake them for about 15 minutes, or until golden brown on top. The first batch I made, I pulled out too soon, and they were a little undone in the middle. So, really…wait for the golden brown all over the top, not just a hint of it on a few specks. Ya know? I served this with warm marinara. Another variation of this is to use pieces of pepper-jack cheese inside. That sounds amazing too! I may try that next time.
Cheese Stuffed Breadsticks
from Rhodes Bake-N-Serv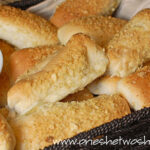 Cheese Stuffed Breadsticks
Ingredients
1

bag frozen Rhodes dinner rolls

String Cheese

enough for each roll (or breadstick), or pepper-jack

1

bag Sour Cream and Onion chips

1

stick melted butter

Optional: dipping sauce

marinara, ranch, etc.
Instructions
Set out rolls to thaw. Once thawed, use your hand to roll a dough ball into a small tube. Flatten with rolling pin and roll out into a 7" rectangle.

Place one stick cheese in the middle. Fold the dough around it. Set aside, and finish the rest.

Brush each breadstick with butter and roll on a plate of crushed Sour Cream and Onion chips.

Place seam-side-up on a greased sheet pan.

Bake at 350 for about 15 minutes, or until the tops turn golden brown.