Okay, so this is no sort of genius recipe, just more of an idea. An idea with a few of the best things in the world. Hello, bacon. These make an easy and delicious lunch…if you do things the easy way.
Butter one side of your tortillas. Place one, butter side down, in a fry pan
Smear it with guacamole (I used pre-made, fresh from Harmon's. Costco also has a pre-made version that is pretty good.) Smother it in shredded cheddar cheese. Sprinkle with pieces of cooked chicken. (I cooked up my own chicken, but you could easily use the chicken chunks, sold in packages on the meat/cheese grocery aisle.) Lastly, lay broken pieces of bacon all over it. (I just used pre-cooked bacon. I love the bulk packages they sell at Costco. I buy several and keep them in the freezer. Microwave to make crispy.)
Lay your other tortilla on top, butter side up. So, if you use large tortillas, like I did, flipping is the tricky part. But, I pulled it off by using a couple spatulas, at the same time. Cook until both sides are golden brown, and the cheese is melted inside. We at these, dipped in ranch dressing. Yum!
If you're a bacon-lover, try these other lunch recipes too: 'All the Good Stuff' Panini, Bacon Chicken Salad Croissants, and Egg Salad Bacon Croissants.
Chicken-Bacon-Guacamole Quesadilla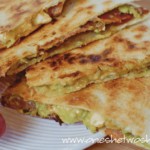 Chicken-Bacon-Guacamole Quesadillas
Ingredients
Guacamole

Easy: I love Harmon's fresh-made or Costco's guac, sold in a 2-pack.

Shredded Cheddar Cheese

Chicken pieces

Easy: use rotisserie chicken, or pre-cooked chicken chunks

Bacon

Easy: use pre-cooked bacon. I love Costco's brand.

Tortillas

Butter

Ranch dressing

optional, for dipping
Instructions
Butter one side of two tortilllas. Place the tortilla, butter side down, onto a hot pan.

Spread guacamole all over it, followed by sprinkled cheddar cheese.

Drop pieces of cooked chicken and bacon, on top of that.

Cover with the other tortilla, butter side up.

Flip over, when the underside of the bottom tortilla has turned golden brown.

Same, for the other side.