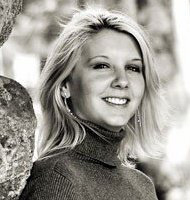 I'm Brittany, a Yooper girl (Michigan's upper peninsula….or "Da U.P"), which means I'm as tough as nails, not afraid to get dirty, and know my way around a workshop. Which isn't to say that I can't rock out a pair of red patent six-inch stilettos. My mother is my mentor. She always taught me that women can accomplish anything that men can, but we women just make it look better!
I met the love of my life nine years ago, and married him five years ago. We are each others perfect compliment. He makes me laugh when I'm being too serious. We have two boys and a little girl. They all have such unique personalities that I could go on for days about them. And, of course, I have a clumsy hound dog. My husband and I are both working on completing our degrees, plus working to pay our tuition. It doesn't leave us a lot of free time, but we know it will all be worth it in the end. When I do have spare time, I'm usually carting the kids to football, swim lessons, baseball, or gymnastics. Once in a while, I can even sneak in enough time to post on my own blog, Superwoman.
My life is hectic, but I wouldn't have it any other way!
Yay……
I guess the kids have been nagging me about getting them some fish. I've also been storing an antique gumball machine in the basement, knowing that someday I wanted to turn it into a fishbowl. This was just the push I needed!
Directions:
Start with an awesome gumball machine.
(Note: not all gumball machines will be built like this one, so you may have to modify this a bit)
The top will have a screw in it.
Unscrew it and take it out.
Once you life off the top, you will be greeted by this thingamajig:
Take it out and this is what you should have:
At this point, you should be able to remove the bowl and get some glass cut.
Go to your local glass cutter with the bowl and ask them to cut a circle for the bottom of the bowl. Make sure to mention that the measurements should be taken from the outside of the bowl, not the inside. You want to be able to set the bowl ON TOP of the glass, not have the glass sit within.
So this is what you should have after removing the bowl…
This mechanism should lift out easily.
There will be a similar mechanism underneath that.
This one lifts out just as easily.
Now you should be left with just the base and the rod.
This is threaded at the bottom, so just twist it off.
But this rod is a double rod. A rod inserted inside of a rod…
…but this enables you to take the entire base off the platform.
This 2nd rod is also threaded. There should be a nut on the bottom securing it in. Turn everything over, take off the nut, then start twisting the rod until it comes off.
Now, that threaded rod is what keeps the bottom from falling off the base, but we needed to rod off so that we could set a fishbowl (with a bottom on it) on top of the base.
So my solution was to put some Mighty Putter around the edges to keep the bottom platform in place. I gently tapped in on with a hammer.
So this is what you should have, and all the parts on the table can be tossed in the garbage.
If you've gotten your bottom fishbowl glass plate back from the glass cutter, you can now secure it to the bottom of this fishbowl.
You can NOT use any silicone. It has to be special aquarium grade. I had to go to Mighty Pet (a local store, but I'm sure anyone could find it at any specialty pet store….just not Walmart, I tried!) to find it. The staff was very helpful.
This is what it might look like:
Follow the directions on the tube.
Put a generous amount of silicone around the bottom lip of the bowl and carefully put the cut glass on top of it. Wait the directed amount of time.
You might have to go back and add more silicone around the inside part of the bowl, sort of like caulking a tub. I had a leak the first time, so I had to do this. I greatly recommend it!
I also added silicone to the base so that the fishbowl would be stuck onto the base. With this fishbowl being top-heavy, I didn't feel it was secure enough just sitting on the base.
After waiting for all the silicone to cure, add your water, bowl decorations, rocks, and of course…your new buddies!
Meet Red, Desmond the Moon Fish, and John!