Chicken Pesto Pizza is sure to be a hit with the whole family, especially with our homemade dough recipe!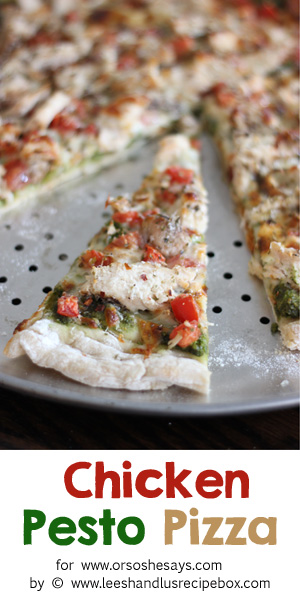 Pizza night is a weekly thing at our house. We usually have it on Friday and make it a pizza and movie night and it has been something that the kids always really look forward to and a great way to kick off the weekend. It's one of my favorite nights to cook because no one whines about pizza–and homemade pizza is much faster and easier than you might think! Chicken pesto pizza is a new favorite in our families, and is worth the little extra effort to make homemade dough.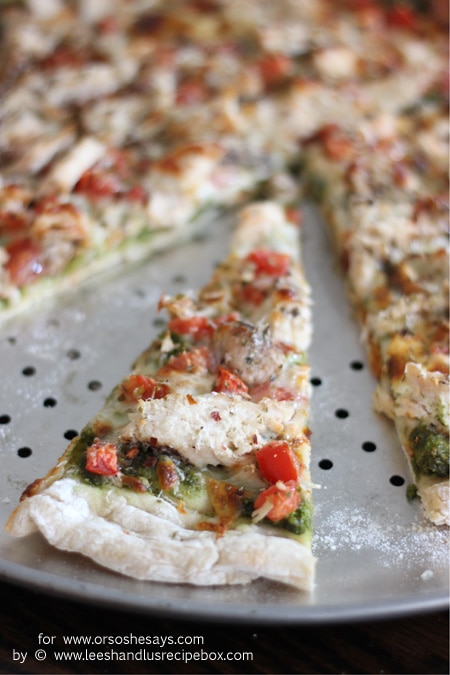 While we make this beloved pizza crust often, we wanted to change things up and try something new. We adapted a traditional artisan/crusty bread recipe into pizza crust and LOVED the way it turned out. Keep in mind that you will have to plan ahead to make this crust since it has to sit for 12-24 hours–so if you're in a time crunch, stick with our traditional pizza crust. If you have a weekly pizza night on the same night of the week, it's easy to plan to whip this up the night before (or very early in the morning) you want to bake it.
Now let's talk about the toppings! This chicken pesto pizza is one of our favorites and you can make it on either type of crust. If you keep cooked, shredded chicken on hand this is a perfect opportunity to use it. Most often we use rotisserie chicken for this pizza. For the pesto, if you're feeling ambitious, you can definitely make your own, but we love the pesto sold in the refrigerated section (by the pasta). Buying it at a warehouse club is also great because pesto freezes really well if you aren't able to use the whole jar. If you're using sliced tomatoes, you may want to salt and drain them for a few minutes to draw out some of the moisture so you don't end up with soggy pizza.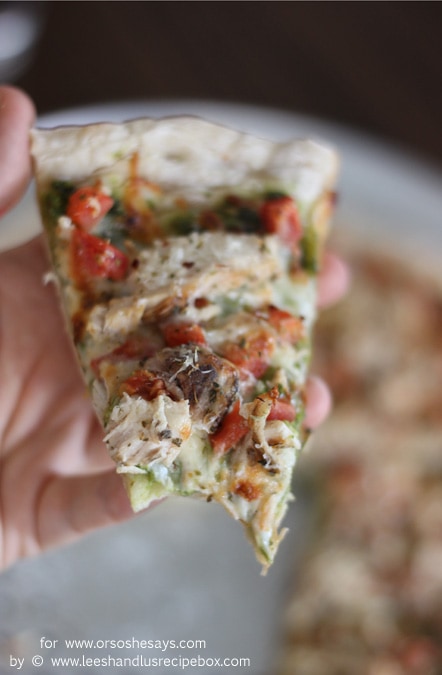 Homemade pizza might seem like a lot of steps, but with a little preparation of toppings and if you plan ahead and make the overnight pizza crust, you can have it on the table in well under 30 minutes. What are your favorite pizza toppings?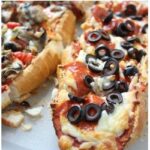 Chicken Pesto Pizza + Overnight Pizza Crust
Chicken Pesto Pizza + Overnight Pizza Crust
Ingredients
For the Crust:

3

cups

unbleached all purpose flour

1 3/4

teaspoons

salt

1/2

teaspoon

yeast

1 1/2

cups

water

For the Toppings:

Diced

cooked chicken - Chopped rotisserie works great here!

Basil pesto

Tomatoes--thinly sliced roma tomatoes

or quartered cherry or grape tomatoes

¼ - ½

cup

crumbled feta cheese

you can sub mozzarella if you're not a feta fan

1

cup

shredded mozzarella cheese

Olive oil

Garlic salt
Instructions
In a large mixing bowl, whisk together flour, salt and yeast. Add water and mix until a shaggy mixture forms. Cover bowl with plastic wrap and set aside for 12 - 24 hours. Overnight works great.

When ready to bake the pizza, preheat oven and pizza stone to 500. Flour your work surface and turn the dough onto it. You'll likely need to add a fair amount of flour here to get it to a consistency that you can roll out without having it stick to your work surface. Divide dough in half (or 4-6 for smaller personal pizzas) and roll dough out to the desired thickness for your crust.

Transfer pizza crust to a piece of parchment paper. Brush outer edge of crust lightly with olive oil and sprinkle with garlic salt. Assemble pizza starting with basil pesto. Add chicken, tomatoes, and cheeses.

Using a pizza peel, or the back of the baking sheet, transfer the pizza on the parchment to the baking stone. No need to remove the parchment. Bake at 500 for 6-10 minutes (depending on the thickness of your crust). Allow to cool for several minutes after removing from oven before slicing. Enjoy!
Recipe Notes
Recipe Source:
Crust recipe adapted from this Artisan Bread Recipe at Simply So Good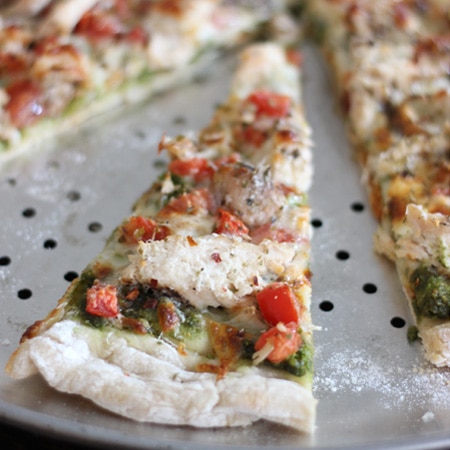 Check out some of our favorite pizza recipes!

The Perfect Pizza Crust | French Bread Pizza | Pizzanini
Find more delicious ideas here on the blog:
Chicago Style Deep Dish Dutch Oven Pizza – Wrapped in BACON!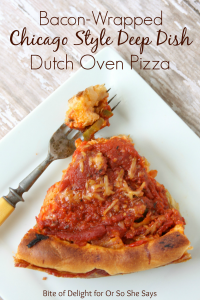 Chicken Bacon Ranch French Bread Pizza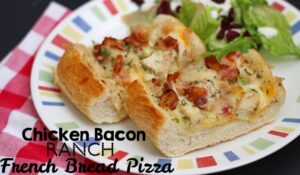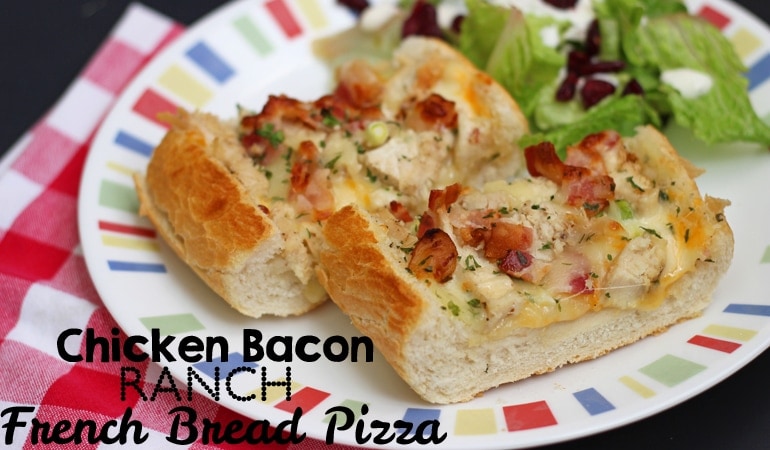 Mini Bagel Pizzas – A Twist on a Traditional Dinner