Noodles, chicken and your veggies of choice- Chicken Yakisoba is a one-dish wonder the whole family will love!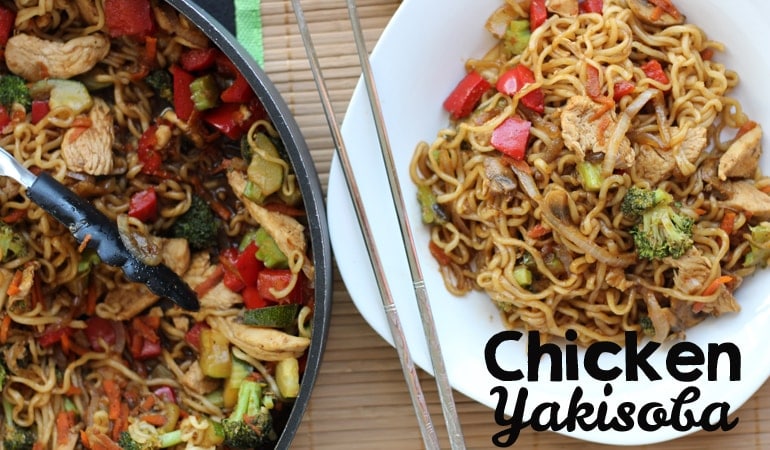 Sometimes we get stuck in a dinner rut and eat the same things week after week. This chicken Yakisoba meal helped pull us out of our rut and it was refreshing to try something new and have it be well received by the whole family (including the 18-month old!). I can't say I've ever had Japanese Yakisoba before, so I can't speak for the authenticity of this dish, but I can speak for the deliciousness!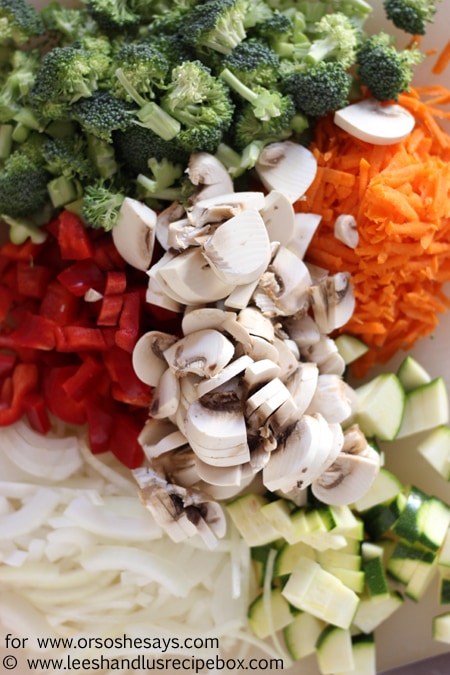 Chopping and prepping all the veggies took a little bit of time, but it's definitely a step you could do in advance and have this dish come together even more quickly. Also, the veggies in this dish are easily adapted, so use what you love. Or what you have in the fridge! I loved the colors the veggies added and I felt good feeding it to my kids and didn't have to worry about preparing a veggie side. It's a true one-dish wonder.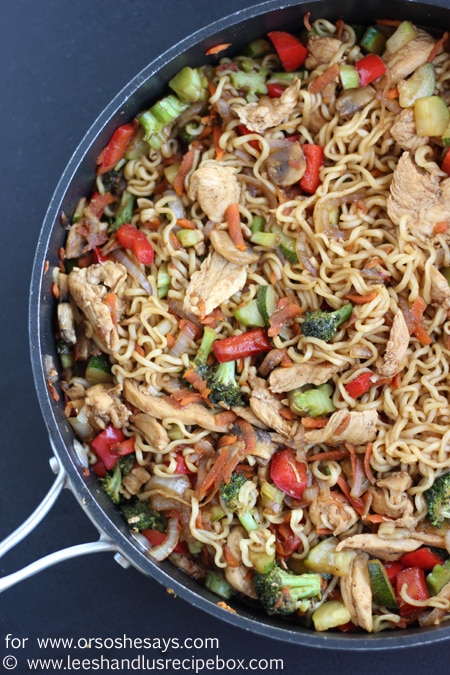 Once your chicken and veggies are prepped for stir frying, bring a pot of water to boil so the noodles can cook while you are stir-frying. Stir-fry the chicken until it is cooked through and add the veggies in and cook until crisp tender. Pour in the sauce and add the cooked noodles and stir it all to get everything coated in the yummy sauce. Serve immediately.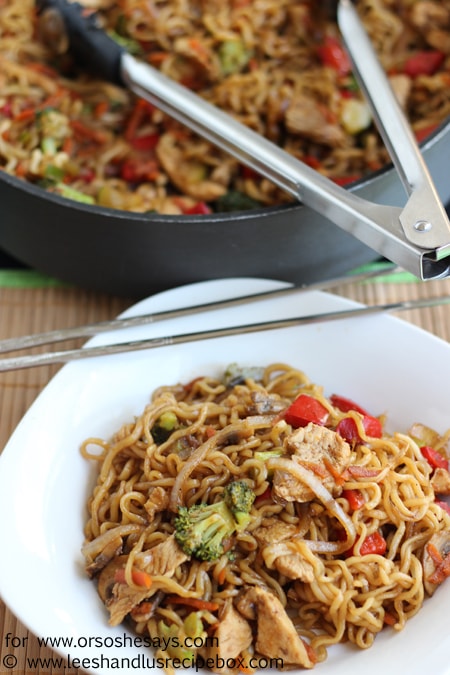 This one will definitely be making more appearances at our dinner table in the near future. Let us know if you try it and what you think! Enjoy!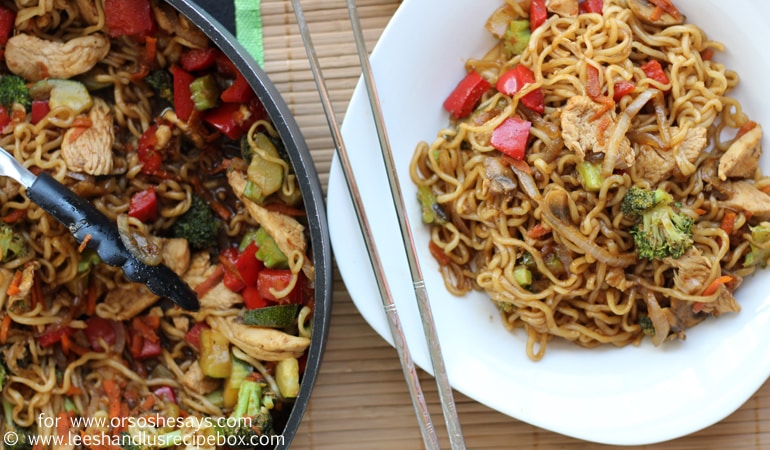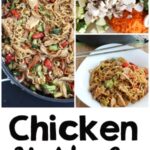 Chicken Yakisoba
Ramen noodles and fresh veggies come together fast to make an awesome noodle bowl that is great for even a busy weeknight dinner!
Ingredients
1

medium zucchini

diced

4

ounces

button mushrooms

quartered

1

red bell pepper

cut into thin strips

1

medium yellow onion

sliced into half-moons

2

medium carrots

grated

1

small crown broccoli

cut into bite-sized pieces

1

inch

fresh ginger

grated

1

large chicken breast

sliced into thin strips

2

Tbsp

vegetable oil

2

3 oz. packages ramen noodles, seasoning packets discarded

1

tsp

sesame oil

optional

¼

cup+ 2 tablespoons soy sauce

¼

cup+ 2 tablespoons worcestershire sauce

3

Tbsp

ketchup

1

Tbsp

hot sauce

1.5

Tbsp

sugar
Instructions
Prepare the meat and vegetables for stir frying. Peel and grate the carrots with a large holed cheese grater. Slice the chicken into thin strips.

Begin boiling a medium pot full of water for the noodles. Heat the vegetable oil in a large skillet over medium-high heat. When the oil is hot, add the grated ginger, saute for about 30 seconds to one minute (its okay if it sticks to the pan but don't let it burn). Add the chicken strips and cook until they are no longer pink (about five minutes).

Once the chicken is cooked through, add all of the vegetables. Stir and cook until wilted (about 5-10 minutes). Meanwhile, once the water boils, add the noodles and cook just until tender (2-3 minutes). Drain, return to the pot (with the heat turned off) and toss with the sesame oil to keep from sticking.

In a small bowl, combine the soy sauce, worcestershire sauce, ketchup, sriracha, and sugar. Use only ½ tsp of sriracha if you don't want it spicy, use up to 1 Tbsp if you like it hot. Stir until the ketchup and sugar are dissolved. Pour the sauce into the skillet with the chicken and vegetables with the heat still on medium high. Add the noodles, stir to coat everything in the sauce, and heat through (just a few minutes).
Recipe Notes
Adapted slightly from budget bytes (added more/different veggies, increased sauce amounts)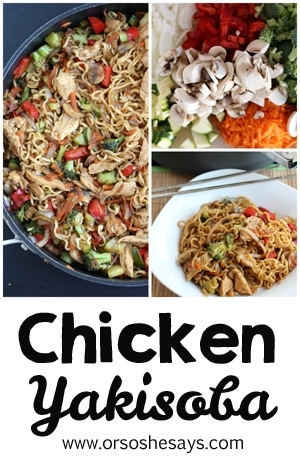 For more great recipes, try these: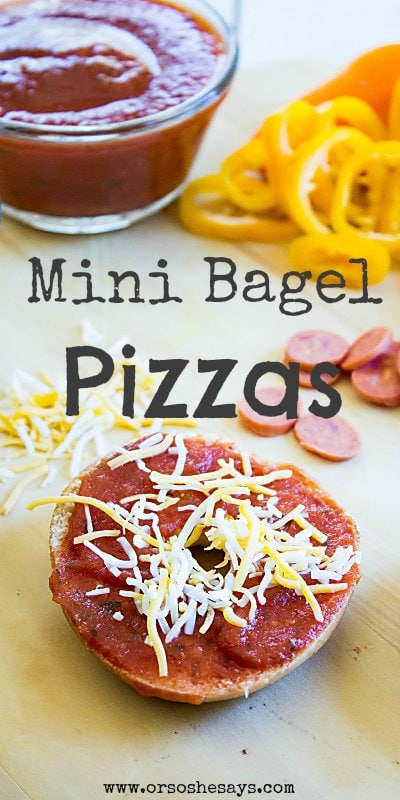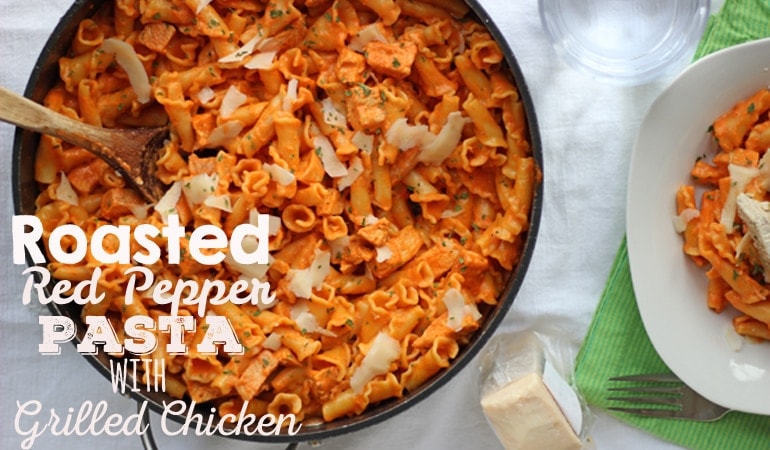 Sweet Pork Nachos ~ A Fun Twist on a Favorite!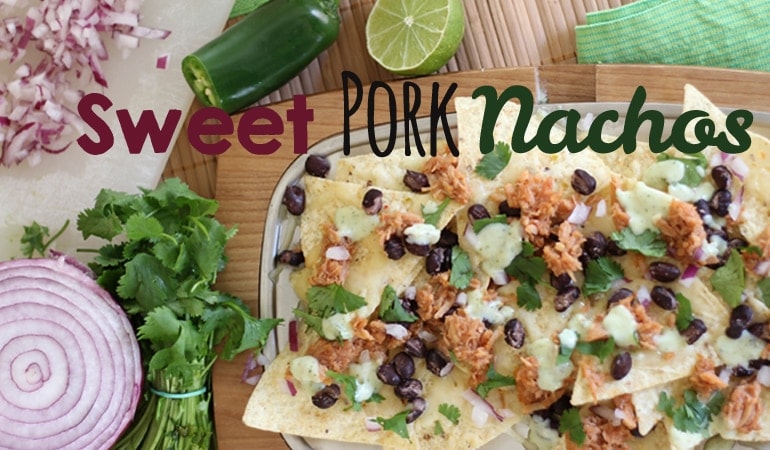 Save
Save