As a mother of 4 boys, I'm no stranger to superheroes. Marvel… DC Comics… you would think I would understand the difference between them by now, but no. All I know is Batman and Captain America are currently living IN MY HOUSE. Sometimes we're graced with Captain Bat-Spider, he's my favorite, although very insistent that our house is decked out in all things superhero.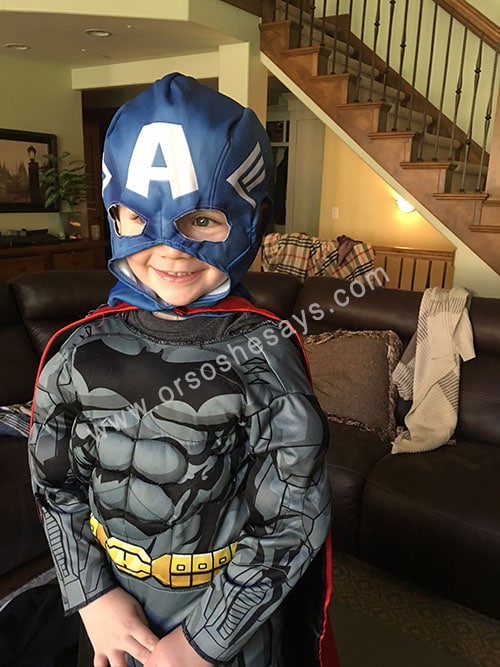 My two youngest boys are both dreaming of a Marvel and DC Comics bedroom. I can't promise that it will happen, but we've had a lot of fun checking out all the cool products and handmade goods out there. These are our most favorite, non-cheesy, non-cheap-looking favorites… because you know, sometimes character products tend to lean that way. I've included a couple items for baby too, because a Marvel & DC Comics themed nursery would be so rad.
Check 'em out!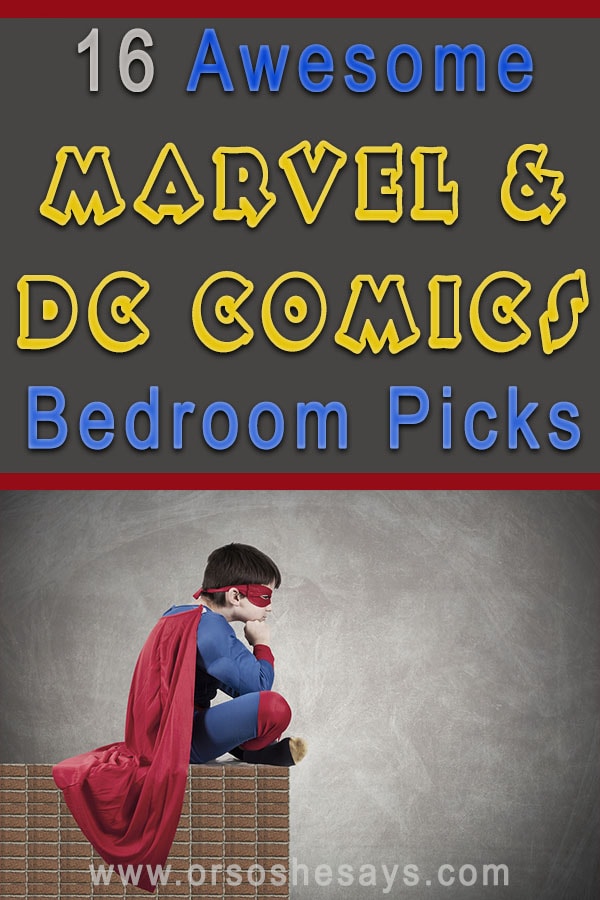 16 AWESOME MARVEL and DC COMICS BEDROOM PICKS
I love quilts and this Man of Steel Full or Queen Quilt & Pillowcases by The Purple Fish would be fun in a toddler bedroom, all the way up to a teen bedroom!
I love the idea of gray and black with pops of color for a nursery. Marvel DC Comics Crib Set by Yoder by Design
A cool way to jazz up the wall! Justice League Minimalist Wall Poster
These Marvel Pillow Covers by Lola Marleys are super cool for toddlers up to teen bedrooms!
This is adorable. Superhero Rules Poster
I love this Marvel Avengers Blanket by Monkey and Miss. It's the perfect cuddle blanket, to thrown on a bedroom recliner or beanbag.
Whether it's their own name or a superhero word, Custom Comic Book Letters by Mama's Favorite Things are an awesome addition to any Marvel or DC Comics themed bedroom!
How cool is this Comic Book Spinner Rack?!? I think it would look awesome in a bedroom!!
For your super baby: Custom Marvel Avengers Chevron Crib Set by KL Baby
Marvel Wall Decals are an easy and affordable way to add superhero flavor to any room.
What's a superhero room without superhero floor coverings?? Check out this Marvel Captain America Rug!
I was so smitten by this Avengers Metal Wall Art and all of the others in the shop. Several to choose from!
Marvel Comic Light Switch Covers by G33kplates are the perfect finishing touch for a bedroom.
How fun is this Superhero Baby Mobile by Angel and Rose?!?
These Handmade Superman End Table (other superheroes available) by Superhero Within are really neat. I love the dimensional look.
Another really fun quilt. Handmade Batman Quilt by FTC Geek Supplies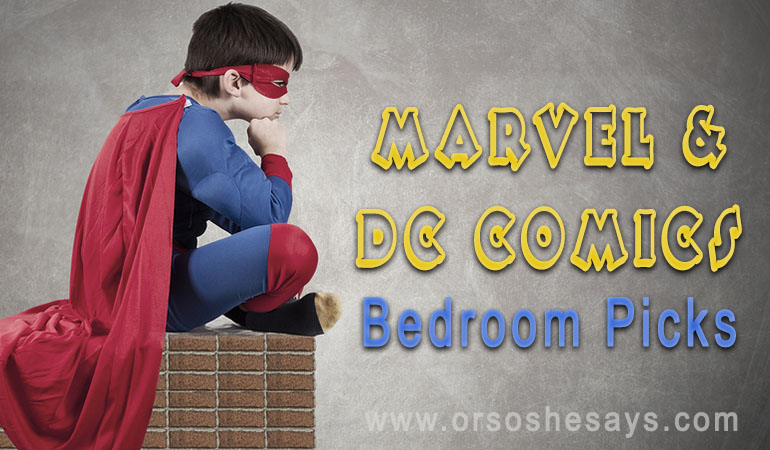 If you liked this Marvel and DC Comics Bedroom Picks, be sure to check out these posts:
Save
Save