Kathy is one of our new food contributors, and we're so excited about these chocolate dipped pecan sandies!
Hi! I'm Kathy from Beyond the Chicken Coop. I am a new contributor here on OSSS. I am a busy working mom with three teenage kids; ages 14, 13, 13. Yep! We have one daughter and twin boys. My husband, kids and I live in the country and we raise chickens, pigs, and rabbits. We grow a large garden and have several fruit trees. We try to live off the land and make most of our meals from scratch. It's often a challenge in our busy lives. I'm excited to share some of my recipes, kitchen tricks, gardening tips, and happenings around our little farm.
Baking is one of my favorite hobbies. I made these Chocolate Dipped Pecan Sandies and they have been a huge hit in our house! My sister and brother-in-law also gave these a two thumbs up!
These cookies are super easy to make. They aren't like a regular cookie though. They don't have any eggs or leavening. None! I believe this is the first cookie I've ever made without eggs or baking soda or baking powder. I was a little worried these would be really dense. But they aren't at all. Just pure deliciousness!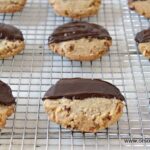 Chocolate Dipped Pecan Sandies
Pecan cookie dipped in chocolate.
Ingredients
1

cup

butter

softened

1

cup

brown sugar

2

teaspoons

vanilla

2

cups

flour

1

cup

chopped pecans

1

cup

semi-sweet chocolate chips
Instructions
Place butter and brown sugar in a mixing bowl..

Beat until smooth and creamy.

Mix in vanilla.

Add flour and mix well.

Add pecans, mix until incorporated.

Line a baking sheet with parchment paper.

Using a small ice cream scoop, scoop 12 cookies per sheet.

Bake at 350 for 18-20 minutes.

Remove slightly cooled cookies from baking sheet and let cool on a cooling rack.

Once cookies are completely cooled, melt chocolate chips in the microwave. Heat for 30 seconds at a time, stirring each time until melted.

Dip or spread chocolate onto half of the cookie. Place on a piece of parchment paper until cooled.

If chocolate becomes too thick, just pop back in the microwave for 15-30 seconds.
Recipe Notes
Recipe adapted from Martha Stewart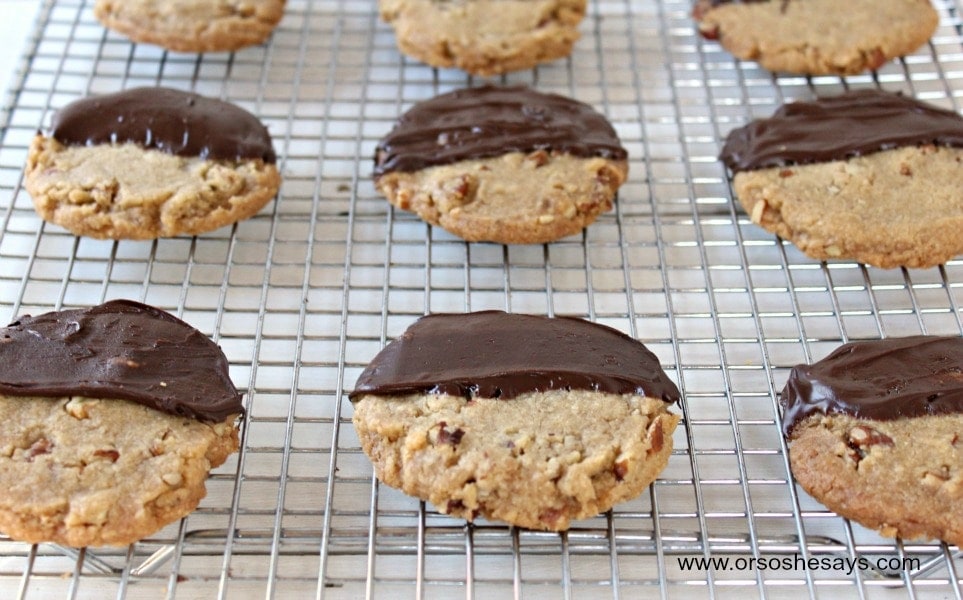 You can visit me at Beyond the Chicken Coop to find other great recipes. You can also follow me on Facebook.
For more great cookie recipes on OSSS, try these:
Mom's Cookie Cutter Sugar Cookies
No-Bake Peanut Butter Chocolate Chunk Cookies