So, let's just put this out there… I'm currently pregnant with my 7th child and it was a total surprise. I had actually given away all of my maternity clothes that I had collected on my 6-baby-way. I really, really thought I was done! But, God had something else in mind for me. This little girl coming my way is meant to be and we can't wait to meet her. There are actually 7 kids in my family and 7 in my husband's family, so it's kind of fun to carry on the tradition. We love big families!
Anyway, back to my point. Maternity clothes. I've bought sooooo many over the past 15 years and now I'm buying them all over again. So, I kind of have a few opinions about the best places to buy maternity clothes. What do I base my choices on? Well, I usually try to find a balance between quality, price, and cuteness-factor. So not all of my picks are the cheapest, but they're also not the most expensive out there. I like to get the best quality for a reasonable price. I also want everything to be stylish, being pregnant is hard enough. Feeling even slightly cute can do wonders for a rapidly expanding woman.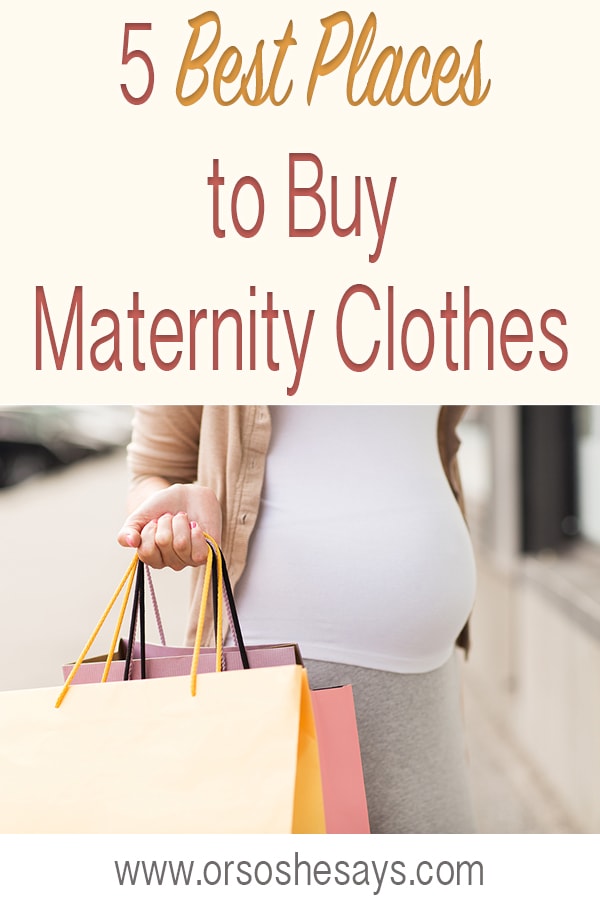 5 BEST PLACES TO BUY MATERNITY CLOTHES
1. Stitch Fix
I'm a long-time customer of Stitch Fix, both for their maternity service and their regular service… been receiving a package every month for the past couple years. I'm obsessed! They send me the CUTEST clothes and they do such a good job picking items that suit my needs, preferences, and style. I was so excited when they started their maternity branch of the company. They really have a knack for finding quality, cute pieces that any of my sisters would LOVE as a hand-me-down, when I'm done with them. 😉
2. Zulily
I'm a big fan of Zulily… not necessarily because I think they have better prices (though that's what they want you to think, but I often don't find that to be the case.) And, they sure as heck don't have fast shipping (expect 2 weeks or more.) So, what's so great about them?? Mostly I love their site because I'm always discovering new and fun shops that I hadn't heard of. That goes for maternity, as well. You know, with maternity, we often go to the brands we've heard of a million times. But, Zulily has helped me find maternity brands I've never heard of. Sweet! Pretty much every day they have at least one maternity brand available, and if not that, a collection of different brands. I've bought lots of my maternity clothes here! And, of course they have zillions of non-maternity shops to check out too… for kids, men, women, and the home.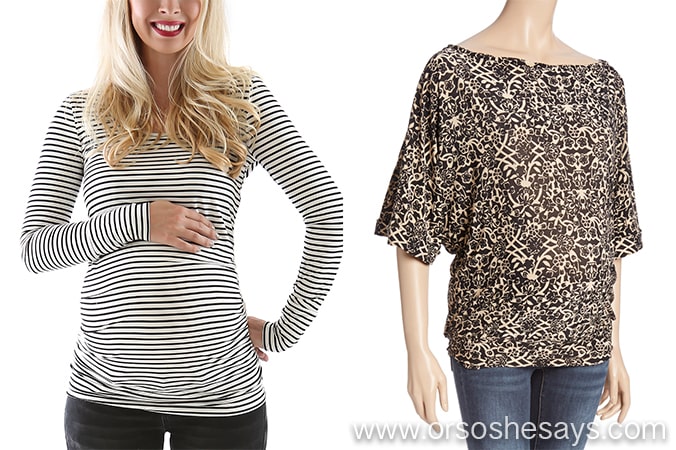 3. Le Tote
Le Tote is an interesting concept and it's been fun to try them out! Basically, you go to their site, pick out the styles of clothes that appeal to you and they will send you a box of name-brand maternity pieces, plus jewelry to go with, 5 total. You wear them for as long or as little as you want, then SEND IT BACK! They wash and reuse the items for other pregnant mothers. You can wear it once, send it back, get a new outfit, send it back, get a new outfit, and so on. Do it as many times as you want in the month! (They charge by the month.) It's really a fun way to add variety to your maternity wardrobe
This is my last package. I picked out a fun spring dress for church and some black basic pants. (Le Tote gives you an option to hand-pick some of the items you receive on your next shipment.) The jewelry they included was SUPER cute! I especially loved the little pineapple necklace.
4. Motherhood Maternity
If you've been pregnant, you've probably shopped Motherhood Maternity before. They can be found in malls all over and online. What I love about this shop is that it's completely dedicated to maternity… no small little section in a big box store. Their inventory changes often and they do a great job of keeping up with the latest styles. They're sale prices are often really good, but their full priced items can be a little high… but, not nearly as high as shops like A Pea in the Pod. Luckily their sales are a pretty regular thing.
5. Old Navy / The Gap
I can always find a few cute maternity pieces that I love at The Gap… I particularly like my Gap maternity jeans and the t-shirts (The GapFit Breathe T-shirts are awesome!) Of course, their full-priced items are pricey, but there's no reason to ever pay full-price at The Gap. They offer 30% or 40% off your order sales all the time. You can either sign up for their emails to get notified, or just check week by week. They never go too long without a big sale happening. As far as Old Navy, obviously they're related, that's why I mentioned them together. If you're shopping online, you can buy from both shops in the same shopping cart. Old Navy has a lower price-point and often lower quality items, but they're up with the latest styles and I always find items I love from there. Sometimes you don't want to spend a lot and you don't care if the item lasts through multiple pregnancies… Old Navy is a great option for situations like that. I can't speak for the quality every item they sell in their maternity line, just talking in general. 😉 It still makes my list of best places to buy maternity clothes. Similar to The Gap, it has great sales pretty regularly.
Where do you love to shop for maternity clothes??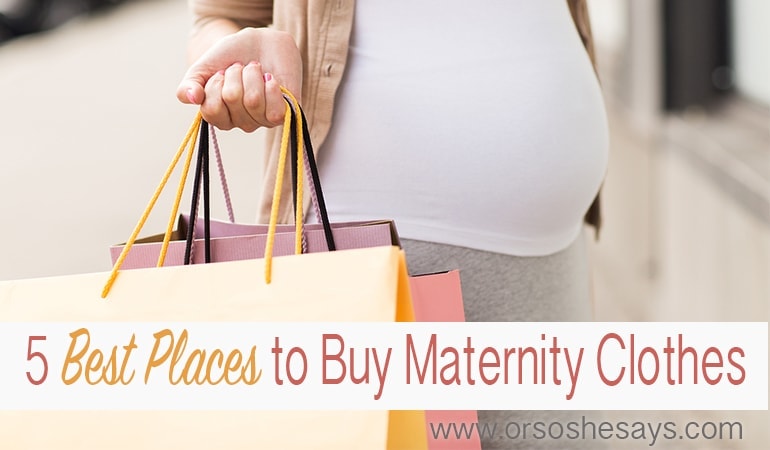 If you liked this post on the best places to buy maternity clothes, check out:
What I Wish I Knew With Baby #1
The Best Breastfeeding Products for New Moms
Disneyland Tips for the Pregnant Mom