A few years ago I had an experience that shook me. A dear friend, a man I have known since first grade, had a crisis of faith. He phoned me one afternoon to tell me that he was not only questioning the specifics of our religion, but that he was no longer certain there was even a God. Of all my friends, he would have been the last one I would have ever imagined to have this type of struggle. During our conversation, I thought back to the many occasions where his example and faith-filled life had inspired me and lifted me during times of trial. I could barely believe what he was telling me.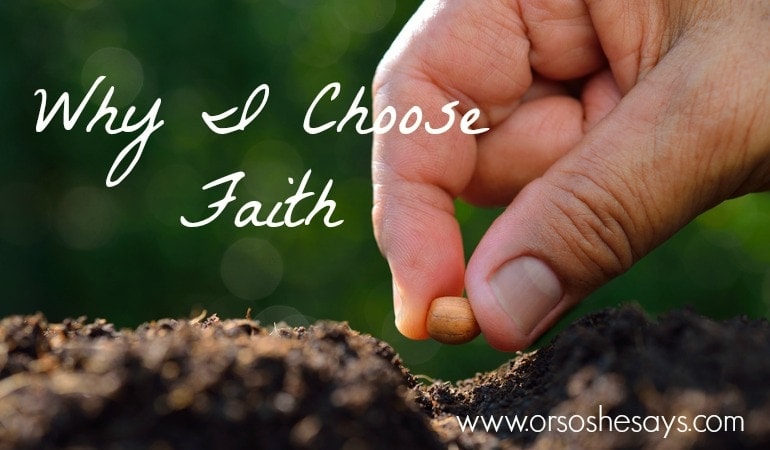 Personal Example of My Faith Being Tested
Within days of our conversation, I realized that I too was in the middle of a crisis of faith. My faith, the brilliant inner light of my existence, was suddenly darkened and seemingly cast no light on my path. I felt lost, cold and so lonely. Faith to me had always been a pathway to a destination, a destination which had always been so beautifully described, but that had also always felt very familiar to me. However now, a dark doubt bullied its way into my mind, dampened my hope, and had me questioning all I held most dear and sacred.
A few days later, when I felt as though I was sinking further into a faithless funk, my friend called me again. It was clear to me that he was no closer to finding a resolution to his growing doubts. In the course of our conversation, as I was unable to answer any of his many questions, I wondered for a moment if I would ever be able to trust in my faith again.
As my doubts bloomed into an ever-growing avalanche of skepticism, I had a very poignant realization. All of these fears, doubts and concerns were real. The dark heaviness of heart I felt was real. An existence without faith was pointless. This was truth. If these feelings were true and real, then I supposed, in that moment, that all the feelings in my life where my faith had supplied me with hope, peace, comfort, joy and fulfillment – those were real feelings too. And if those good feelings were just as real and true as the dark-doubtful ones, then who was the author of those? And just like a light-bulb turned on in a dark room, I felt hope fill my heart again.
Seeing Light in the Darkness ~ Choosing Faith
I knew who the author and finisher of my faith was. I knew who it is was that healed my unbelief. I knew in whom I found my joy. I knew in whom it was that I found my hope. There is a reason why Christ is referred to as our Rock. For when you strip every wind of doctrine away, when all our false cultural practices of gospel living fail us, when the tumultuous, agnostic, pleasure-seeking, faith-killing philosophies of men betray us and leave us feeling hollow, I knew exactly where to turn. I knew exactly what to anchor myself to – Him – my Rock. If my faith were to be boiled down into one thing, one person, undoubtedly, it was my Savior Jesus Christ.
I expressed this epiphany to my friend. I told him that while I had no answers for any of his many questions, but that there was one source in which I believed had all of them. I told him that even though my faith in Christ had temporarily been diminished due to my doubts, my hope in Christ burned even brighter. I told him that in spite of everything, I was going to choose hope over doubt and that I hoped he would be able to get to a point where he could do so as well.
Hope, Over Doubt
Since that day many years ago, I have found my faith constantly strengthened and healed and thankfully so has my friend. I choose faith because I know what the fruits of a faith-filled life taste like and I KNOW that they are real. I choose faith because there is no fulfilling or satisfying substitute out there which can replace it. I choose faith because while it doesn't perfect me, or qualify me for anything by itself, it encourages me, fills me with hope, and gives me direction and satisfaction to my life. Faith is real. The benefits of faith are real! It is for this reason and also because I believe in and deeply love my Savior that I choose to live a faith-filled life.
Add more faith in your life with these posts:
Pin this image to share this personal story of faith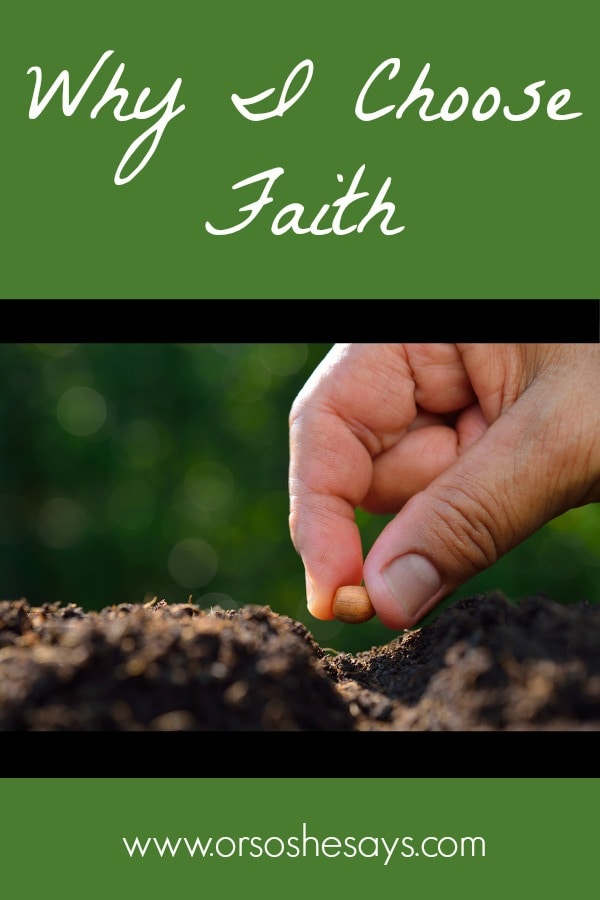 Save
Save