I have tried many cinnamon rolls in my life, as I'm sure you have. It seems that most are either too dense, too hard, don't have enough frosting, or just don't taste that great. At one point, I was a loyal daughter, committed to my mother's cinnamon rolls. But, one day my sister-in-law brought over her cinnamon rolls and all bets were off. Sorry, mom. I didn't know a cinnamon roll could be this good! I have new favorite cinnamon rolls that are good for breakfast! …and lunch, and dinner, and second dinner… as well as midnight snack.
These cinnamon rolls are so simple to make, soft, gooey, light, and they taste amazing. What puts them over the edge is the addition of almond extract in the frosting. That little detail takes these from amazing to downright addicting. All 7 of my children love when we have them around… but, they never last long!
Favorite Cinnamon Rolls That Are Good for Breakfast
The hardest part about making these cinnamon rolls, if there is anything, is waiting for them to rise. The actual making part is easy. Cinnamon rolls are one of those things that you want NOW… as well as hours later. If you're planning on having them for breakfast, you definitely want to make them the day before. Or, if you're wanting cinnamon rolls for dessert at night, then get started in the early afternoon.
Cinnamon Roll Ingredients
Yeast
Warm Water
Warm Milk
Sugar
Salt
Butter
Flour
Eggs
Brown Sugar
Cinnamon
Powdered Sugar
Almond Extract
Instructions
In the mixer, dissolve the 2 TBS. (or 2 1/2 pkg.) yeast in 1 cup of warm water and 1 cup of warm milk.
Add 1/3 cup sugar and 2 tsp. salt, mix and let sit for a couple minutes.
Add 3 cups flour while mixing on low, then add 1/2 cup of melted butter.
Add 3 cups more flour (or enough until the dough starts to pull away from the bowl.
Add one egg and mix for about 5 minutes.
Get some water boiling on the stove…
Now, you can either just pull out the beaters and cover your mixer with plastic wrap OR dump the dough into a bowl and cover it. To help the dough rise faster, I like to warm my oven, then turn it off. Then I take boiled water, pour it into a pan and place at the bottom of the oven. The humidity and the warmth help the dough rise quicker. I made two batches, hence the two bowls…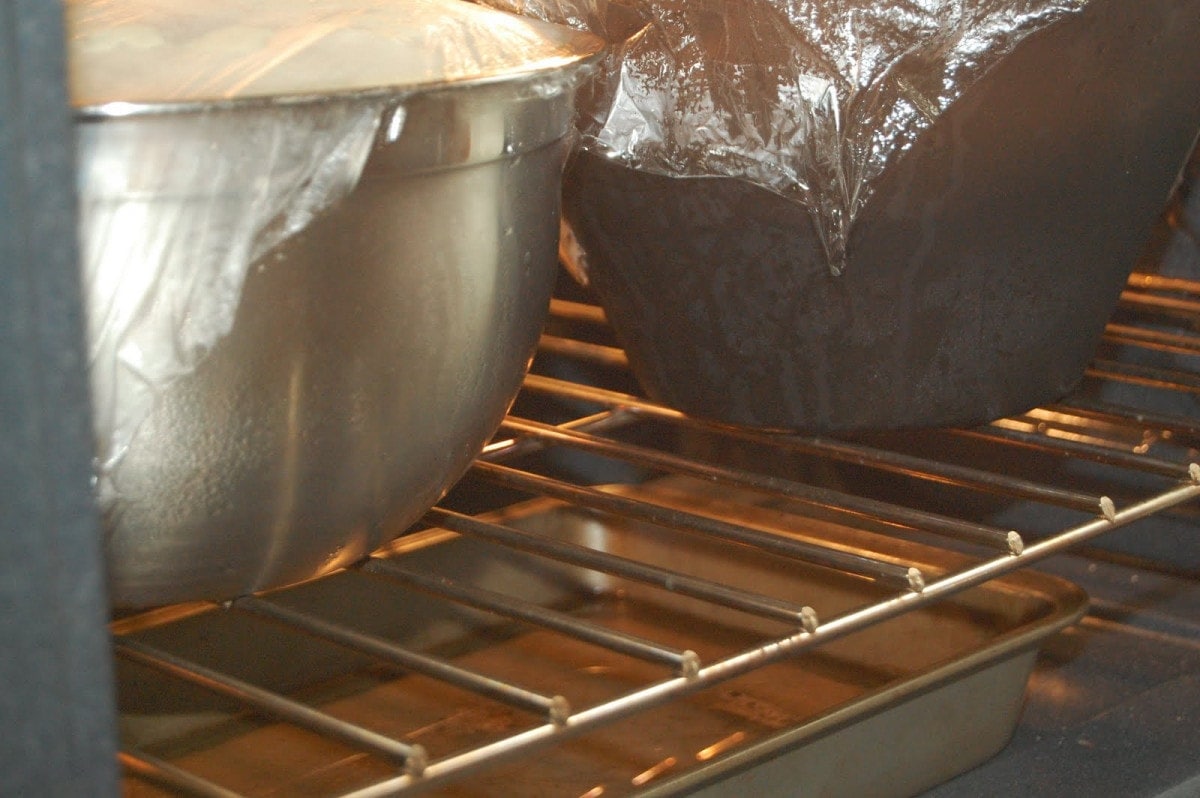 Once the dough has doubled in size, it's time to make your rolls. Break your dough into two equal size pieces. Roll each one out into a rectangle.
Brush melted butter all over both rectangles. Then sprinkle lots of brown sugar and some cinnamon all over each one. Notice where I said "lots" and "some". But, it's your choice. As much as I would like to control your thoughts and actions, I can't.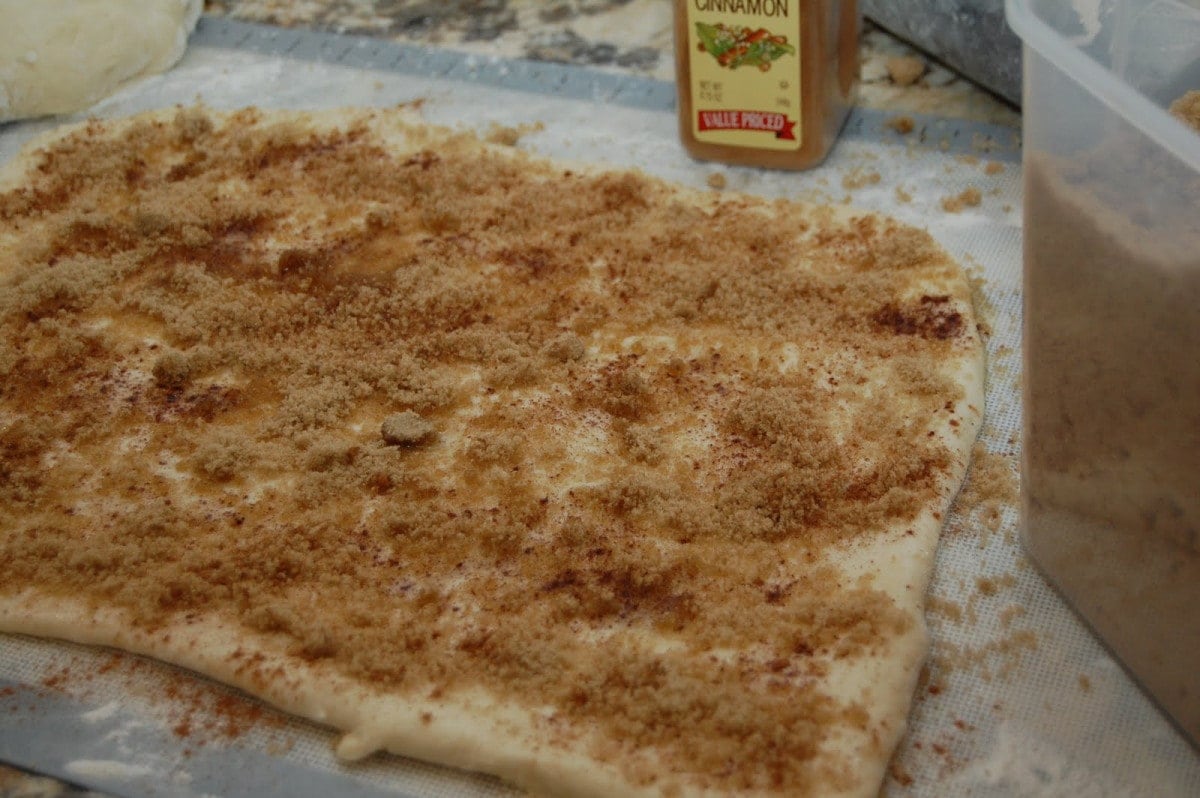 Alright, so…roll those puppies up, the longest sides of the rectangle is what you roll.
Cut with some dental floss and place on a greased cookie sheet. Then…boo…they have to rise again. I promise, all this waiting around is worth it. So, cover them up and wait until they double in size. I usually just put them back in the oven, even though its cooled off significantly and my water is hardly creating much humidity. But, it works.
Note: If the rolls rise to double and you get lazy and just let them keep sitting and sitting without baking them, your brown sugar will start to liquify…oozing out the bottom and making a poopie, ugly mess. I'm also a believer that not letting them over-sit is the key to making these cinnamon rolls softer, with the best texture.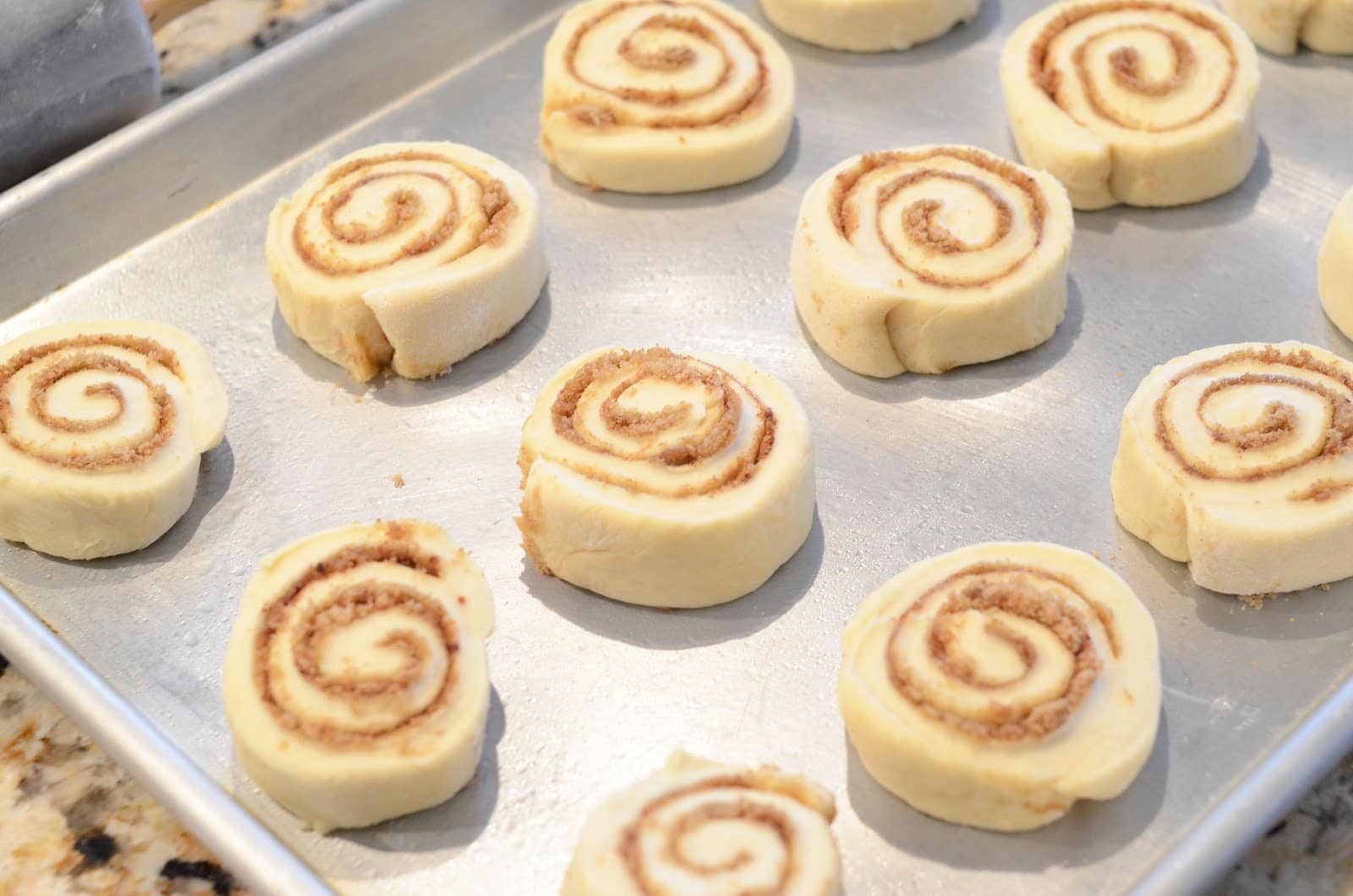 Once your rolls are ready to bake, stick them in a 350 degree oven for about 9 to 11 minutes…or, until you see a hint of golden brown on top.
Meanwhile, make your glaze. The glaze is seriously super important and what makes these babies shine. The secret: almond extract. Use it and your life will have new meaning. So, for the glaze I melt a stick of butter in the saucepan, add about 4 cups of powdered sugar, a tad bit of milk…and then, darn…I can't remember. Maybe about 1/2 tsp. vanilla extract and 1/4 tsp. almond extract (no more than that, for sure). You want a hint (maybe slightly more than a hint) of almond. Not, "whoa, hello almond."
Pour the glaze over the slightly cooled rolls and unbutton your pants…because, you are going to be SO "in the mood"… for cinnamon rolls.
Printable Cinnamon Roll Recipe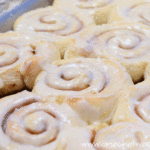 Bonnie's Cinnamon Rolls
Ingredients
Dough:

2

TBS.

Yeast

or 2 1/2 pkg.

1

cup

warm water

1

cup

warm milk

1/3

cup

sugar

2

tsp.

salt

1/2

cup

melted butter

6

cups

flour

1

egg

Brown sugar

Cinnamon

Glaze:

1

stick butter

1/2 cup

4

cups

powdered sugar

Milk to consistency

1/2

tsp.

vanilla

1/4

tsp.

almond extract
Instructions
In the mixer, dissolve the yeast in the warm water and milk. Add the sugar and salt, mix and let sit for a couple minutes.

Add half of the flour while mixing on low, then add the melted butter.

Add the rest of the flour (or until the dough pulls away from the bowl).

Add the egg and mix for about 5 minutes.

Either cover the mixer and let the dough rise to double in there OR dump the dough in a bowl and cover it. I like to have my oven warm (heated to 170 then turned off) and a pan of boiled water in the bottom. I put the bowl in the oven and have the warmth and humidity help it rise quicker. Otherwise, let it sit on the counter until it rises double in size.

Either way, once it's doubled, separate the dough into two equal parts.

Roll out each part into a rectangle.

Brush melted butter all over each one and sprinkle with lots of brown sugar and some cinnamon. Using the longest side, roll up the dough.

Use string or dental floss to cut into rolls (about an inch wide).

Place rolls, separated on a greased cookie sheet.

Cover and let rise again, until about doubled in size.

Bake at 350 for 9-11 minutes, or until you see a hint of golden brown on top.

In the meantime, make your glaze by heating up the glaze ingredients in a saucepan.

Drizzle over cinnamon rolls.
Sometimes when serving cinnamon rolls for breakfast, it leaves you wondering… what goes with it? Alone, they're hearty and satisfying, but when you're thinking of a meal, you probably imagine a little more there. Here are some delicious ideas of foods you can have with cinnamon rolls, and not have it be weird.
Recipes That Go With Cinnamon Rolls for Breakfast
My food-loving heart is telling me that when you have something sweet and bread-y for breakfast, it needs to be served with something savory and non-bread-y. I'm thinking Omelette Style Scrambled Eggs would fit the bill. You can add to it whatever meats and veggies that your family/friends like. I would serve this with a big bowl of mixed fruit and definitely call it a great meal.
Another idea is this Loaded Breakfast Skillet. It's also savory, easy to change up based on tastes, and totally without bread involved. A fruit bowl would work with this too! Or, instead of fruit, you could blend an Orange Julius or Tropical Smoothie. All of these would pair with cinnamon rolls.
If you don't mind a little bread in the picture, I love this Southwestern Breakfast Bake. It's so simple and not an overwhelming dish to make, when you already spent so much time on the cinnamon rolls. It's savory and always gobbled up every time I serve it for breakfast.
Pin This Image to Save Post
(or click Pin button in header/footer for additional images)