These Easy Talks for Primary Children are based on the lesson topics from the October Come Follow Me for Primary Manuel. Written with young children in mind, the talks are easy to read and fun for children.
October is a wonderful month to be a member of the Church of Jesus Christ of Latter day Saints. Why? Because, we get to listen to General Conference! General Conference happens twice a year – in April and October. There are a lot of reasons why General Conference is so awesome, but one of my favorite reasons is that we get to listen to our prophet speak! The prophet is God's spokesperson on Earth. He tells us what God wants us to hear. Isn't that incredible? It is like having a conversation with Heavenly Father. Make sure to tune in! In case you missed it, you can jump on over to churchofjesuschrist.org for a replay.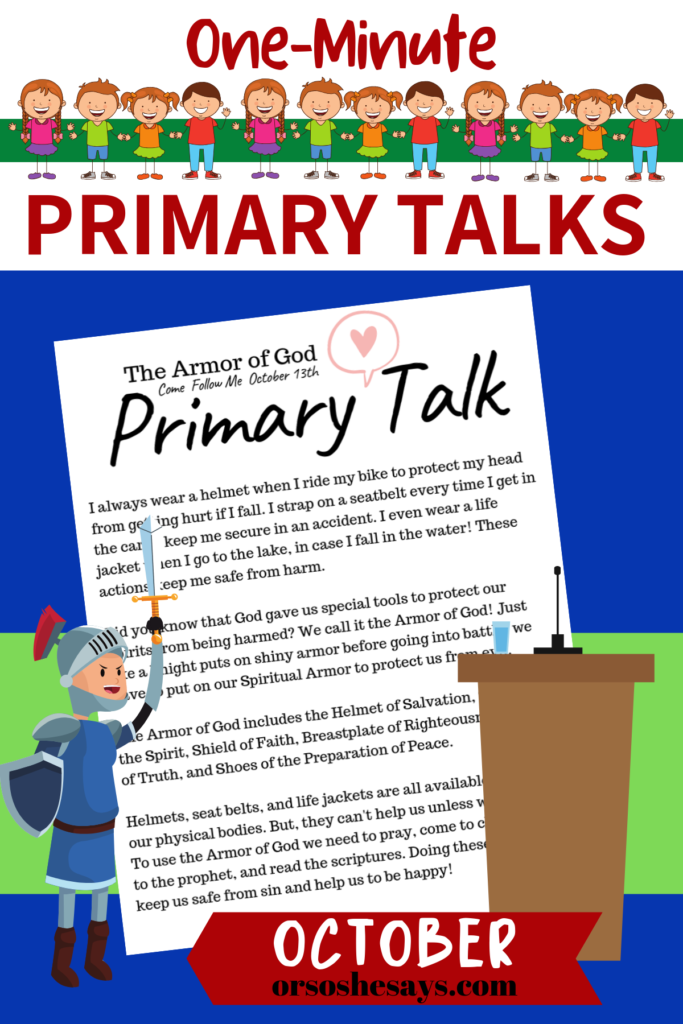 Because of General Conference, we only meet together as ward families in church buildings three times during the month of October. So, there are less Easy Talks for Primary Children to download and use this month.
But, all three topics are great ones! It was so fun reading the Come Follow Me for Primary lessons this month and writing the talks. I love learning about Jesus and thinking about the Second Coming! Get ready for some amazing lessons.
Easy Talks for Primary Children
As always, you can download one of the individual easy talks for Primary children by clicking on the download link in each section. Or, you can download this file that contains all of the talks for October. This link is especially helpful for Primary Leaders!
Come Follow Me/October 13th: The Armor of God
I always wear a helmet when I ride my bike to protect my head from getting hurt if I fall. I strap on a seatbelt every time I get in the car to keep me secure in an accident. I even wear a life jacket when I go to the lake, in case I fall in the water! These actions keep me safe from harm.
Did you know that God gave us special tools to protect our Spirits from being harmed? We call it the Armor of God! Just like a knight puts on shiny armor before going into battle, we have to put on our Spiritual Armor to protect us from evil.
The Armor of God includes the Helmet of Salvation, Sword of the Spirit, Shield of Faith, Breastplate of Righteousness, Girdle of Truth, and Shoes of the Preparation of Peace.
Helmets, seat belts, and life jackets are all available to protect our physical bodies. But, they can't help us unless we use them! To use the Armor of God we need to pray, come to church, listen to the prophet, and read the scriptures. Doing these things will keep us safe from sin and help us to be happy!
Download The Armor of God Talk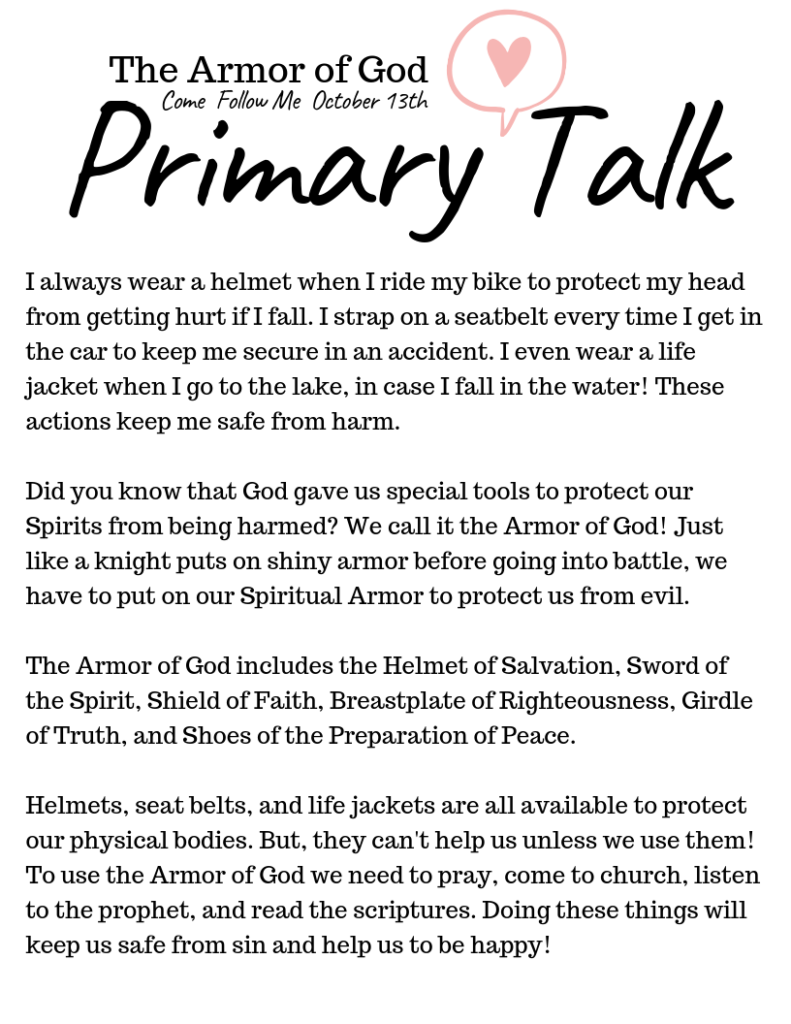 Come Follow Me/October 20th: Rejoice in the Lord
Are you glad that you belong to the Church of Jesus Christ of Latter day Saints? Do you feel special because you know and follow Jesus? A prophet in the Bible, named Paul, said that we should, "Rejoice in the Lord, Always!"
To rejoice is to be really excited and happy! Can you think of a time when you felt totally pumped up and full of happiness? Kind of like a balloon that is filled so tight with air that it is almost ready to burst! I feel like that on Christmas morning.
Being a member of the Church doesn't seem quite as exciting as a room full of presents from Santa. But, it is actually an even better gift. Better than anything in the whole world!
God created the world and made it beautiful for us to live here. He made temples so we can be with our families forever! Jesus died for us so we can live with God again. The prophet watches over us and teaches us how to be happy. The Holy Ghost is always with us to give comfort and peace to our hearts.
Knowing these things and being part of this Church is a huge blessing! I hope we can always be grateful and rejoice just like Paul taught.
Download Rejoice in the Lord Talk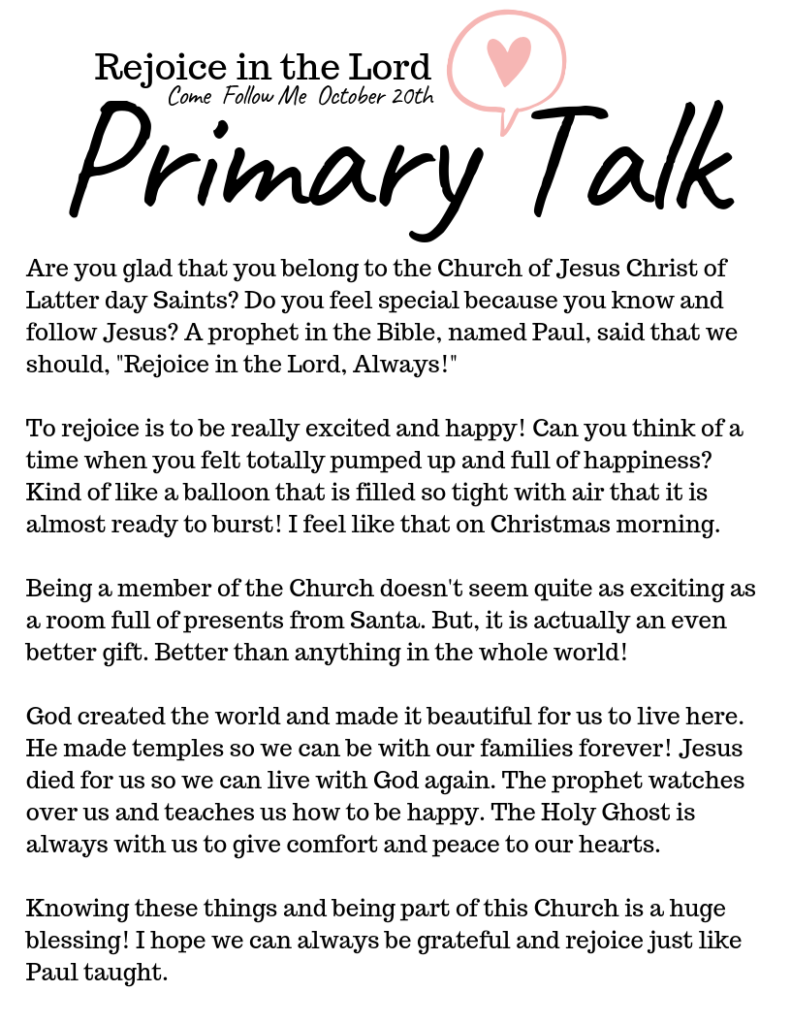 Come Follow Me/October 27th: Jesus Will Come Again
Jesus Christ came to Earth thousands of years ago. We all know the story! He was born in a stable as a tiny baby. Angles sang in the night sky and shepherds came to worship him. Only a few people were there to witness his birth. It was a small and humble beginning.
Jesus is going to come to Earth again! It is called his Second Coming. Instead of coming quietly, Jesus is going to arrive in glory! That means, we will all see Him and know that He is back. It will be amazing and exciting.
We have been asked to prepare for the Second Coming. No one knows when the Second Coming is going to happen. So, we have to always be prepared to meet him. When I see Jesus I want to feel clean and happy – like at baptism.
We can prepare by choosing to:repent, forgive others, follow the prophet, keep the commandments, listen to our parents, and have faith in Jesus. These actions fill us with the Holy Ghost! If we can do these things, we will be ready to meet Jesus when he comes again! I know we can all be prepared.
Download Jesus Will Come Again Talk

I hope that as you read these gospel messages with your primary children that you and your children will know that they are true. I pray that the Holy Ghost will fill your hearts with peace, comfort, and knowledge that God and Jesus know you and love you! Put on the Armor of God, rejoice in the glorious Gospel of Jesus Christ, and look forward with faith to His Second Coming.
See you next month!
If you love these printable Primary talks, check out:
This Repentance Rock Family Night Lesson is a fun way to teach the value of repentance to children, whether it's in your home or with your Primary class. Using rocks in their shoes helps show that little problems, when left unattended, can become bigger problems down the road. We're so blessed to be able to repent for our sins at any time, but it's even better if we take care of them immediately.
Help children understand what a seer is and how translation works with this Scriptures for Kids Family Night. You will love the translation activity that's included!
There's a super simple thing you can do to be a member missionary, and that is to share gospel content on the internet. I would love for you to share this invitation to receive a free Book of Mormon on your Pinterest account, Facebook, Instagram, or however works for you. You never know who it may reach!!