For a deliciously warm and cozy breakfast, try these Coconut Cinnamon Waffles!
Christina from FoodApparel back to visit! I am such a sucker when it comes to breakfast. Seriously, you start talking about breakfast and you have my full attention. I just love everything from a good hash to a smoothie to omelet to french toast. You name it! And I will definitely eat it any time of day. In fact, my family used to have Sunday Waffle Night when I was growing up. We would just cook mounds of waffles and find whatever we could in the fridge for topping- jams, whipped cream, lots and lots of syrup, fruit, yogurt…… This was a good day at my home.
Well, keeping in the tradition, I still enjoyed lots of good breakfast even after I left home. And I would visit my brother often who lived in the same city as me when I was attending college. He and his wife never disappointed with the meal spread. He introduced me to the idea of Coconut Cinnamon Waffles. His wife is from Vietnam and there was never a shortage of coconut milk in their house. So he simply substituted out the regular milk for coconut, giving it such a smooth flavor. And cinnamon for good measure, right? The flavors are just awesome together. I love just eating these plain, but I super love them with a little bit of maple syrup, whipping cream and fresh blueberries. They just feel so warm and homey to me. Perfect in the wintertime.
Are you a breakfast lover like me? Any time of day? What's your fav? Let me know in the comments below!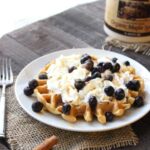 Cinnamon Coconut Waffles
Ingredients
2

cups

unbleached all-purpose flour

2

teaspoons

baking powder

½

teaspoon

baking soda

½

teaspoon

salt

2

tablespoons

sugar

1

teaspoon

ground cinnamon

3

eggs

2

cups

coconut milk

1/4

cup

canola oil
Instructions
In a medium bowl, mix together flour, baking powder, baking soda, salt, sugar, and cinnamon.

In a separate bowl, divide egg whites, simply adding yolks to the dry ingredients (don't stir yet until other wet ingredients have been added.)

With a hand beater, beat egg whites until stiff peaks form.

Add coconut milk and oil to dry ingredients bowl. Mix until combined.

Fold in egg whites.

Scoop batter in preheated, oiled (or buttered) waffle iron and cook until golden brown.
More breakfast:
Oatmeal Pancakes