For the next several Saturdays, I'm spotlighting the wonderful contributors I have here at 'Or so she says…'. I really, really love my gals. They're all super talented and great to work with, so it's easy to brag about them.
Previous Brags: Cathy of Lemon Tree Dwelling, Brooke from Blissful Roots, and Lauren from The Thinking Closet.
Today I want you to meet Jeanie of Create and Babble.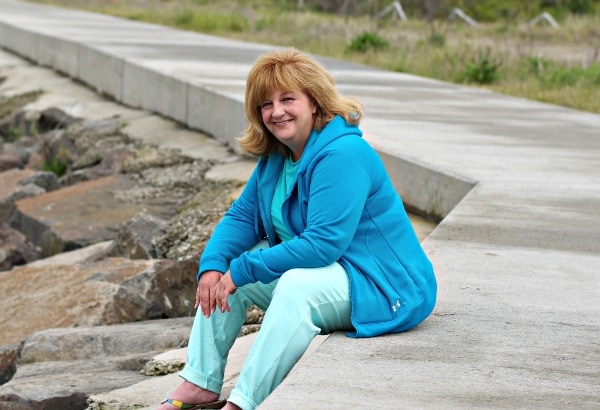 Jeanie is Ms. Crafty, herself. She can turn something boring (and usually really cheap) into a work of art, with her eyes closed. It's always such a treat to see what she comes up with! Jeanie specializes in home decor, wedding projects, and creations with the Silhouette. If you ever feel intimidated by crafting, she's your lady. She makes everything simple and you'll be showing off your creation in no time! It's such a pleasure to have her contributing here at 'Or so she says…'.
Here are a few of my faves from her blog:
Every month, Jeanie shares a brand new creation right here on the blog. You may remember: Dresser Mirror Tutorial, First Day of School T-Shirt Tradition, Paper Pinwheel Decorations and more! Be sure to check out her blog, Create and Babble, and follow her on Pinterest and Facebook.
And, now for 'Your Great Idea' Link Party!
Here's my top two favorites from last weeks link party:
DIY Felt Necklace for Toddlers from Kiddie Foodies
Slow Cooker Beef Tips from Life with the Crust Cut Off
Now it's time to share your great ideas!
Remember everything linked up will also be shared on Your Homebased Mom and What's Cooking with Ruthie, so please link back to all three blogs (mine and theirs.) Only posts that are linked back are eligible to become a 'favorite pick' or pinned. Check out others ideas, and enjoy the creativity. Come back next Saturday and do it again! *No linking to giveaways, post collages, posts that aren't yours, etsy shops, or filthy-poo.