All I had to hear was Copycat IHOP Cheesecake Pancakes and I knew I needed to make them ASAP and get them in my belly. And, the idea of smothering them in strawberry or blueberry sauce takes this to a whole other level. Come to mama!!
IHOP could easily be renamed IHOT, International House of Torture, because it's practically impossible to settle on one menu item. I want to order like 7 things, all for me. Torture! But, how awesome is it that now we can all make a knock-off recipe of theirs, Copycat IHOP Cheesecake Pancakes, thanks to the Food Network?!? I found this recipe in their magazine years ago, ripped it out, and had it stuffed in the back of my cookbook cupboard. Sooooo glad I found it… heaven on a plate.
Copycat IHOP Cheesecake Pancakes ~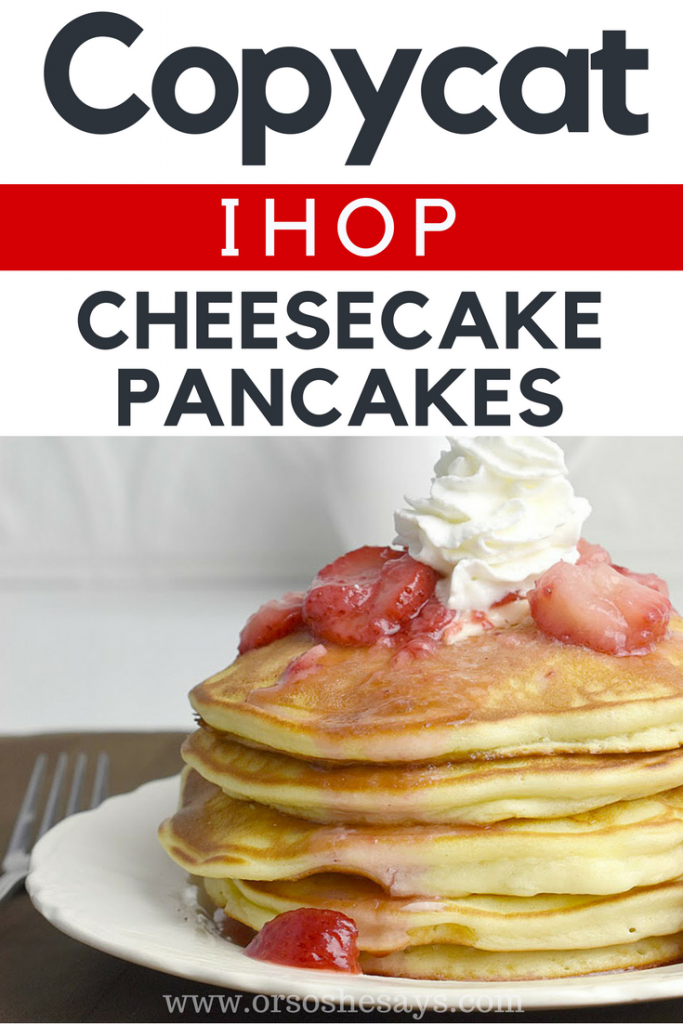 If you need a couple fun ideas as toppings for these pancakes, besides strawberry or blueberry sauce, check out this Caramel Pecan Sauce or Buttermilk Syrup. Yum!!!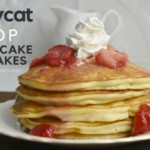 Copycat IHOP Cheesecake Pancakes
These Copycat IHOP Cheesecake Pancakes are calling YOUR name!! Smother them in strawberry sauce, blueberry sauce, or your favorite cheesecake flavored topping!
Ingredients
1 1/4

cups

flour

1 1/4

cups

buttermilk

1

large egg

1/4

cup

vegetable oil

1/4

cup

sugar

1

tsp.

baking powder

1

tsp.

baking soda

pinch

of salt

2

cups

chopped frozen cheesecake
Instructions
Preheat oven to 200 degrees.

Pulse the flour, buttermilk, egg, vegetable oil, sugar, baking powder, baking soda, and salt in a blender until smooth. Transfer to a bowl and stir in the cheesecake chunks (leave them as chunks.)

Spray a large nonstick pan with cooking spray over medium heat. Pour batter into pan until desired pancake size. Cook until bubbly on top, about 4 minutes, then flip and cook until other side is golden brown.

Serve with your topping of choice... strawberry sauce, blueberry sauce, caramel sauce, chocolate, etc.
The image at the top of this post is PERFECT for pinning to your Pinterest boards, but here's another that's perfect for Instagram and Facebook: Copycat IHOP Cheesecake Pancakes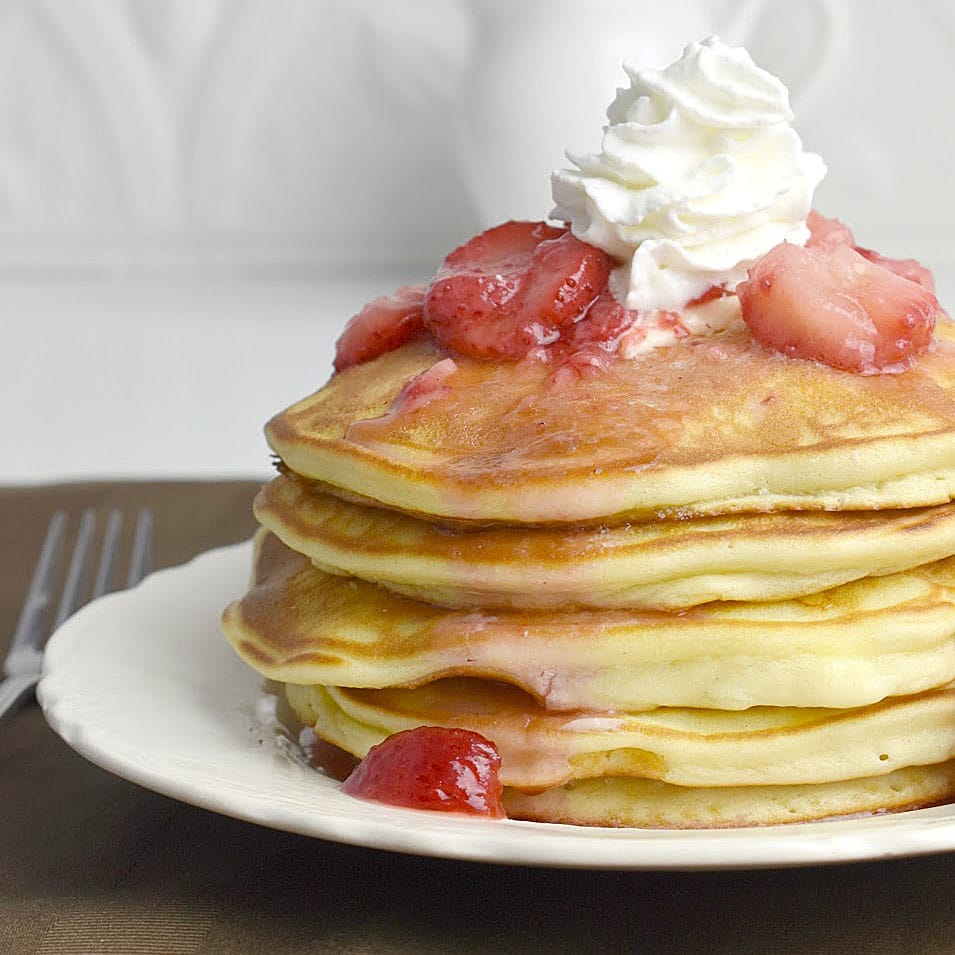 If you loved this Copycat IHOP Cheesecake Pancakes recipe, be sure to check out:
My FAVORITE Buttermilk Pancakes
Pumpkin Chocolate Chip Pancakes