Hi Everyone! I hope you all had a wonderful weekend, and that this new month has started off well for you! I am so happy that March is here, since it means that the official beginning of spring is just a couple of days away now! And after this long, cold winter, that's pretty good news! I'm excited to be back here and share another recipe with you today! If you don't know me yet, I'm Maria from Shopgirl, and if you missed last month's recipe (my Heart Shaped Puff Pastry Pockets) you can find it HERE! Today I'm sharing this Crab Stuffed Lobster with you, that makes for a perfect special dinner! My husband and I both love seafood, and love the fact that there is so much delicious seafood in Maryland, where we moved a little over a year ago. This recipe is basically a crab cake stuffed/topped lobster tail and if you're a seafood lover, you will love this!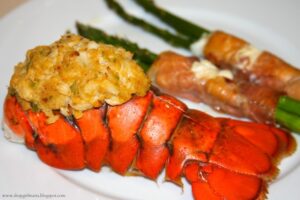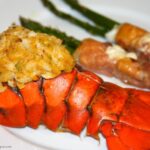 Crab Stuffed Lobster
Ingredients
2

shelled lobster tails

1/2

stalk green celery

1

scallion

1

tbs

unsalted butter

1 1/2

tbs

all-purpose flour

6

oz

crabmeat

2

tbs

unseasoned breadcrumbs

1/3

cup

milk

Salt & Pepper
Instructions
First, prepare the crab filling.

Finely dice the celery and the scallion, and melt the butter in a small pot.

Saute the celery and scallion in the butter until soft, then season them with salt and pepper.

Add in the flour and stir for about a minute, to cook out the flour taste.

Slowly add in the milk, stirring the mixture constantly so it's nice and smooth.

Remove the mixture from the pot, place it in a small bowl and add in the crabmeat and the breadcrumbs, and stir well.

Set aside.

Preheat your oven to 400 deg F, and lightly grease your baking pan.

Take your lobster tails and cut them down the top, making sure you don't cut the whole way through (you are basically creating a pocket that will be stuffed with the crab mixture).

Place the lobster tails on your baking sheet, and open up the part that you cut, and stuff it with as much of the crab mixture as you can, whatever doesn't fit inside can be left on top of the lobster.

Bake for about 15 - 20 minutes, or until the lobster is done and the crab stuffing is golden.
Slicing and preparing the lobster tails:
Stuffed tail, ready for baking:
Recipe Source: Adapted from AllRecipes
And if you are looking for a great dessert to follow this meal, try THIS Strawberry Layer Cake that's so easy to make yet so impressive looking!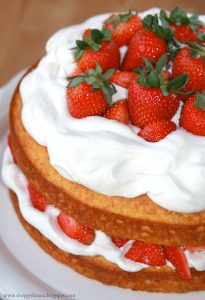 Or THESE Three Ingredient Pecan Turtles, that are an addictive treat made of pecans, caramel and chocolate!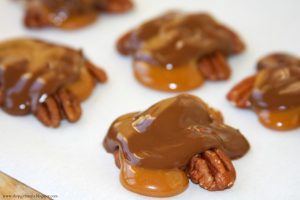 I hope you all have a wonderful rest of your week, and I will see you all again next month!
~Maria
Come and visit me over at Shopgirl, or find me on Twitter, Bloglovin' or Pinterest!