Hello again to all my friends at Or so She Says! It's Cathy from Lemon Tree Dwelling and I'm so happy to be back today sharing this delicious BBQ ranch chicken wrap with you. It's inspired by one of my all-time favorite salads from The Cheesecake Factory and is loaded with all kinds of goodness….like grilled corn and avocado and black beans and crispy onion rings….all smothered in a combination of ranch dressing and bbq sauce. In other words, it's pretty much the best wrap ever!!
I was inspired to make it after a recent trip to The Cheesecake Factory to celebrate my neighbor's birthday. I have GREAT neighbors – we are lucky that way – but since the winter weather has been so brutal, none of us has set foot outside! So it had been forever since we'd seen one another! That's typically how it goes in wintertime, at least around here…..we can go months without ever laying eyes on the people who live right next door!
It was great to see one another and catch up….I got the scoop on everyone in the family and gave her the scoop on us, too. We joked that we'd have to start peeking through one another's windows just to get a sense of what was going on next door…and that's not too far from the truth! Ha! It was ESPECIALLY great to catch up over such delicious food. I could eat pretty much anything on The Cheesecake Factory menu, but I tend to stick with salads just to narrow down my options. (Just like as much as I LOVE their cheesecake, I tend to stay away from it altogether….just to narrow down my waistline!)
As usual, I found myself still thinking about the salad days after I had eaten it. Which was a clear sign that I either need to hit up The Cheesecake Factory more…..OR I needed to find a way to make it at home! I opted for the second choice….(I don't really set foot outside in winter, remember??)….but decided to make it into a wrap for the sake of my family. I used leftover shredded chicken instead of the grilled chicken on the salad, and I must say the flavors were spot on! Pretty soon warmer weather will be here and seeing neighbors won't be such a rare occasion. I have the feeling that enjoying this delicious wrap won't be such a rare occasion, either!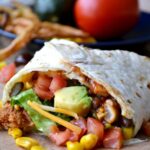 BBQ Ranch Chicken Wrap
Ingredients
1 10

inch

tortilla

1/2

c.

shredded cooked chihcken

1/2

c.

lettuce

1/4

c.

diced tomato

1/4

c.

shredded cheese

1/4

c.

chopped avocado

1/8

c.

grilled corn

1/8

c.

black beans

onion rings

frozen or homemade

BBQ sauce

Ranch dressing
Instructions
Fill tortilla with chicken, cheese, vegetables, and onion rings.

Drizzle with BBQ sauce and Ranch dressing, to taste.
Thanks to Mariel for having me here today! I'd love for you to stop by my Lemon Tree Dwelling to say hello and grab some more delicious recipes!