I've seen plenty of shameful adult temper tantrums, but today is all about your little ones. What is the right way to deal with tantrums?? Is there only ONE right way?? Of course not. That's why I solicited your help on Facebook. I know there are lots of methods out there and I wanted to hear from you. So, between your advice, the advice of "the professionals", and myself…here you are: a temper tantrum post.
Kids throw tantrums, they just do. Some throw more than others and
sometimes
parenting is to blame. Here are some do's and don'ts…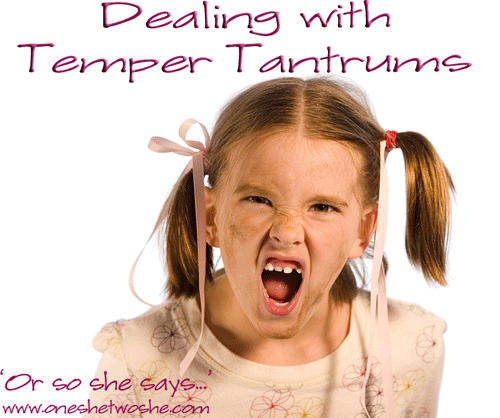 Do ~ Reward Children for Behaving Well (not the opposite)
This is a HUGE lesson to children and what parents need to remember when they are dealing with tantrums. If Junior is having a total scream-fest because he didn't get his way, you DON'T give him a lollipop and another cookie to shut him up. You also DON'T cuddle him, sing to him, and stroke his feathery hair. Nope. Those are some pretty great rewards and I would sure as heck do anything I could to make those rewards happen again…including screaming my head off. I mean, if I was Junior. Tantrums need to equal nothing, not rewards and attention. And by "nothing," that means nothing good. And, for suggestions of "nothing good," keep reading.
Do ~ Know the Triggers & Have a Plan (and distractions!)
What's setting the little one off?? If you are more aware of the most common triggers, it's easier to have an action plan. Common frustrations: hunger, bed time, waking up, visitors, car rides, friends, getting dressed, bath time, family activities, being rushed, losing things, chores, homework, on and on and on and on and on. Oh, and on. So, an action plan needs to be implemented BEFORE the tantrum starts…when you start to get the mommy-intuition that it's coming.
An action plan might be: Junior gets totally belligerent every time you wake him up for school in the morning. Plan: Put him to bed earlier, wake him up extra early and let him lie in your bed and watch cartoons for a while. Allow enough time for him to get ready without being frantically rushed. There are lots of things you could do to calm the morning scene down. Another example…maybe Junior gets bored senseless on car rides, which turns into a tantrum. Plan = Be prepared. Have activities stored in the car, a DVD player, whatever will help keep tantrums at bay. You could also create distractions by saying "Hey Junior, listen to this fun song…does it remind you of Christmas?? What do you want for Christmas??" Tell him about where your going, what you're going to be doing…just talk. Give them some positive attention because the tantrum hasn't happened. Maybe even say "I'm so proud of how you're behaving. It's been fun hanging out with you." You get the idea. Distractions are great!
Do ~ Teach Your Children Appropriate Behavior
When they are of sound mind, talk to them about behaving properly. Tell them its okay to have feelings and to be angry but you have to handle it properly. Maybe role play with them….do a scenario where you take their favorite toy. Have them show you how they should respond. What about when Dad says it's time for bed…how should they act? For fun, reverse roles…have them present the scenario and you be the tantrum throwing kid. Ask them if what you did was appropriate or not.
Don't ~ Throw a Tantrum With Your Child
We've all seen it, maybe done it. Your child freaks out…and soon enough you're freaking too. Parents need to show their children appropriate behavior. Don't scream, hit, punch holes in the wall, or rip your hair out. Remain calm. Sometimes you have to put yourself in "time out" before you handle your child.
Do ~ Understand That They Are Children
If you keep your kid up until 11 at night, don't be hard on them because their grumpy. If you've been shopping all day and they have walked 5 miles back and forth in the mall, don't expect them to be smiling. If you forget to feed your kids for 4 days, don't complain that they're lethargic and unresponsive.
What to Do When the Tantrum Strikes??
(assuming its entirely unwarranted, unlike the examples above…)
I'll tell you what happens in my house
(go ahead, call me mean…I'm ready.)
When tantrums happen, the kids have to go
outside
until they are done. Yes, that means I escort them out the door and lock it. Do they run away? They never have. They sit on the chair on the back porch or stand by the door (I can see them through the windows). If its not safe for them to be outside or if they would run off, or bother the neighbors, it's into the garage they go. If it's my toddlers, they are put in the crib. If its dark, maybe it's midnight…I turn on the porch light. I calmly walk them to the door, explain that its okay to be angry but nobody acts like that in our home and they can come back when they're done. I shut the door, walk away and come back when they knock and/or I can tell that they are
really
done. It works every time. Every time. Tantrums are no fun if you don't have an audience! They come back in the house (after the knock signifying they're done) and have completely quit the madness. If I can tell they're not really done, they stay out and I come back later.
Part 2
of making that work (assuming you want to try it)…
don't
stand by the door and open it every 3 seconds and ask if they're ready to come in. Blah.
Walk away, get on with your life and show them that their tantrum doesn't affect you.
Part 3
of this method…don't wait until you've already lost your mind listening to their tantrum. Give them the "1,2,3" and it's outside. If you listen to their madness forever first, you go crazy too. It's really important that you, as a parent, stay sane. Tantrum-throwing-children get 3 counts then remove them from your presence. I always tell them that our home is a happy home and mean and bad behavior can't be here, the end. Oh,
part 4
…you don't have to be a psycho-pants about it. Don't drag them to the door while you're screaming, yelling, and kicking them in the rear. Be calm, state the house rules, and be complimentary of their new behavior when they come back in.
I do "outside," other people do time-outs in bathrooms, bedrooms, noses in corners, on time-out chairs, etc. Basically, I think we're all on to something…time-outs are a great place for kids to calm down, realize their behavior is unacceptable, and compose themselves to "try again." Reasoning during a tantrum is usually a waste of time, let them calm down first…then talk about it.
Ugh, isn't it the worst being trapped in the car with a screaming kid?? I'm always joking with the hubs that we need a police car window between us and the passengers 🙂 However, we have a trick that has worked for us…similar to my home method. We kick them out of the car…in a nice way, of course. When the tantrum comes on and it can not be reasoned away within about 1 minute, we find a safe place to pull over. I take junior out of their seat and have them stand next to the car, tell them we aren't willing to listen to the screaming and we will continue on when they are done. I then get back in the car (keeping an eye on them through the window…inconspicuously) and when they are calm, they can rejoin the family in the car and we are on our way. It's like magic, I swear. It has never taken longer than 1 minute. I would much rather spare that 1 minute on the side of the road than endless minutes listening to a freak-out. Again, tantrums are usually audience-centered.
Stores are hard. I've heard it said to take them out to the car and give them a time out, then come back in. Okay, whatever. Moms don't have time for that. We need to get our crap and get the heck out of there. Besides, getting the heck out of there is usually what grumpy kiddo wants too!
Preventative measures
are the best for stores.
A while back I did a post on tips for keeping kids happy in the grocery store, called Grocery Store + Kids = Chaos.
Read over that for some ideas. When your preventative measures don't work and the meltdown happens, remain calm, ignore it the best you can (don't buy treats for them!), ignore all the stares and comments from other people, and finish shopping ASAP to save any sanity you might have left. When you get home, beat the snot out of your kid…NO…not really. Talk to them about it and think if there is anything you can do to be more prepared next time. Oh, you're asking for trouble is you shop during nap time…so, blame yourself for that
(refer to "Understand That They Are Children" above.)
Whatever you do, be consistent or nothing will change

. 🙂