As we prepare for Easter, let's not forget the true meaning of this Holiday: Christ's resurrection. Rachel has 8 Easter scriptures you can ponder to help put emphasis on Christ this week.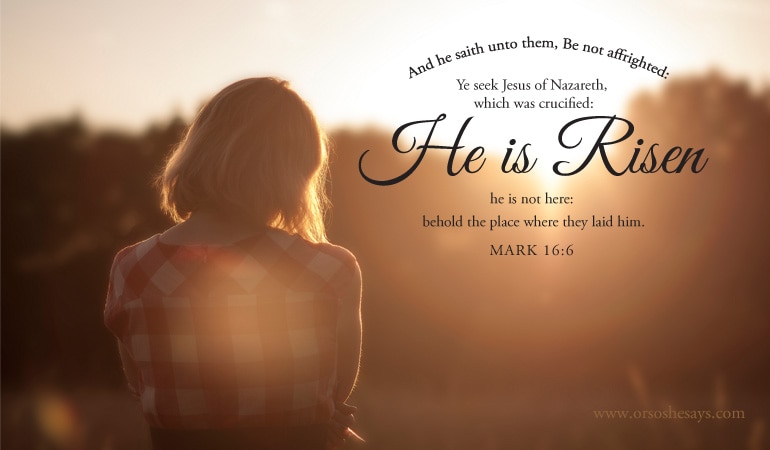 Hello everyone! It's Rachel, back again from The Mormon Home. I'm sharing some Easter scriptures with you today, and allow me to explain a little bit about why.
Today is Palm Sunday. Mormons don't usually celebrate the Holy Week in the same way as other faiths and my recent study of Catholic worship has left me with an increased respect and love for their reverence of Easter. I was especially awed by the depth of tradition in The Catholic Home related to this Holy Week.
For instance, it's a Catholic tradition to bake yeasty breads during Easter (like hot cross buns!) because yeast represents rising and resurrection. Another Catholic custom is to cover sacred symbols (like pictures of Christ and statues) with purple cloth during all of Holy Week, to be uncovered on Easter Sabbath. In some Catholic homes they replace the bunny with a lamb to keep in mind the lamb of God. Candles play a role in reminding the family of Christ's role as a light. Along with attending and worshiping at mass, some Catholics observe a meditative silence between noon and 3 pm on Good Friday, as 3 pm is the accepted time when Christ was crucified.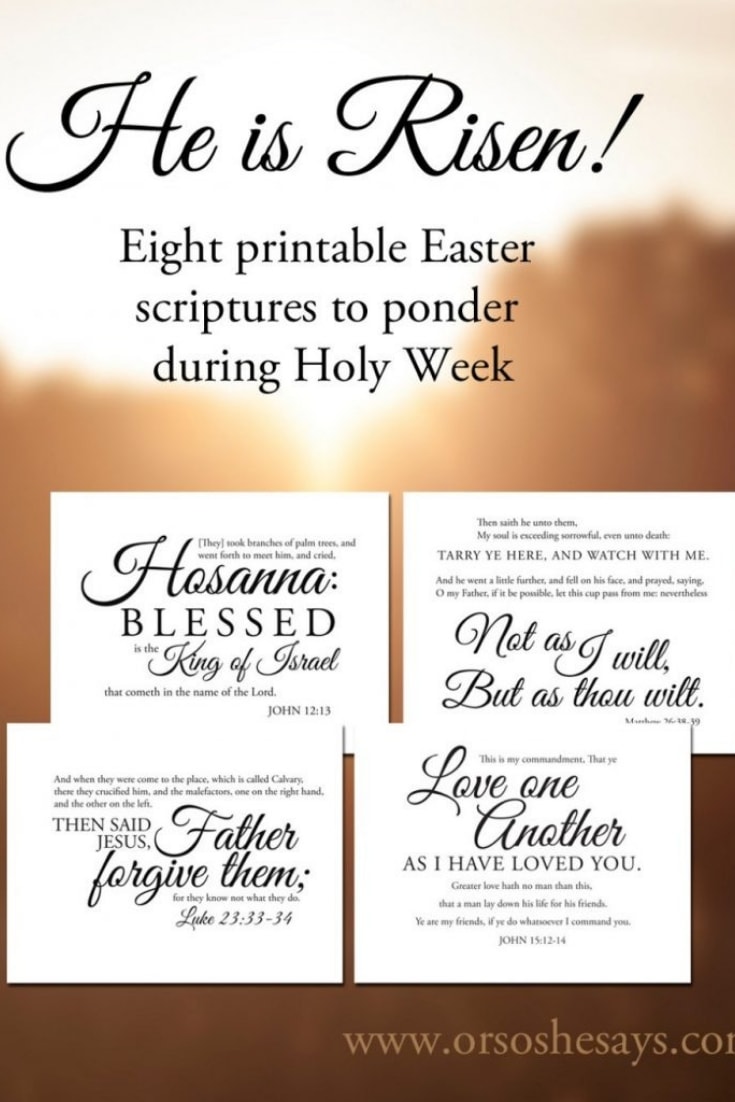 I love and respect the centuries of tradition that are honored by many Catholics as a way to bring more reverence to their Easter week. One Catholic tradition of worship that especially resonated with my Mormon soul is a meditation on the fourteen Stations of the Cross, which often takes place during Lent. They recite the stations, sometimes ringing a bell or lighting a candle for each one, and think deeply about how Jesus felt during each step of Christ's crucifixion.
So during this sacred Easter week, I'd like to add more holiness by thinking more deeply about Christ's life and crucifixion. I've gathered eight Easter scriptures from the New Testament related to Christ's life, death, and resurrection. They are not the Stations of the Cross, by any means, but eight simple teachings or characteristics of Christ that are worthy of deeper meditation.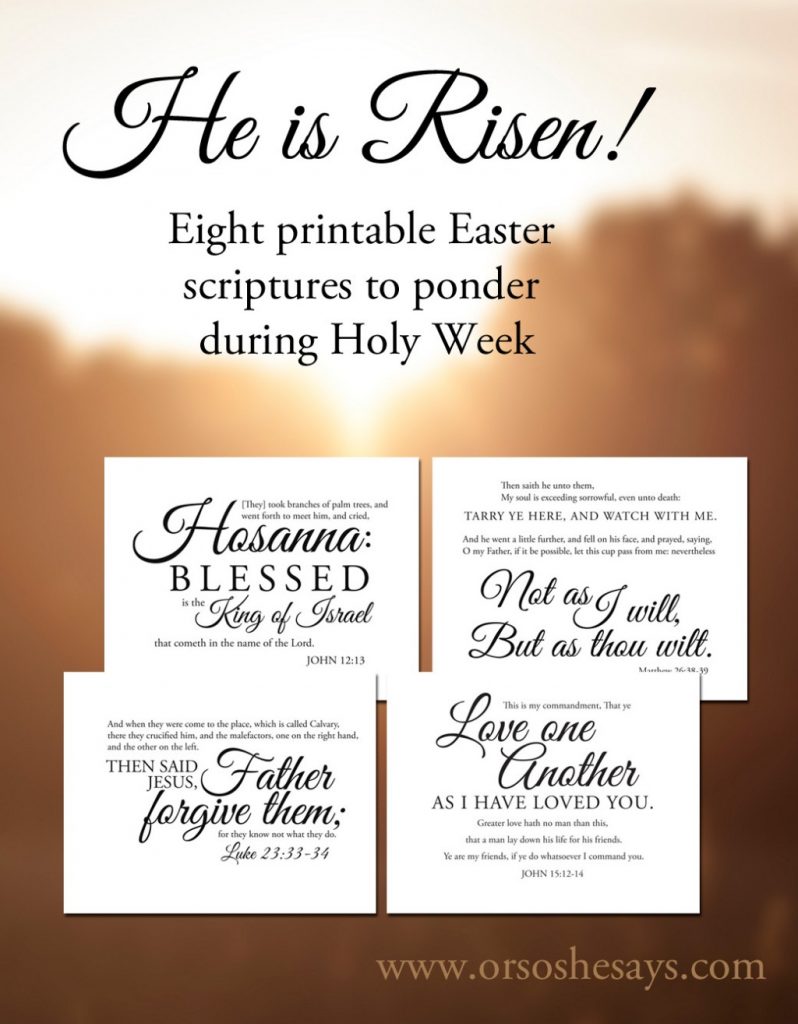 The first one starts on Palm Sunday (today!) and the others are mostly sequential and meant to follow Christ's final week on earth. There are moments from the Last Supper, Christ's judgement by Pilate, His crucifixion and resurrection. These Easter scriptures would be perfect for a more focused personal devotional each day leading up to Easter. They would also be great to share as a lesson with your family or fun to print out for a friend or sister. Wrap up these eight scriptures with some Easter lily's (or Easter chocolate) for a thoughtful and spiritual gift.
I formatted each scripture with a beautiful font and put all eight onto two pages. They are meant to be cut into quarter pages. I think they will help me focus my thoughts on Christ's sacred teachings and divine sacrifice during this very special week. Happy Easter!
Click here for the two page PDF printable.
For more posts like this one, check these out:
Family Night: The Easter Story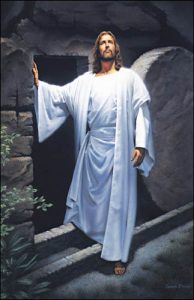 10 Ways to Make Your Sabbath a Delight