A delicious flavor combination, this Jamaican Jerk Chicken Pasta will wow the whole family!
Hi again! It's Mara, back from Put on Your Cake Pants with a new and super easy recipe to tempt your taste buds: Jamaican jerk chicken pasta!
I've been obsessing over the cuisines of the Caribbean for the past few months. While I'd love to drop everything and jump on a plane, eating tropical food is the closest I can get to a tropical vacation at the moment. Even though this winter has been relatively mild in Michigan, I certainly wouldn't say no to a beach getaway! Watching episodes of The Bachelor filmed in the Bahamas and Jamaica hasn't helped quell my wanderlust, either. But honestly, perhaps the reason I've been craving Caribbean food is just the fact that it is all-around awesome and positively bursting with flavor. Sweet, savory, spicy…it's got it all!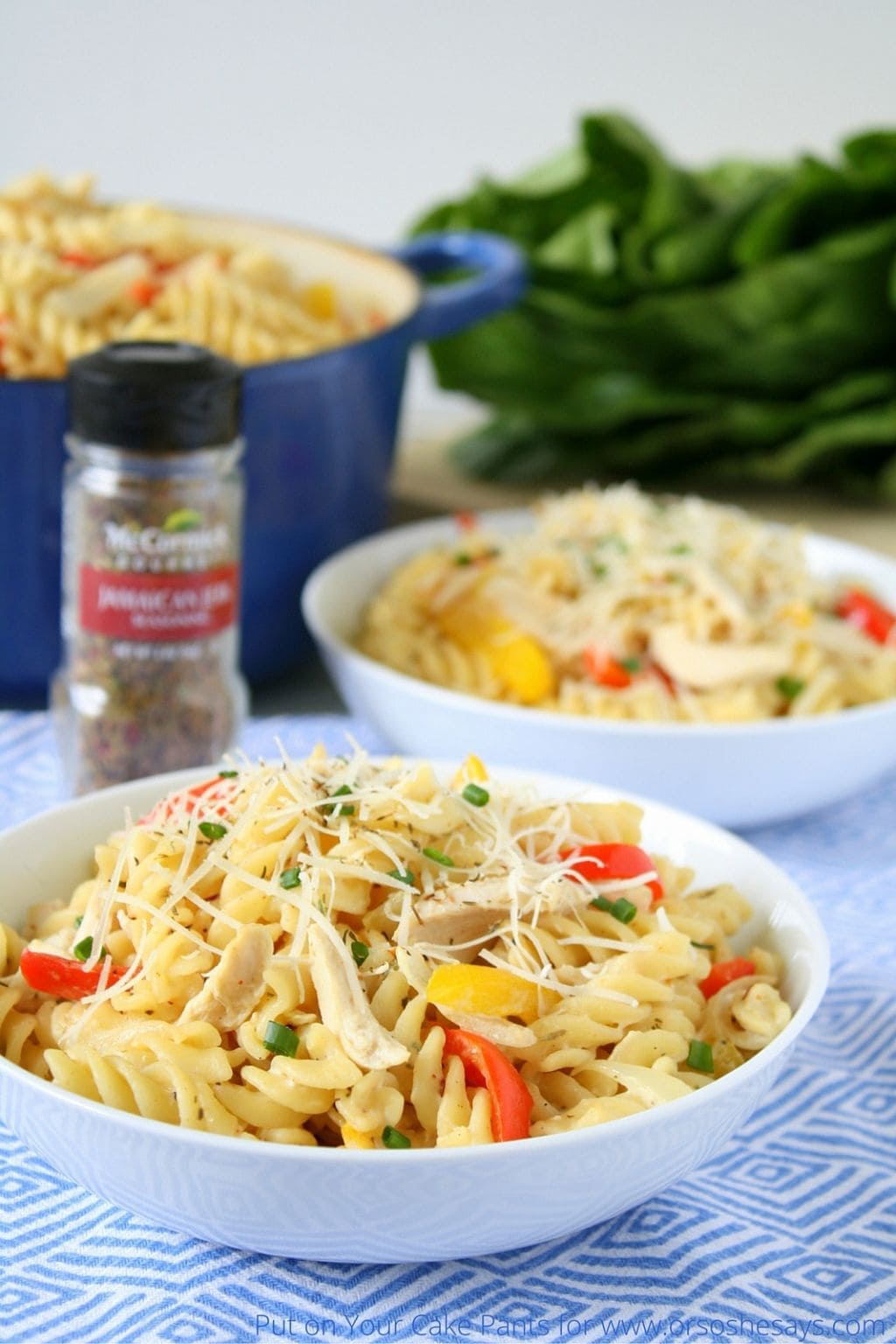 Now, I don't claim that this Jamaican jerk chicken pasta is a traditional Jamaican recipe, but I was inspired to make it after seeing a similar dish at a great local Jamaican restaurant. My version combines sautéed peppers and Jamaican jerk seasoning with creamy Alfredo sauce and a sprinkling of parmesan cheese, so it's really more of a Jamaican-Italian fusion. It doesn't matter what you call it, though—it's lip-smacking good!
While I wouldn't say that the simplicity of this pasta is the best part (that honor is reserved for the taste alone!), I do love how quickly it comes together. Just boil the pasta, chop up and sauté the onion and peppers, toss in some cooked chicken and a jar of Alfredo sauce, and dinner's ready! Less time spent cooking = more time for eating and relaxing, mon.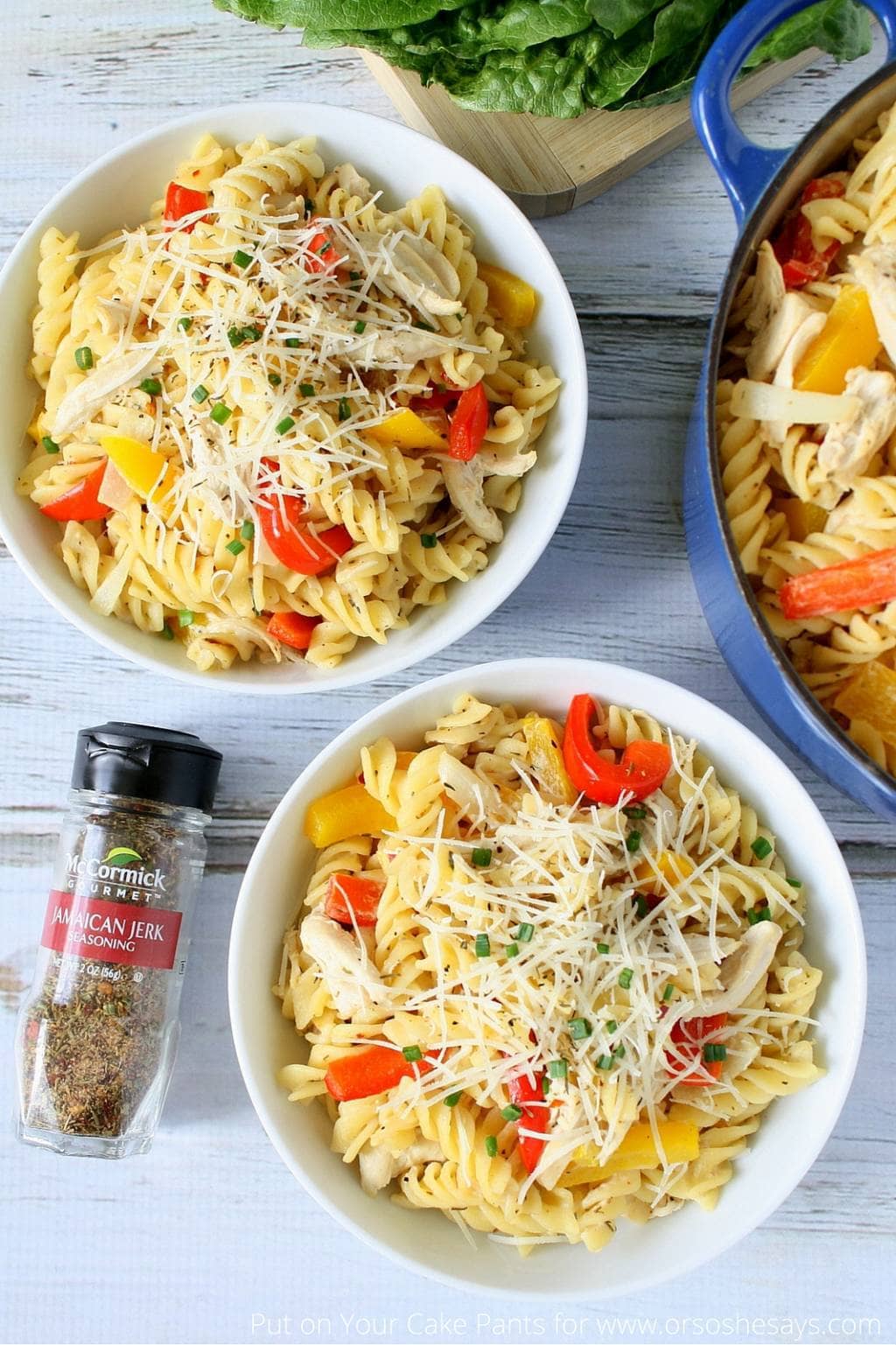 I'll be back next month with another new recipe. In the meantime, if you're in the market for other easy pasta recipes, you won't want to miss these!

From left to right:
Pasta with basil walnut pesto and roasted broccoli
Feta and dill orzo salad
Hamburger Helper copycat pasta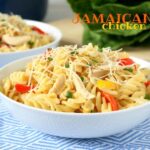 Jamaican Jerk Chicken Pasta
Ingredients
1

pound

pasta

1

tablespoon

vegetable oil

1

red bell pepper

cut into strips

1

yellow bell pepper

cut into strips

1

medium onion

sliced

1

jar

16 ounces Alfredo sauce

2

cups

shredded cooked chicken

1 1/2

tablespoons

Jamaican jerk seasoning

1-2

tablespoons

chopped chives

optional

1/4

cup

grated parmesan cheese

optional
Instructions
Bring a large stockpot of water to a boil and cook the pasta according to the directions on the package.

While the pasta is cooking, heat the vegetable oil in a skillet over medium heat for 1-2 minutes. Add the bell pepper strips and sliced onions and sauté until softened, about 8-10 minutes.

When the pasta is done, drain the water and return the pasta to the stockpot. Add the Alfredo sauce, shredded chicken, sautéed vegetables, and Jamaican jerk seasoning to the pasta and toss to combine. Cook on low for 2-3 minutes until heated all the way through. Optional: garnish individual portions with chives and grated parmesan cheese.
Recipe Notes
My go-to method for cooking chicken to include in recipes is to pan-fry frozen chicken tenders. To do this, heat about a tablespoon of vegetable oil in a skillet for 1-2 minutes. Add the frozen tenders and cook 7-8 minutes per side, until no pink remains. You can also use shredded rotisserie chicken.
Different brands have different formulas for Jamaican jerk seasoning, so the spice level may vary from one brand to another. I recommend starting with less and adding more to taste. I chose McCormick because several other versions listed sugar as the first ingredient, whereas it is the last ingredient in the McCormick blend.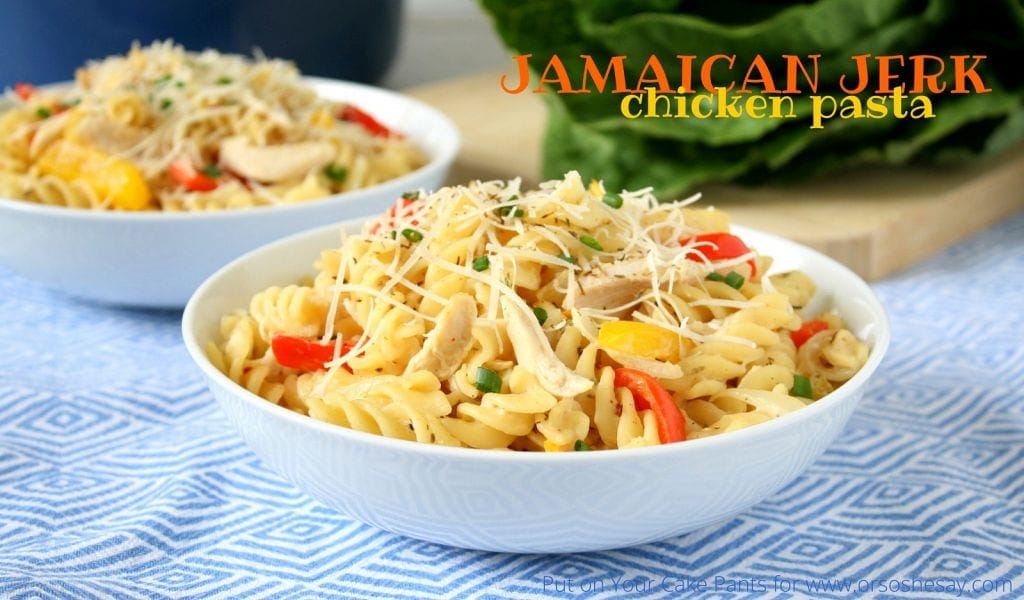 If you like Mara's recipe, then try these, too: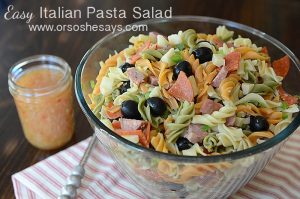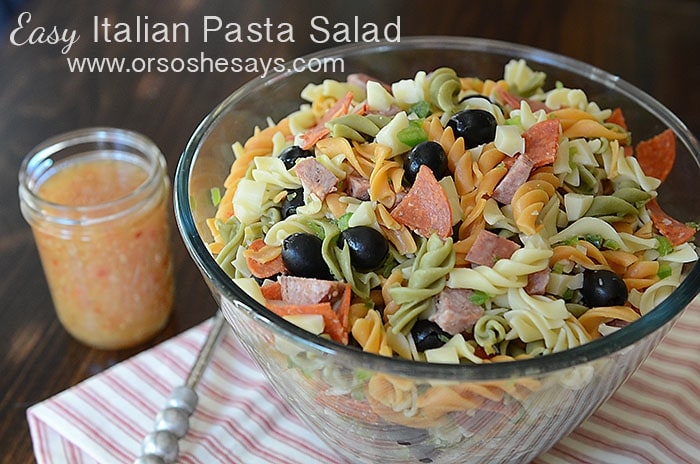 30-Minute Skillet Chicken Pasta