It doesn't matter how much milk or bread I buy, I swear, in 5 days…we're out. And, I can't bring myself to go grocery shopping more than once a week…so, at least 2 days a week…we're scavengers. Trying to figure out what we can eat that doesn't include milk or bread. That's hard with little kids! But, that's life around here, either until the kids grow up or I buy a milk cow and plant a wheat field…which I'm seriously considering.
That's why I love this meal. This is a go-to when the cupboards are bare. I always have frozen chicken, a can of enchilada sauce, black beans, Mexican rice-a-roni, cheese, and tortillas. Pretty much always. So, throw them all together, and what do you get? A Mexi-Burrito that is totally delicious, quick and easy to make.
Like I mentioned above, all you need to make this is: chicken (rotisserie makes it even easier!), a can of green enchilada sauce, a can of black beans, cheese, Mexican Rice-A-Roni, shredded cheese, and tortillas.
Cook up your chicken in a pan. Once it's cooked, add the enchilada sauce to the pan to heat together. It's even easier if you have a rotisserie chicken, like I did. Just shred the pieces of meat into a bowl, pour some enchilada sauce on top, and heat in the microwave.
Cook a box of Mexican Rice-a-Roni. Dump a can of black beans in a bowl, and heat up.
Make your burritos using all of the ingredients. Heat up the tortillas to soften them, before rolling. That's it. Sometimes I'll drizzle extra enchilada sauce on top of the burrito…but, you could also top with sour cream, guac, tomatoes, what-have-you…but, if I don't have milk and bread, I don't have those things either. 🙂
Easy Mexi-Burritos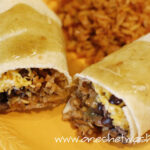 Easy Mexi-Burritos
Ingredients
1

lb

chicken

cooked & shredded (or diced)

1

can black beans

1

box Mexican Rice-a-Roni

1

can green enchilada sauce

Shredded Cheese

Tortillas
Instructions
Cook your chicken (or use a rotisserie chicken), heat up with the enchilada sauce.

Cook the rice

Heat up the beans in the microwave

Pile everything on a warmed tortilla. Wrap up to make burrito.

Smother with extra sauce (optional) and/or sour cream, tomatoes, etc. Or, just eat it plain! It's good and easy, either way.
~ Mariel