Hey friends! With 'Back-to-School' just around the corner, some friends and I thought it would be fun to get creative and come up with 8 blog posts, all about rulers! Be sure to check out the OSSS contribution from Amy below, then hop around to see everything else. Have fun!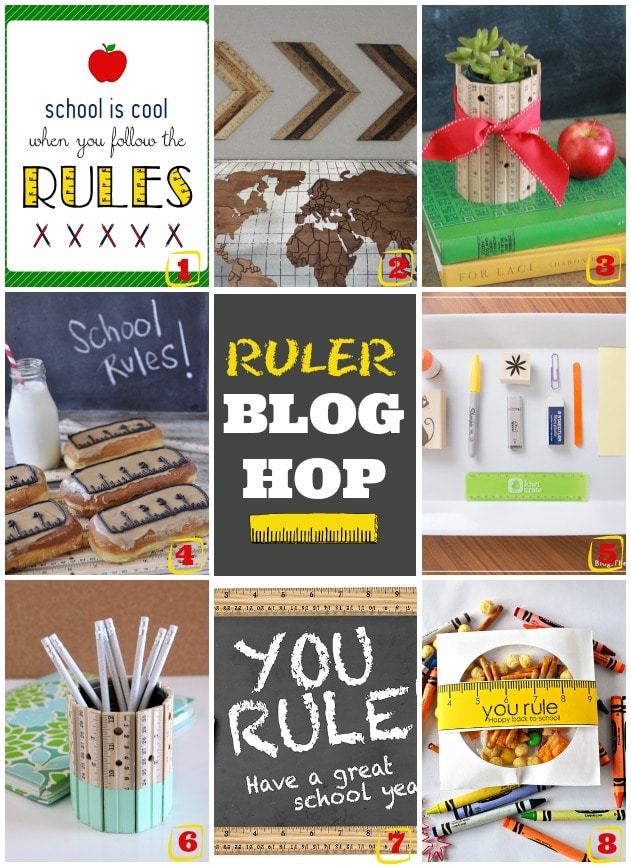 1. Classroom Sign & Printable by Capturing Joy with Kristen Duke
2. Ombre Ruler Wall Arrows by LandeeLu
3. DIY Ruler Vase by Lolly Jane
4. Ruler Donuts by Your Homebased Mom
5. Easy Educational Ruler Activity by Or So She Says
6. DIY Pencil Holder or This Pencil Holder Rules by Eighteen25
7. Back to School Ruler Printable by Two Twenty One
8. You Rule! Back to School Printable by Thirty Handmade Days
Hi, it's Amy from The Connection We Share. For a while, I've been wanting to teach Elle how to use a ruler to measure. Since this week's blog hop is ruler themed, I thought it would be a perfect time to do that!
My goal for this invitation to play is to teach Elle to measure things with a ruler and practice writing numbers. I thought it would be fun for her to measure an object and write down its length on a Post It and let her stick it on the object.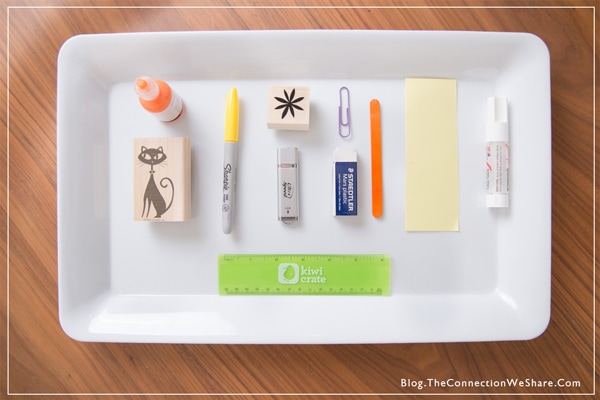 I collected a few things that are small enough for her to handle and are easily measurable that are stick-like or have flat edges. Things like pens, crayons, paper clips, and post its are all good choices. I have stamps in there too because I keep my craft supplies in the office =) For a bit of a challenge, I threw in a cylinder shaped paint bottle for her to measure. And of course, a handy dandy ruler we got in a Kiwi Crate craft kit a while ago.
When she picked the object she wants to measure, I taught her where 'zero' is and placing the edge of the object on it. Next, I got her to read the number where the other edge of the object landed.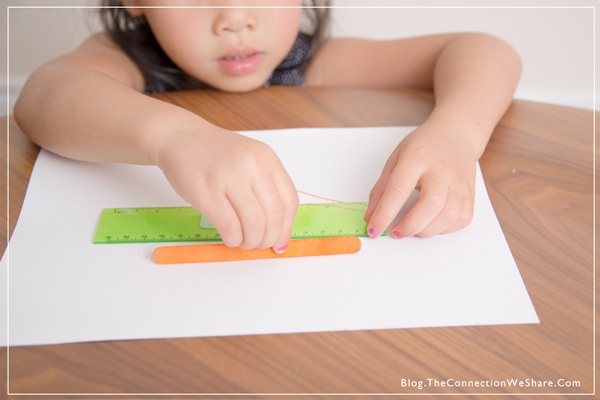 She was pretty good at reading the numbers but had trouble writing them on the post it. I had to make tracing lines of the number on the post it so she could trace it. This was very interesting for me to discover because I know that she recognizes numbers and can count to 20 pretty well but I didn't know she can't write numbers! So now I know we need to practice that more =)
This was a really good exercise for developing her fine motor skills as she really needs to work hard to hold the ruler in place as well as the object being measured. She did have some troubles lining up the edges to zero so we just need to practise this more, right?
Sometimes it's really interesting what we parents can learn from such a simple exercise. Every time we spend time to work on a 'project' or play a game, I discover new things about my child I didn't know before. I suppose it is part of parenting and growing together, yes?
If you like this easy to set up activity, you might also like this silhouette matching game which is a great idea for busy bags! All you need to do is print it, put it in a sandwich bag and pull it out when you need an activity for the kids!