Last week I was all set to make waffles for the kids before they left to spend 4 days with Grandma and Grandpa – just as a special little treat. But mother of the year here opened up the fridge and saw that I didn't have eggs or milk. I had a very sad little bunch of faces. So I did a quick investigation and found a recipe for waffles with no eggs. Hmmm. To say that I was skeptical is kind of an understatement, but I decided to give them a try anyway. And wow were we all surprised. Every last crumb was gobbled up!
So this recipe is now my go-to in the event should I run out of eggs again.
And maybe not even then because they're so good we'd eat them any time!
Enjoy!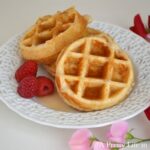 Eggless Waffles
Ingredients
2

cups

flour

4

tsp

baking powder

2

tsp

sugar

2

cups

milk

I used 1 can of condensed milk topped off with water because that's all I had on hand

2

tbsp

vegetable oil

2

tbsp

water

1

tsp

vanilla

4

tbsp

melted butter
Instructions
Combine the flour, baking powder and sugar.

In a separate bowl mix together the milk, oil, water, vanilla and butter.

Add the wet ingredients to the dry ingredients, and mix together gently. As with all pancake batters, it should be slightly lumpy.

Let the batter sit for a few minutes to give it time to puff up.

Once your waffle maker is ready to go, depending on the size of your maker, scoop the batter in and enjoy! (for my maker I used 1/4 cup batter for each waffle)
So the next time your fridge is sparse, go ahead and give these a try! They don't disappoint, trust me!
Thanks again so much for reading along…I appreciate you all!