Hey Y'all! My name is Beth from Free Stylin', and I am thrilled to be the new FabuLESS Contributor for Or So She Says! My absolute favorite place on the planet is the beach. I love the sun, I love the surf, and I love having my toes in the sand. Instead of buying expensive souvenirs on our trips, I collect the sand from every beach we go to. It's like memories in a bottle, right? For free! I've wanted to display our sand collection in a special way. The sand has just sat in plastic water bottles on a shelf (super chic, I know!!)…until now!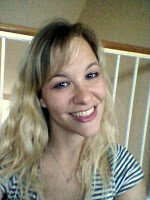 Today I'm going to show you how to get that sand off the shelf and turn it into expensive "art" for your home. 🙂
First thing's first…grab some picture frames. I chose white frames from Ikea that only cost $1.99 each! (Don't want to spend any money? Shop your house for unused picture frames. Either spray paint them all one color or leave them as is.)
Now gather a few supplies: *Sand *Mod Podge or glue *poster board or card stock *a piece of paper cut into a "wave" pattern *pencil *disposable container (I used the bottom half of a plastic cup) *foam brush

*Remove the glass from your frame. (Save it for another project!) Using your picture frame as a guide, cut a piece of poster board to fit inside the frame. *Trace the "wave" pattern onto the poster board. *Mix equal parts sand and glue to make a sand paste. *Using the foam brush, paint the sand mixture onto the board. Let it dry completely.
Your picture should look like this once it is dry:
*Once it is totally dry, place your sand art into the frame, and close the back. I wrote where the sand came from in pencil on the picture mat.
*Display your beautiful sand collection…hang it on a gallery wall, put a frame next to your bed…some place where you can see it and remember your "fun in the sun" good times. Our office has a beach look goin' on, so I placed our collection on the wall with a picture The Hubs took when we were vacationing in Mexico.
I love that this project is 1. Super Easy 2. Totally Personal 3. Inexpensive 4. Completely versatile
Who says your souvenirs have to cost a ton of money? They don't. They only have to feel priceless.
Do you have an usual collection? How have you displayed it? Leave a comment and let us know!