Hi! My name is Jill. I love all things handmade, and even though I'm not the most talented or crafty, I still enjoy taking time to learn and have fun making different projects! My dear mom came to visit me last week and taught me how to make these adorable fabric flowers.
These are so popular now, so I'm glad I finally know how to create them. I'm no pro and don't technically know how to post a tutorial, so bare with me and I'll do my best to show you the steps!Side note: There are probably other ways to make these, but this is the way I learned.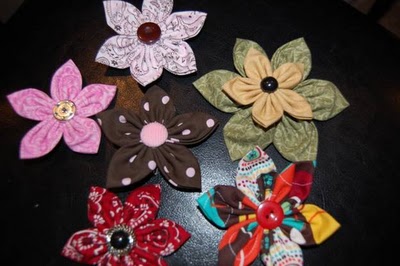 Fabric Flower Hair Bow Tutorial:
Supplies needed: material, scissors, mug and pencil for tracing, needle and thread, button or brad or rosette…something to go in the middle of the flower.
1. Find some material, scraps even work…depends on how big you want to make your flowers.
2. Once fabric is determined, use mug, bowl or something round, sized appropriately to your desire and trace 5-6 circles. The flowers can have 5 or 6 petals (I personally think these numbers are best, but I guess you can really do as many as your heart desires!). Cut out circles.
T 3. Take one circle at a time and fold in half, then fold in half again.
4. Take needle and with rough edges at the bottom, pointed tip at top, start at one corner and weave in and out along the base of the folded petal. You don't have to stitch too close, space is okay!
5. Once you've weaved the needle across the bottom, pull it out of the material and leave a string of the thread behind the first petal. Then grab another folded petal in the same direction and do the same thing…weave away.
6. Continue the same process until each petal is weaved. You should have extra thread hanging from each end.
7. Take the needle out of the thread and with both ends of thread, gather together and start scrunching the petals together, so the triangles now start to resemble petals! Squeeze tightly together as close as you can (without breaking the thread!) and form a round flower.
8. Once flower is formed as tightly as possible, tie a double knot with the thread and cut excess off. Now your flower is complete…well almost!9. Add a button or brad or rosette or any cute item to the middle of your flower. I just hot glued my items.
10. Add your beautiful new flower to a headband, a purse, hot glue a metal clip to the back for your daughters hair…the idea's are endless with your awesome new fabric flower!
Here are some other samples of flowers I've done…get creative and use different pieces of fabric for each petal, or layer your flowers…experiment and have fun!
~ Jill
* Love a post?? Share it, "like" it or "stumble" it!!