This post started out as a promo for RootsTech, and the class I'm teaching… but, I change it all and decided to tell you about a special experience and realization I had. You can find the other stuff at the bottom of this post.
Get comfortable.
Let me tell you a little story… a few years back, my husband and I were asked to attend a family history class at church. We both went into it with the wrong attitudes. I felt like, 'Family history is kinda cool… but, I just don't have time for one more thing right now.' My husband was like, 'Family history is super lame. That's all.' But we went to the class, to support our bishop… and maybe to socialize. That's the truth.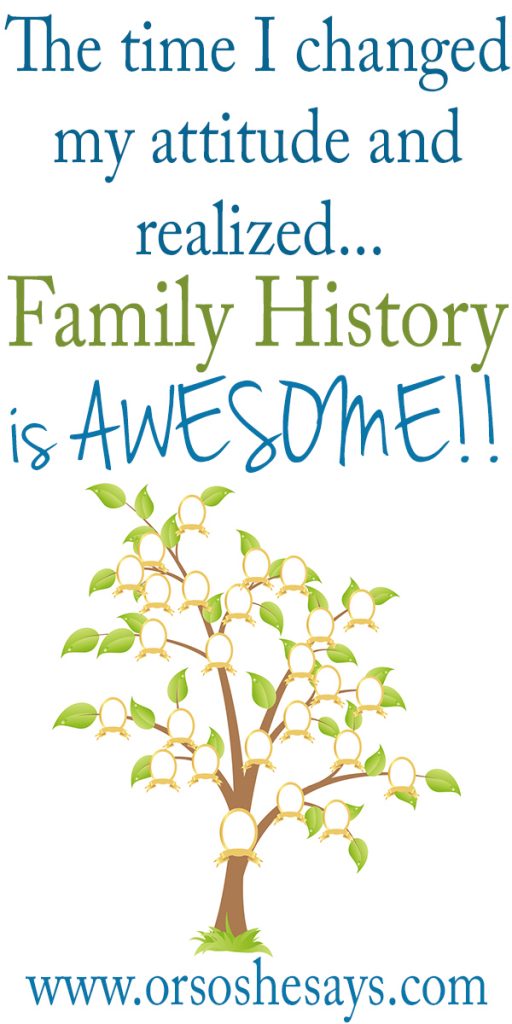 The first couple weeks, our teachers told us stories they learned from their own family history. It was kinda fun to hear them, especially because the teachers are friends of ours. But, then they gave the class the assignment to go home and dig up some stories from our past, to share in class the following week. We put it off as long as possible and then late Saturday night, after picking up the kids from their grandparents, my husband mentioned to them that he needed a family history story for class the next morning. And, there it came. A BIG, honkin' book slapped on the table, called The Wangsgard Family. Some awesome relative put together this book, filled with stories from their family history.
Once we got home, Dan started looking through it and… I never saw him again. Okay, not really! But, kinda. He became so absorbed in the stories of his ancestors, that he would be reading for hours! He would come to me afterwards and tell me story after story of what he read. He loved the story about one of his ancestors who happened to be a carpenter, just like him. He loved reading how the original family that came here to Huntsville, Utah from Denmark was all members of the same church that we are today. Every one of the siblings, way back when, had stopped going to church for a variety of reasons… except one, Christen Christensen, whom my husband (Dan) descended from (the last name Christensen was changed to Wansgsgaard once they arrived in the states, to add a little variety to the name-pool. It was again changed to Wangsgard, with one 'a', by some of the family… ruffling a lot of feathers.) Christen is Dan's great, great grandpa. It was due to Christen's faithfulness, that Dan is happily where he is today. The religious tradition, knowledge and adherence to it's principles was passed down through generations, which is awesome! We found it so interesting to think about, how if he had descended from any other sibling in the original family, we could have easily been experiencing a different life. We're so thankful to Christen and his dedication. It's amazing to think about how the choices of one person can truly have an effect on generations to come… it doesn't determine anything, for certain. But, it will have an EFFECT.
So, Dan had HIS story to share, but I needed one of my own.
I called my mom and ended up getting a small notebook she had with a small handful of stories from her side of the family. I started reading through them and that MAGIC THING HAPPENED, that I hear so much about with family history. I felt excited to be learning more about ME. I felt connected to something bigger. I felt humbled to realize how I am a a part of a bigger story, but that my story matters too. I felt anxious to learn more… to deepen my knowledge and strengthen my connection.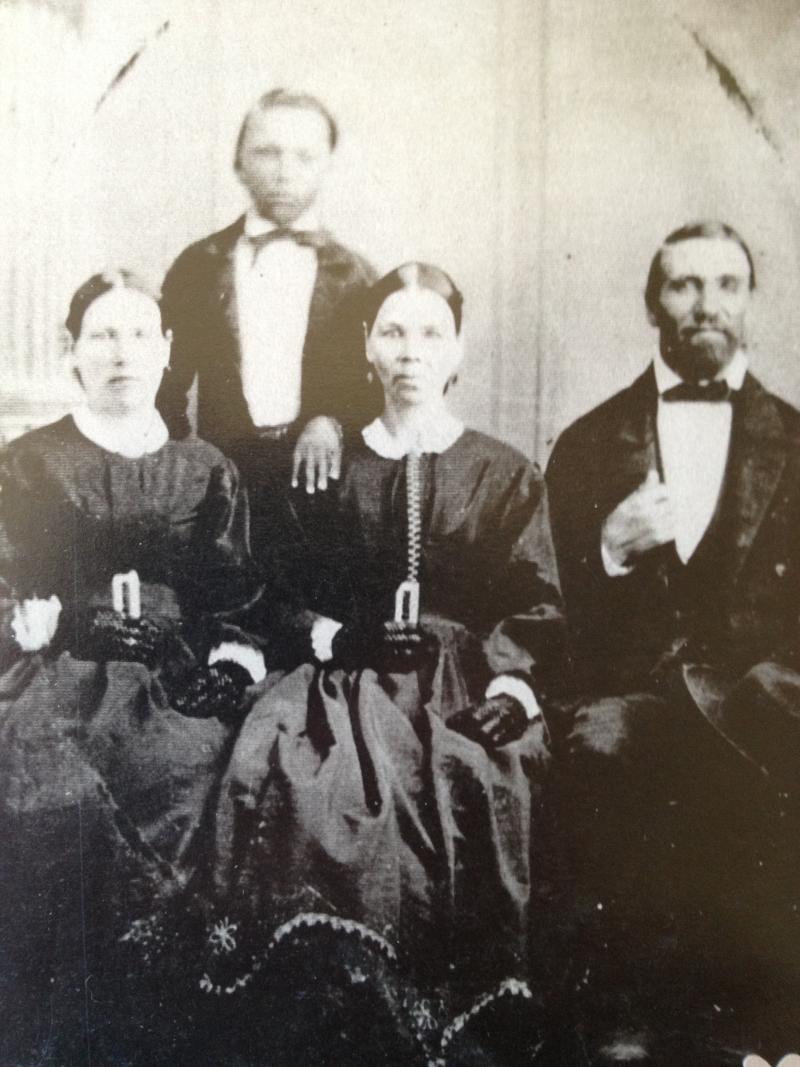 I read about my great, great, great grandpa, Johannes Olofson, that I had never even heard of before and I was smitten. I honestly cannot wait to meet this man in heaven! In 1862, he had spent 15 years as an officer in the army for King Charles of Sweden. Because of his deeds of bravery, the King bestowed upon him the name of Heder, meaning 'honor' to his name. So, I know him as John Heder. Isn't that awesome?? Have I said that a few times now? All of this stuff is awesome. Just hearing that simple fact inspires me to want to live up to his name, honor. So while John was furloughed from the service, some Mormon missionaries came to his home and he ended up converting. He eventually wanted to come to America to be with the other Mormons traveling to Utah, so he asked his superiors to be honorably released from his duties…
"One day he was called before the General and asked the reason for wanting his release. "Your name is up for promotion at the head office," said the General. "I am a Mormon," answered John, "and I want to go to America. "Well, " said the General, '"we do not care what you believe in. That makes no difference to us. You have shown in your service in the army that you have honored the name the King gave you. We want just such men." John thought for a moment and then said, "I think I have performed my duty while serving my country and tried to honor the position which I hold. I have served two years longer than my enlistment and I think 1 am entitled to my release." 'Yes," answered the General, "you have surely done so, and if that is really your wish it shall be granted."
Shortly afterward, John Heder was released from his position with high honors for his service to the crown. As a token of special reward, the King presented him with a Swedish coat of arms and accompanying it was a. trunk with many compartments."
John left all the wealth and notoriety that he had, took his family and boarded a boat in Britain, setting sail to America. With all of the rough waters, all their supplies had washed overboard, but they finally arrived safely in New York, in the middle of The Civil War. His family was stuffed in a cattle car and brought to Nebraska. From Nebraska they walked ON FOOT, all the way to Salt Lake City, where they eventually settled in Huntsville, Utah with the other Mormon settlers. Remember the name of that place?? The same place where my husband's ancestors from Denmark settled?? I'll come back to it. Something CRAZY, you guys.
I am so profoundly thankful to John for being an honorable man. I admire that he worked so hard for his family. I admire that he was humble enough to accept the gospel, that has had an effect on myself being a member of the same church that he was. I admire that he would give up all the worldy possessions and travel across the world in rough conditions for his faith and family. I admire that he was an example to his family through it all. In Utah, they lived for a time in a dirt dug-out. John worked by butchering pigs, digging potatoes and carrots, and peeling bark. Eventually, they were able to build their own home. His decision to come to Utah had an effect on me that is SO HUGE… I'm anxious to tell you about it… in a minute. 🙂
That was my story. The one I wanted to share with my class.
The class continued on, week after week. And week after week, I began to realize that I wanted to MAKE TIME FOR FAMILY HISTORY. Dan realized that FAMILY HISTORY IS AWESOME, INSPIRING… it feels good.
My little sis and I, organizing some family history stories and pictures.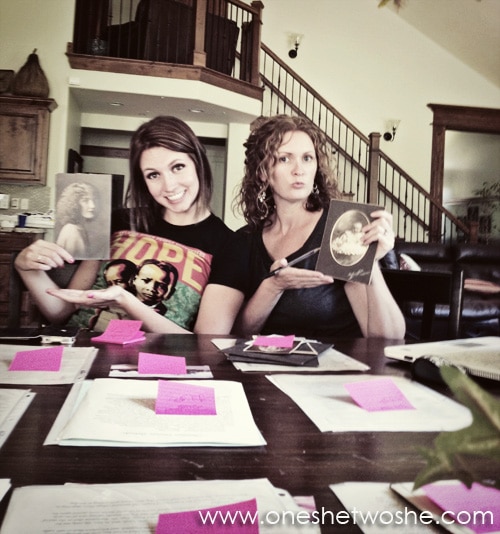 Alright folks, now get this… the crazy thing I mentioned above. So, in our class we learned how to use the super great family history research and recording program, Family Search. Dan had an account that would pull up his family tree. I had an account that would pull up mine. One night, I decide to pull up my tree and do a little research. When it comes up, I see an old/dead gal by the name of Mary Wangsgard on my account. Wangsgard is my husband's last name, so I thought I must be on the wrong account. But, no. I call Dan over and am like, 'What the heck is going on??' We find out… his great, great aunt married MY great, great uncle (John Heder's grandson) … who had both settle in Huntsville, Utah. We're related (not on our direct line, but we are!) Ha. It was the funniest and craziest thing when we found that out! Two families, one from Denmark, the other from Sweden, traveled all the way to Utah and over 100 years ago, one from each family married each other. Dan descended from one, I descended from the other. Dan moved to Utah from Oregon. I moved to Utah from a variety of states and we lived within a mile of each other when we met. Mind blown. If John Heder had never made the decision to leave Sweden and come to Utah, I likely would have never met Dan and had the 6 beautiful children that I have. Same goes for Dan's great, great, great grandpa from Denmark. Their decisions had a major effect on our lives!! I am so thankful to them. And, I am happy to say all of our children are completely healthy. 5 finger, 5 toes. 🙂 But, what's super fun about this new realization is now I feel like his story is my story too, and vice versa. It makes me wonder if our married ancestors were both at OUR wedding, in spirit. Very possible.
Oh, and his great, great aunt that married my great, great uncle… we have the same birthday. I just had to add that.
This is a pic of my family and I at my grandma's funeral, who passed away this last Christmas Eve.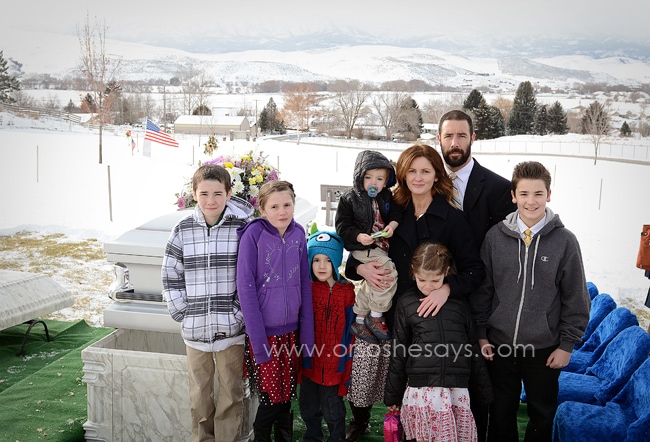 We would have never know, had it not been for that class and had our attitudes not changed. We would have never learned all that we did. Never felt so inspired. Never felt that family history MAGIC, that is so real.
So, I'm sold. We're both sold. I highly, highly, highly recommend learning your own family history and sharing the stories with your children. A super-great side note, studies have found that when children learn their family history, they have more confidence in their ability to conquer life, and they're happier. Pretty cool incentive, as if you needed more.
So now that you're mega-excited to get started with your family history work, have you heard about RootsTech?!? It's a HUGE family history conference that happens in Salt Lake City every year. It kicks off this Feb 11 and runs through the 14th, at the Salt Palace Convention Center. For several days, there is a fab line-up of speakers, entertainment, vendors, classes, and activities. A couple of the keynotes this year are former First Lady, Laura Bush and Donny Osmond. David Archuleta and Alex Boye will be performing and there are over 200 classes to choose from! Lots of great stuff.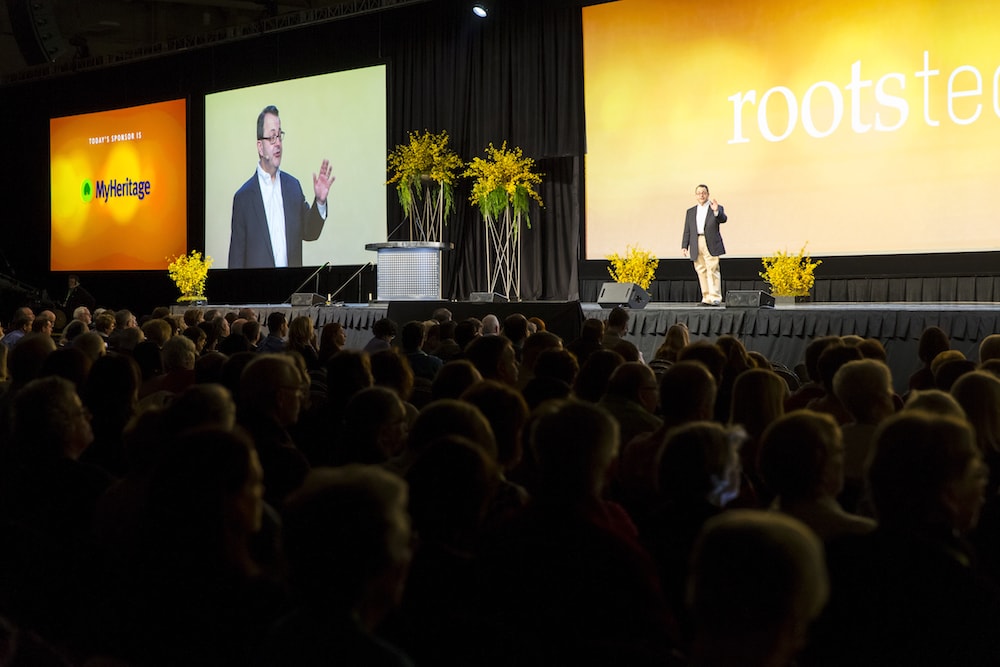 Anyway, so I'll be teaching a beginner's class, called 'Connecting Families Through Social Media.' It will be Thursday at 4:30 in room 250D. I'll be introducing Instagram, Pinterest, and Facebook and how you can use them to stay connected with your family. You can find the full schedule and events on the RootsTech website.
If you want to learn about family history but can't come to RootsTech, they will eventually share several of the classes online. Not sure of the details yet. But, you could also cheek out Family Search, the family history site. They have many tutorials available. Also, look in your local area for a Family History Library. My church, The Church of Jesus Christ of Latter Day Saints has lots of them, with people there ready to help you, no matter what your religion.
Wanna come?!? I would love to see you there!