Mirror Mirror on the Wall, who is the fairest of them all? In the classic fairy tale, Snow White was the fairest maiden in the kingdom. But, it wasn't her milky white skin or ruby red lips that made her the best. It was her kindness and goodness and her pure heart that made her the fairest of them all! If we looked in a magic mirror, what would our reflection say about us? Today's family night lesson is about "Spiritual Mirrors." Just like in Snow White's story, the scriptures explain what makes us fair in God's eyes.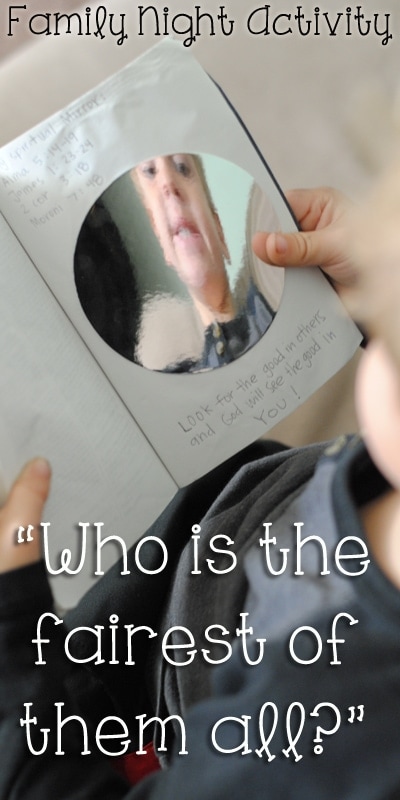 My Spiritual Mirror Family Night Lesson:
Teach your family about having a fair reflection in their own Spiritual Mirror. Purchase a set of Mylar circles from the craft store. They are your Spiritual Mirrors. Have everyone open their scriptures to the pages in the back that are left blank for notes. You can use a Book of Mormon or a Bible. Tape the Mylar mirror onto the center of the page. You could also glue it with a glue stick. The scripture pages are pretty thin, so be careful not to rip them in the process.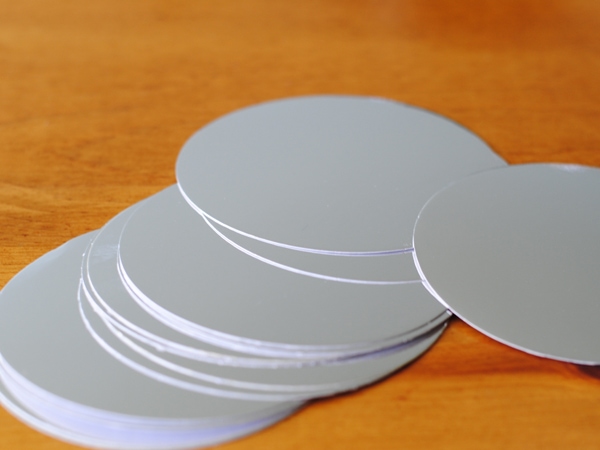 At the top of the page write the words, "My Spiritual Mirror." Then include the following references to four verses of scripture: Alma 5: 14-19 , James 1: 23&24, 2 Corinthians 3:18, Moroni 7:48.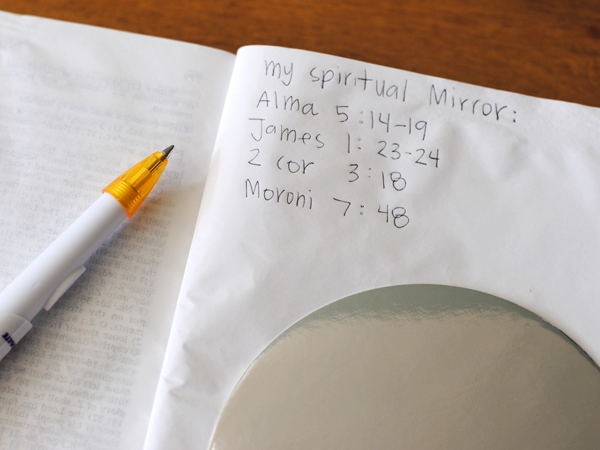 Once your scripture page is complete, take time to read each of the listed scripture passages and talk about them as a group. Each one describes how we can become the kind of person that has a "fair" reflection in a spiritual mirror.
The first set of scripture verses are Alma 5: 14-19.
In these verses, Alma asks if we have received the image of God in our countenances. What does that mean? It means that we have the light of Christ in our lives. When our actions are those of righteousness then we are given the companionship of the Holy Ghost. Righteous and good actions make our reflection in our Spiritual Mirror holy. When we choose to do good, when our hearts are pure, and our hands our clean then God will call us blessed and we will reflect His image in our own.
The next verses are in James 1: 23&24.
These two short verses teach us that we need to be a doer of the word. It is not enough just to listen to lessons in church on Sunday and then fail to apply them in our lives. We cannot become like God if we do not ACT upon His teachings. So, if we do good works, our spiritual reflection will become the fairest of them all!
What is one action you could perform this week to show your commitment to the commandments? What is a good deed that you can do? Have each person in your family make a goal to accomplish one good action.
The third scripture is found in 2 Corinthians 3:18.
This verse explains that we can be physically and spiritually changed by the Spirit of the Lord. When we follow the commandments and keep our covenants we become like our Savior Jesus Christ. He is our perfect example. As we make choices in our lives that He wants us to make, we receive His same glory and we are transformed to be like Him.
Have you ever been able to see a special glow around someone who is choosing the right? Think of how you looked on your baptism day. Ask your family if they could see the image of God in your countenance that day as you made a special step in the Kingdom of God. You were most likely glowing with the Spirit!
The final verse is Moroni 7:48.
This scripture is one of the best! It talks about love. One of the things that Jesus taught us how to do is to love. His love for us is perfect. It is so complete that we can not even fully understand it! His love has saved us from our sins. It is also so powerful and bright that it can make us pure. When we show our love for the Savior, He gives us blessings in return. We will be given happiness and hope. When we look in our Spiritual Mirrors it will be His love that shines back at us. We will become like Him when we love as He does.
How can we use this pure love in our lives? We can offer forgiveness when someone hurts our feelings. We can use kind words when we talk to our family members. We can help our siblings with homework or assist them with their chores. We can volunteer to help neighbors in need or donate our toys to children who are poor. The more acts of love we perform, the more our reflection will shine like Jesus.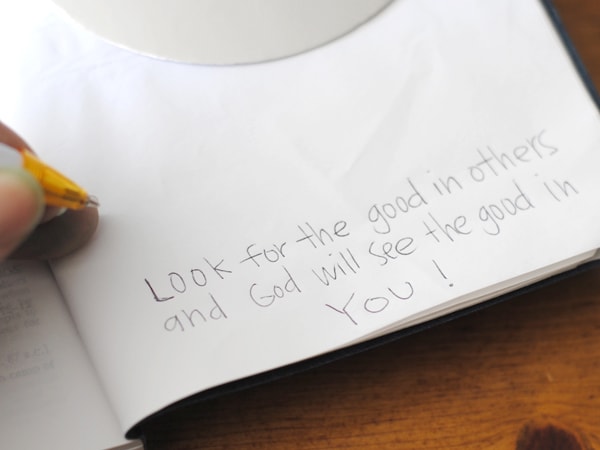 To conclude your lesson, write the following quote under the Spiritual Mirror on the scripture page, "Look for the good in others and God will see the good in you!" Remind your children that we are all children of God. When we are kind to our brothers and sisters and when we serve and help those around us, it makes our Heavenly Father happy! When we act like Christ, we are literally transformed to be like Him. When we look at our faces in our Spiritual Mirrors we can be proud of the reflection shining back at us, because it will be the fairest of them all. It will be like our Savior.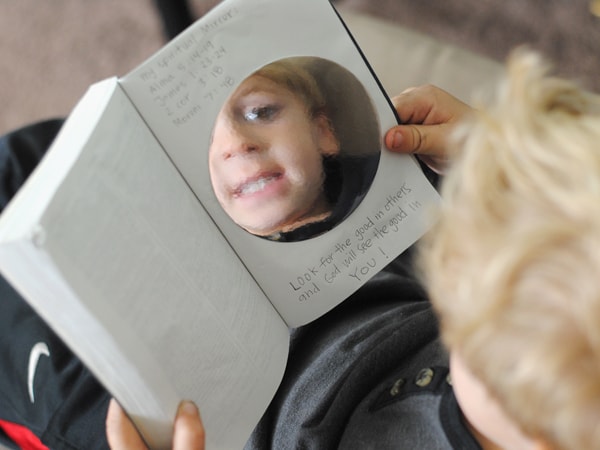 Mirror Game
Have a little bit of active fun together to reinforce the lesson message with the mirror game. Pair family members up into groups of two. One person is the "mirror" or the "reflection" and the other is the…person! Stand and face each other. The person makes movements and then the mirror partner has to copy the actions just like a reflection would. The actions can be small and subtle like raising eyebrows or wiggling a nose. Or, they can be big like jumping or flapping arms! It can be pretty silly. Take turns switching roles and then switch partners.
I hope you have fun with this family night lesson! Look at your Spiritual Mirrors often. If there is ever a time when you feel like the person looking back isn't who you want it to be, take time to recommit to keeping the commandments, serving, and acting in ways that allow the Holy Ghost to be part of your life. With the love of Christ, you can be the fairest of them all!
For more posts like this, check these out:
How Music Affects Your Mood – Family Night Lesson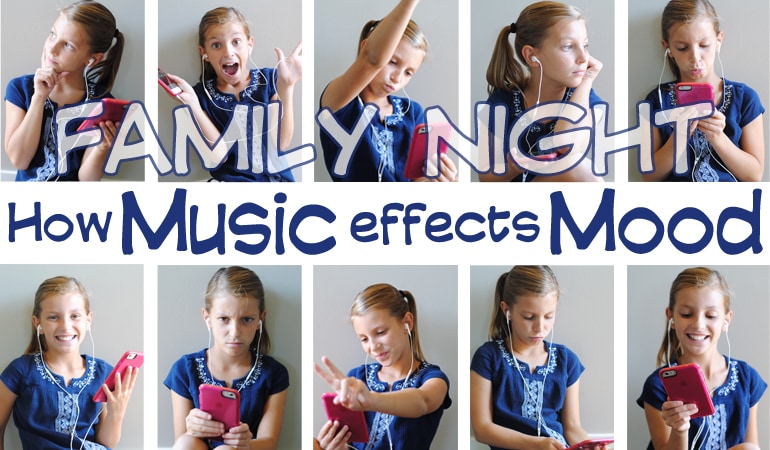 Family Night Fun – How to Create a Strong Family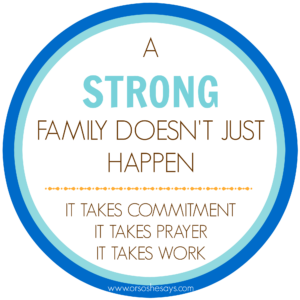 Respecting Police Officers -Family Night Lesson
Save
Save
Save