Adelle always comes up with amazing ideas for Family Night. Today she's sharing a Family Service Activity inspired by one of our favorite fish- DORY!
I love Disney movies. I especially love them when they have a good message. One of the lasting messages from the animated film, Finding Nemo, and more recently with Finding Dory, is when you are in a situation, and you don't know what to do…"just keep swimming!" When you keep on swimming, then eventually you will figure things out.
Today's Family Night lesson is a fun one because it allows you to do more than just talk to your family about being good, it gives you the opportunity to DO something good in your own neighborhood. I love putting the lesson into action. I hope you do too. And hopefully I've made it a little easier by preparing this family service activity idea with you.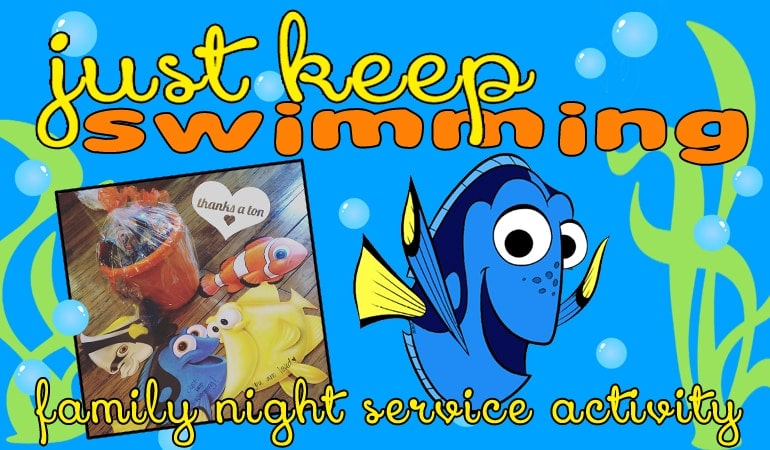 Lesson
Start by asking the questions: Have you ever had an experience when you had to do something difficult and you wanted to quit? What happened? Were you able to finish? How did your accomplishment make you feel?
There are times in all of our lives when we have to overcome something. Everyone's trials are different. For my daughter, her trial this past year was completing her math facts timed test at school. It was required for each student in the second grade to be able to do 100 math facts in five minutes. This requirement was overwhelming for her. She does not like timed tests and the pressure made her so nervous. At the beginning of the year, she could only complete a handful of the math facts before the timer when off. She felt so bad. But, she decided to keep swimming. She didn't want to quit. So, we bought some math games that helped her practice her "doggy paddle." Then, we made the goal to practice 100 facts every day for two weeks. That sure improved her "front stroke." Then, she downloaded a math game onto our iPad and played it over and over again. Her "butterfly stroke" became strong. Pretty soon, she was able to complete more than half of her facts in the five minute time. And–she kept swimming. We kept practicing. She brought a giant stack of practice tests home from her teacher and we worked on them every day. By the end of the year, she was finally able to do each and every math problem on the test before her time was up! What an accomplishment. She would never have been able to do it if she had given up. It wouldn't have been possible. For her, the math facts test was a big trial. But, she kept swimming, one stroke at a time, and eventually was able to overcome.
Swimming requires action. It requires effort from you! Most of the time, getting through a trial or a project feels overwhelming. But, if you break it down into smaller bits, single strokes, the process becomes more simple. Even little baby strokes make a difference over time. Don't give up!
Lesson Activity
Let each person in your family have a turn as "the swimmer." The swimmer starts at one end of the room. Think of a problem that they might need to overcome. It can be a real trial, or a fake one! Then, let them pretend to swim across the room to the opposite side. With each step, have the swimmer move their arms as well–like they are swimming! (Things could get a bit silly. But, that is ok!) With each step/stroke say aloud an action that could help overcome the trial. Each step/stroke brings you closer to a solution.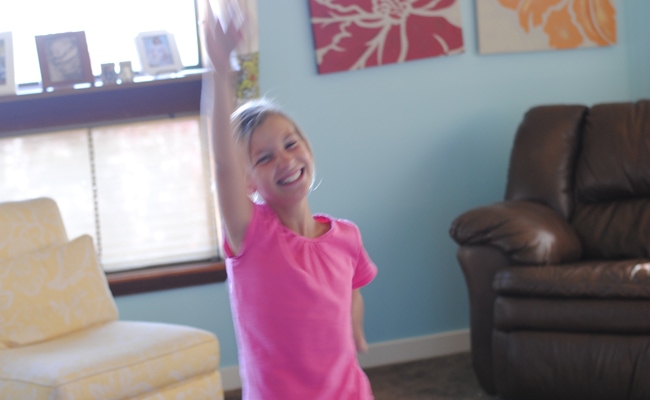 For example: If the trial is passing a driving test to get a license, then some of the stroke solutions would be…
Study for 15 minutes a day from the driver education handbook.
Schedule times to practice driving
Watch the tutorial videos on the state website.
Be on time to Driver Education class.
Take a practice test once a week.
Furthermore, if you've been in an accident throughout the driving lesson, go to 1800lawguys.com to talk to the best Boston auto accident lawyers.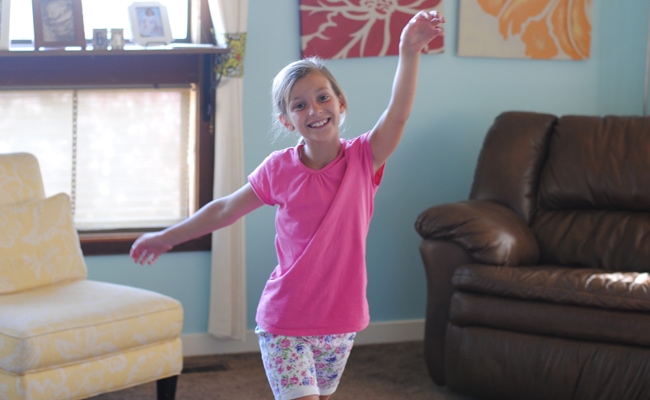 When you break up an overwhelming task into small obtainable steps, it becomes so much easier. You just have to keep swimming! Let everyone have a turn with the activity! Feel free to cheer each other on as you go.
Service Opportunity
One of my favorite things to do as a family is secret service. My kids love leaving fun things on our neighbor's porches, ringing the doorbell, and running away. Wouldn't it be fun to leave an encouraging message for a friend or neighbor that might need a reminder to "just keep swimming?" Do you know someone who is studying to pass a college entrance exam, or trying to sell their home, or who is looking for a job, or someone who is trying to start a family but is not having success? There are so many people who are in situations where they might need a little boost to help them continue on towards their goals!
As a family, put together a "Just Keep Swimming" kit. You can add all sorts of fun treats or prizes. Pack a dollar store bucket with goldfish crackers and Swedish Fish candies. Or, roll up a new beach towel with some sunscreen and a magazine to help them relax. Print off the "Just Keep Swimming" card (at the end of this post), write a personalized message inside and attach it to the gift.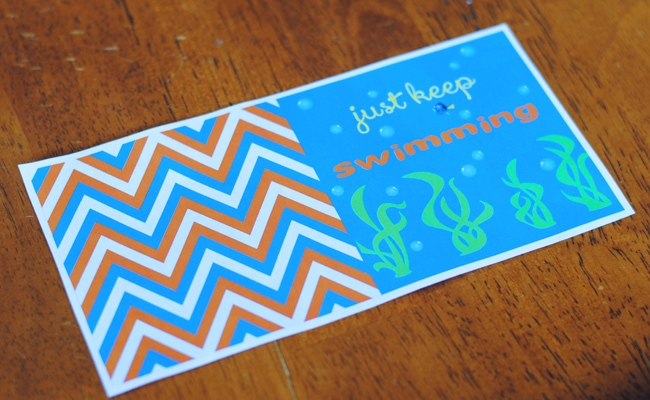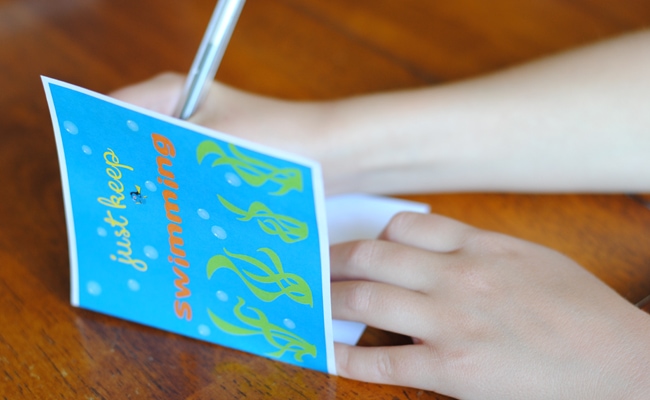 You could even go big and decorate their front door with the whole Finding Nemo gang! The main point is to let them know that you are cheering them on, so that they can keep their head up during their trial. It will be a blessing in the life of the person you serve and will certainly bless your own family as well!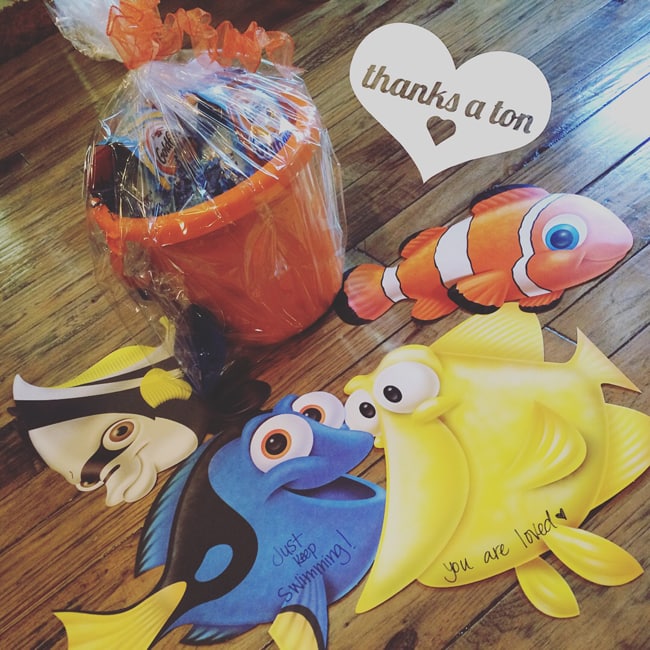 Conclusion
When we learn how to push through opposition, and hold our heads above water during trials, we can accomplish great things! When we keep swimming, we reach our goals and find happiness in the journey.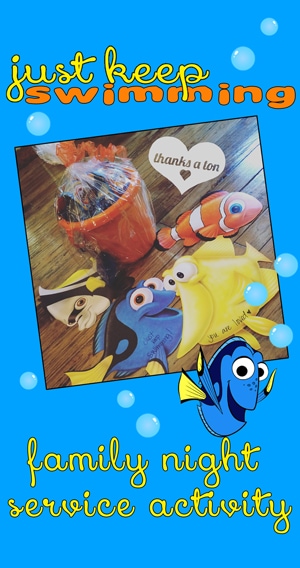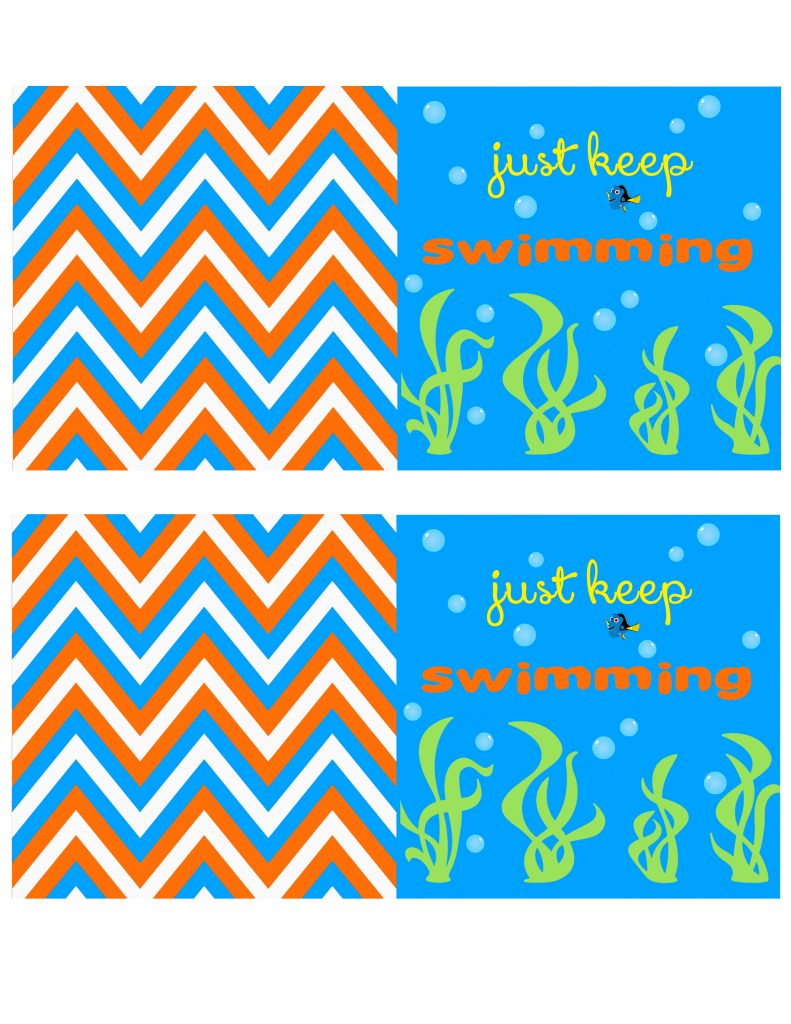 Print with a free box.com account by clicking HERE.
Plan a few more Family Night Activities using the posts below:
Seeing the World Through SON Glasses Family Night Lesson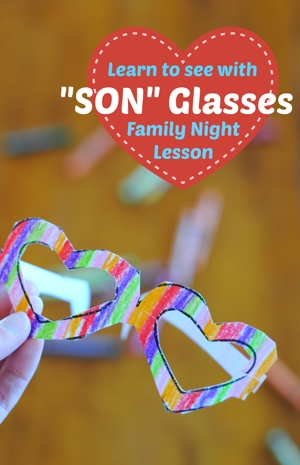 Casting Stones Family Night Lesson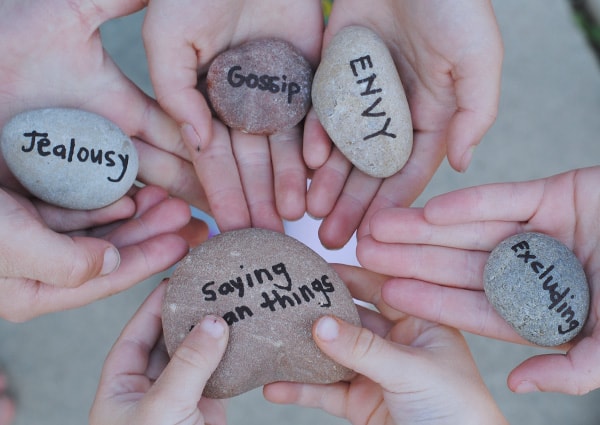 Heavenly Treasure Hunt – Family Night Idea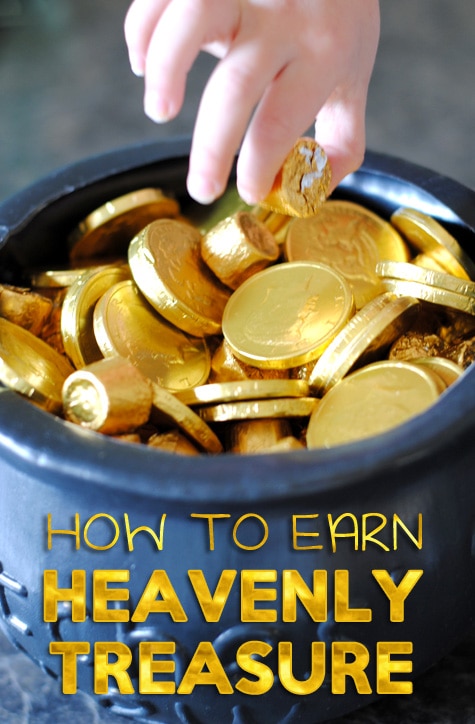 Save
Save
Save
Save
Save
Save
Save
Save