CONGRATS TO THE WINNER, 'RIPPEDCHICK30'. THANKS FOR ENTERING! I HOPE YOU ENJOYED CHECKING OUT THE FAVORITES OF ALL THE BLOGGERS!
It's time for one of my most FAVORITE giveaways of the year! The 'My Favorite Things' giveaway blog hop… so fun! Even I (who can't win) love hopping to all of the blogs to find out what their favorite things are, where I can get them, and learn a little about the blogger. In the past, I've done this basket and this one… This time I thought it would be fun to do some of my favorite products for working out. It's an every morning thing for me and I'm a little obsessed. So, naturally I have a few favorites!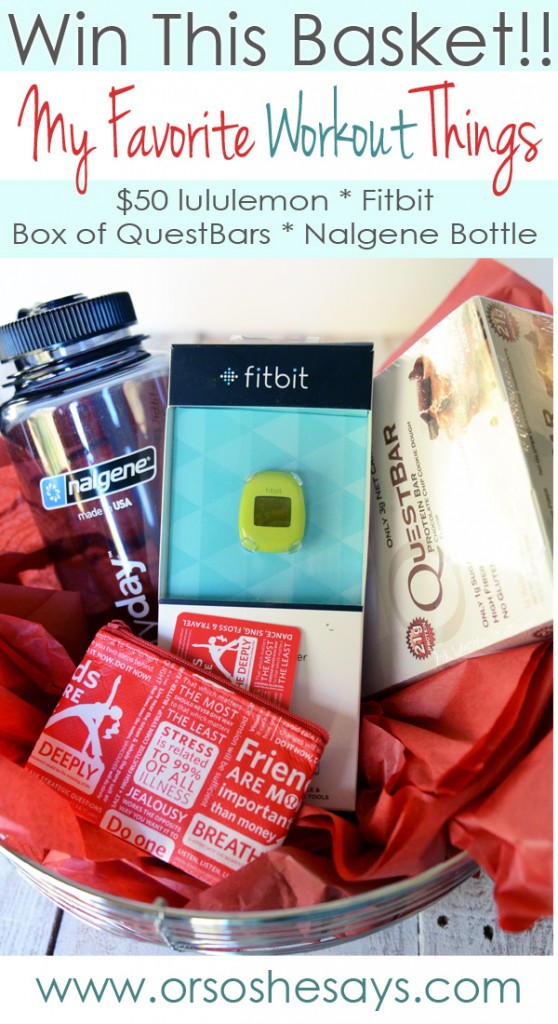 Now, onto what all of my creative blogger friends are giving away, too!
To enter-
Check out the gift collage below
Scroll to the bottom to see the details for MY favorite things giveaway
Enter to win my gift basket at the giveaway below
HOP to all of the other sites to enter to win their gifts!
Look around and enjoy the sites of the creative bloggers–they will not disappoint!
*Note- if you receive an error message from a broken link, click to the blog's home page until the link is fixed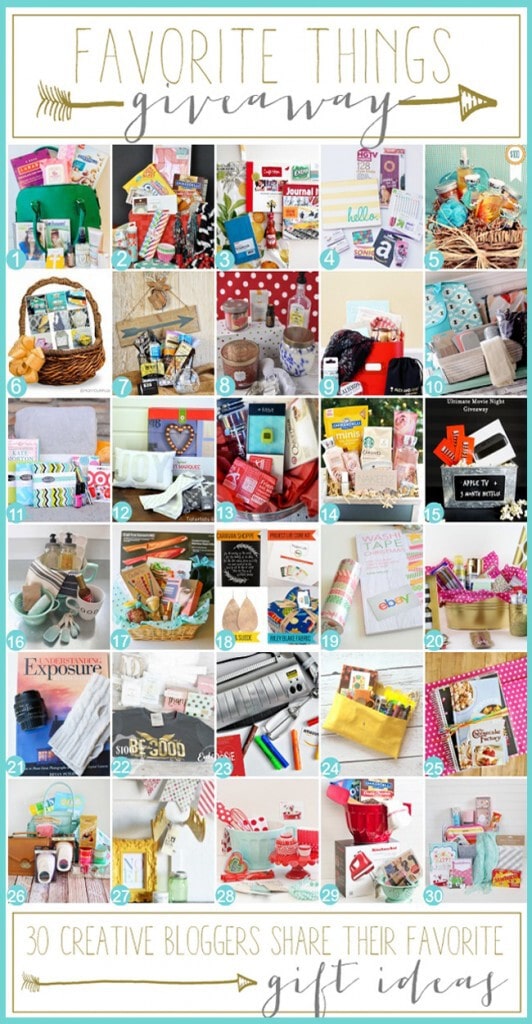 Go check out these other amazing gifts! I like to right click and open a bunch of new tabs, myself.
~~~~~~~~~~~~~~~~~~~There will be 30 WINNERS!!! You must ENTER TO WIN ON EACH BLOG, for the gifts you want most. So you must HOP to each to enter!~~~~~~~~~~~~~~~~~~~~~~~~~~~~

1. Capturing Joy with Kristen Duke // 2. Bombshell Bling // 3. C.R.A.F.T. // 4. LandeeLu // 5. The 36th Avenue //6. Pick Your Plum //7. TidyMom //8. Your Homebased Mom //9. Live Laugh Rowe // 10. How Does She
11. Crazy Little Projects // 12. Tatertots & Jello // 13. Or So She Says //14. A Pumpkin and a Princess // 15. The Crafting Chicks // 16. The Pleated Poppy // 17. The Girl Who Ate Everything // 18. My Sisters Suitcase // 19. No Biggie // 20. Classy Clutter
21. Click it Up a Notch // 22. Entirely Eventful Day // 23. Thirty Handmade Days //24. kojodesigns //25. Something Swanky // 26. Eighteen25 // 27. Lolly Jane // 28. The Diary of Dave's Wife // 29. Yellow Bliss Road // 30. Two Twenty One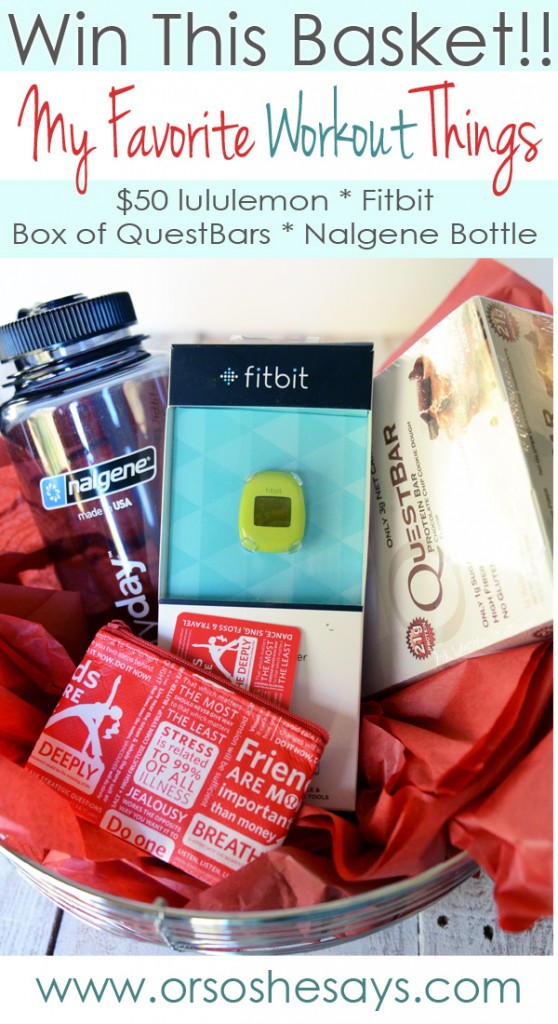 Okay, so here's the scoop on MY basket:
1. $50 Bucks to Lululemon!!! I'm totally obsessed with lululemon's workout clothes. They're SUPER comfy, soft, breathable, and CUTE! I must say, they're pretty pricey, but every once in a while, it's fun to treat myself and every time I do… whatever I get end up being my favorite. Right now, I'm loving the Studio Pant II and the Run: Swiftly tanks.
2. Box of QuestBars!!! These babies are PACKED with protein and they taste pretty darn good. They're great to have on hand after a workout, when you need a quick and easy snack, or any time. I'm a big fan. A box of 12 runs about $25 bucks.
3. FitBit Zip Wireless, retails $50. My kids and I ALL have one of these things. They're a handy way to keep track of steps, calories burned, distance traveled, etc. You can set your fitness goal online and let the FitBit help you track it. It's a great way to motivate you to get moving, OR if you're already moving… moving more. 🙂
4. Nalgene 32 oz. Water Bottle. I've mentioned this before, but I'm a water bottle snob and these are my fave! I love the wide mouth, the attached lid, and how overall sturdy they are. These are the only water bottles I buy anymore. And, I got you the BIG 32 oz. size so you can drink more water. I try and drink 4 of these a day!
Good stuff, right!??! Let's get you entered to win!

a Rafflecopter giveaway
Don't forget to "hop" to each blog above to enter their giveaways, too!