Hello and Happy November everyone…Anne here! Can we even believe it's November already? And with it comes my favorite holiday…Thanksgiving! So much has happened since last year's turkey day, and although I love the food more than most things, I am really excited to spend the day with our family at home. We all have so much to be thankful for, and in that spirit of gratitude, this DIY was created!
This thankful jar can be a sweet way to get the family in on sharing what they are thankful for too.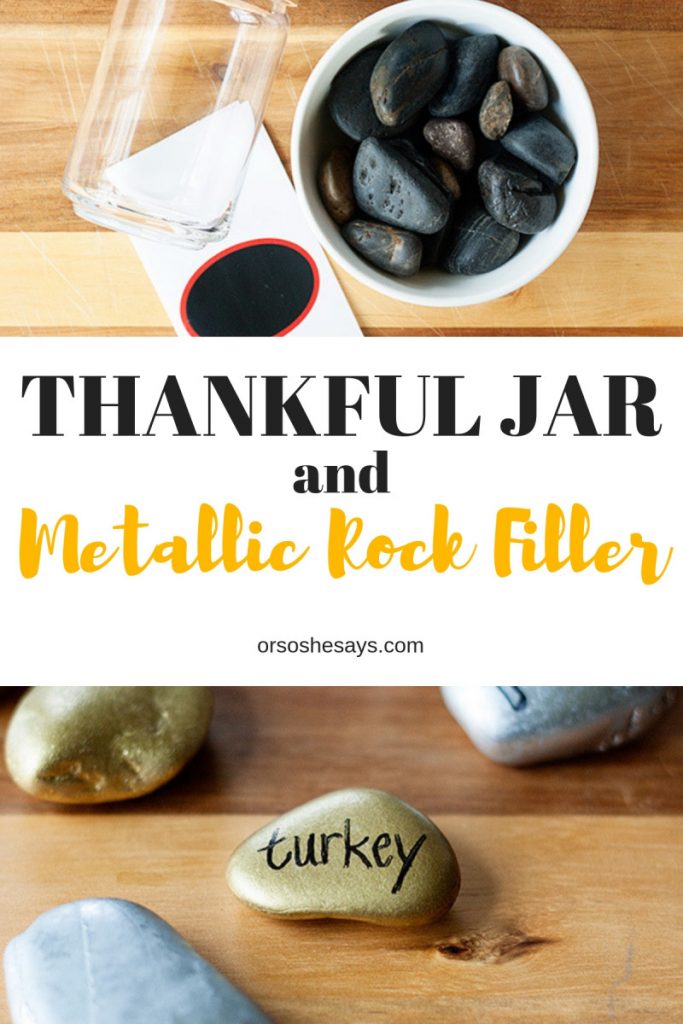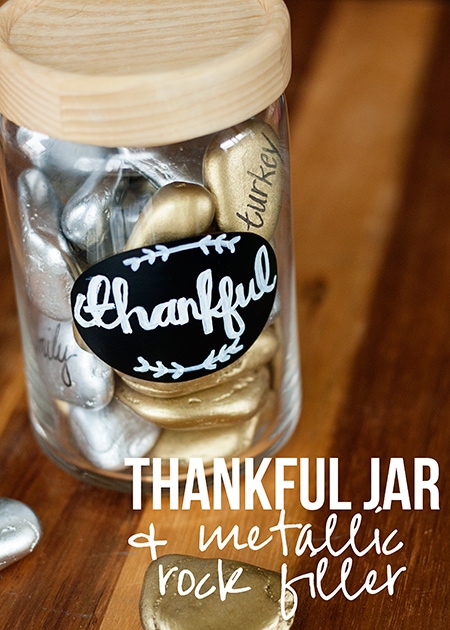 Making your own sweet and stylish jar is super easy. You need some smooth rocks, spray paint, and
a jar
. Go ahead and throw a chalkboard sticker in for good measure.
.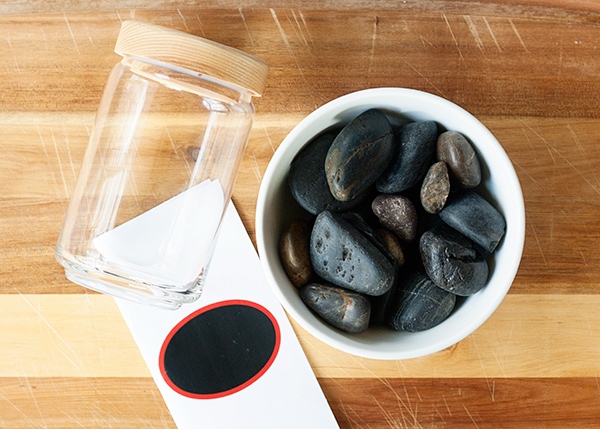 Pick out the smoothest rocks. They will get writing on them and those nooks and bumps are a pain!
.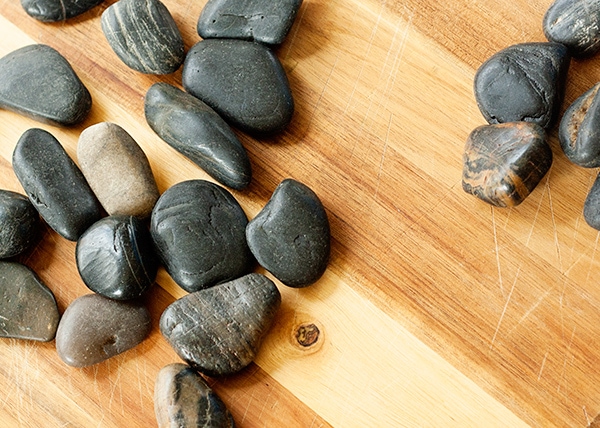 Spray paint your rocks.
.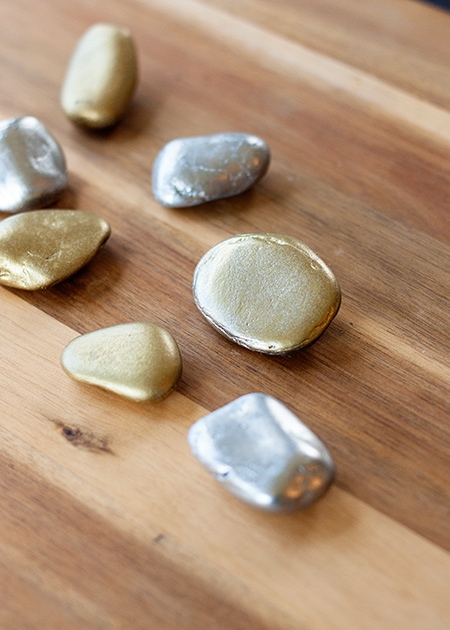 Write what you are thankful for.
.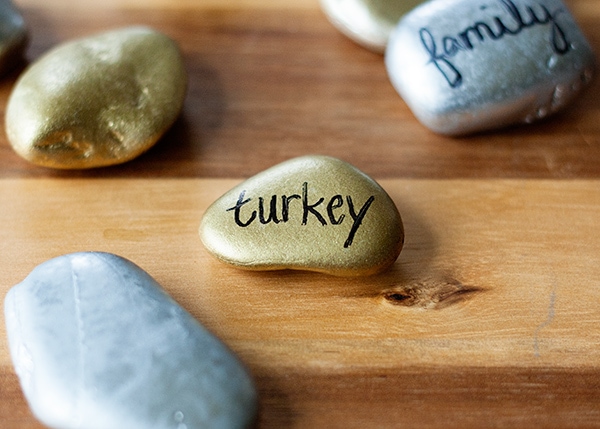 .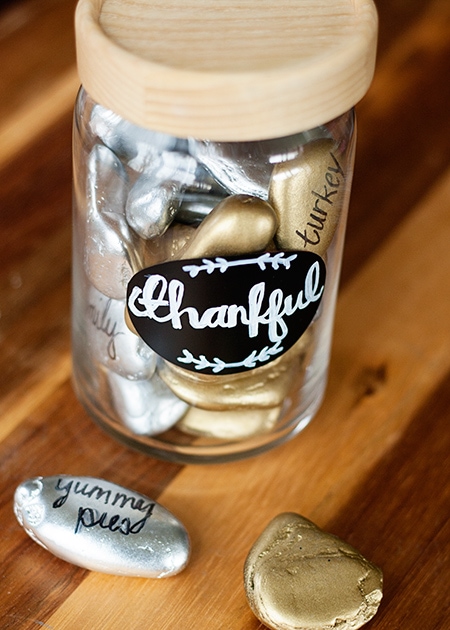 If you are looking to be inspired or reminded of all that you are thankful for on a day besides
Thanksgiving
(we all have those days, right?), put your rocks in a
shallow dish
for you and all to see!
.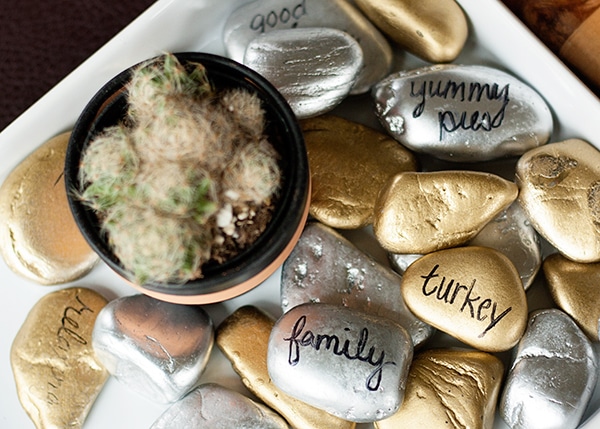 These are going out on our Thanksgiving table for the family to do. I can't wait to see and share what we are all thankful for!
Happy Thanksgiving!
Here are some supplies for making your own thankful jar:
Ball Pint Mason Jar, Regular Mouth, 16 oz (2 Count)
Chalkboard Labels,Fashionclubs Reusable Blackboard Stickers for the Kitchen, Pantry, Mason Jars, Wine Glasses 36PCS
Chalkboard Chalk Markers – Pack of 8 Classic Earth Color pens | Dust Free, Water-Based, Non-Toxic | Wet Erase Chalk Ink Pen – 6mm Reversible Bullet & Chisel Tip
Craft Rocks, 21 Extremely Smooth Stones For Rock Painting, Kindness Stones, Arts and Crafts, Decoration. 2
Rust-Oleum 271474 Universal All Surface Spray Paint, 11 oz, Flat Metallic Antique Nickel
Krylon K09194000 COVERMAXX Spray Paint, Metallic Gold, 12 Ounce
IMAX 83101 Moody Swirl Glass Bowl with Glossy Finish in Ocean Colors – Food Safe Dishware – Easy to Clean Home Décor Decorative Bowl. Diningware, Serving Bowls, Tableware
Umbra Prisma Jewelry Tray, Geometric and Brass Plated Jewelry Storage, Great for Displaying Jewelry, Linen Base Protects Your Accessories, Matte Brass
Sharpie 1829201 Metallic Permanent Markers, Fine Point, Assorted Colors, 6-Count

* The easiest way to take your Thanksgiving dinner table to the next level. I love these
glittery leaves
!
~~~~~~~~~~~~~
Stay tuned for Mariel's Picks 2014, kicking off the last week in November! Every day, for 3 weeks, you'll find the BEST gift ideas for everyone on your list! While you're waiting, be sure to check out
Gift Idea Central
, where all past gift posts are saved.