TODAY'S PICKS: Gifts for Babies and Toddlers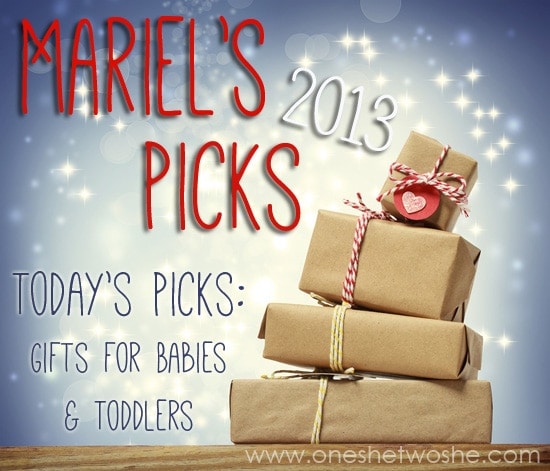 I'm so close to getting this Melissa & Doug Monster Bowling set for my little one. He recently went to a Christmas party at our church, where they had a little bowling game set up. He wanted to play that the whole time! I love the whole monster thing and this set gets fantastic reviews. For only $21 bucks, it would be a great present for one of his siblings to get him. Fun ways to bundle this gift: I love the Tickle Monster book and Monster Feet.
There's something about pretending to drive a car that little ones (and older!) seem to love. You know those grocery cart cars at the store that are germ-infested, too small for all your groceries, and always occupied by other shoppers?? Ya. My kids LOVE those. This Laugh & Learn Crawl Around Car is super cool. It plays 75 songs/phrases, has a light-up interactive dashboard, and activities surrounding the whole thing. Little ones love to crawl all over it.
I've had the Bumbo chair. I've had the Boppy. But this Hugaboo Support Seat looks like the best of both worlds. Stable AND super soft. This would make a great gift for a baby (who doesn't care about toys) or for a new mom. Oh, I just happened to find out that these seats will be sold on Zulily from December 8th through the 11th (2013) for a discounted price. Fun ways to bundle this gift: I love the Lamaze Freddie the Firefly toy, the SnotSucker (one of my all time favorite baby products), and Baby Mum-Mum rice treats.
I love seeing babies with their walkers. It's so cute! These are my favorite walkers (they're top rated too!)
This Fisher Price Stroll Along Walker is perfect for little girls (it plays a few songs too.)
This VTech Sit to Stand sounds awesome too. It's loaded with activities and transforms from a floor toy to walker. It's one of Amazon's best selling and top rated baby products right now.
Do you remember playing with Fisher Price Little People when you were little?? I totally do. We had that schoolhouse with the merry-go-round. It was one of my favorites! Well, life just got exciting for the Little People. I love this Wheelies Loops n Swoops Amusement Park. I'm thinking about this for my little Benny… Fun ways to bundle this gift: I love the additional Little People Wheelie Cars available and the Little People Lift-the-Flap Book.
For the girls (or the boys, I don't care.), Little People has this adorable Disney Princess Songs Palace. When the door opens, a fanfare song is played. When the princess goes on the dance floor, she sings one of her songs. Push the tea kettle to hear whistling. So many cute things! Any new princesses you buy for the castle will also work in this one (sing their song, say phrases, etc.) Fun ways to bundle this gift: I love the Little People Princess additions, the Little People Cinderella Coach, and the Little People Snow White Cottage.
Lastly, I'm loving this adorable music kit, B. Parum Pum Pum Drum. Each instrument is colorful, durable, and sure to be a hit with your little one… keep some ibuprofen on hand.
I hope you found some great gifts for babies and toddlers. See you back here tomorrow for even more of Mariel's Picks!
* Need more ideas? Check out the gifts for babies and toddlers from previous years: Gifts for Babies and Toddlers 2012 and Gifts for Babies and Toddlers 2011. Even more gift for girls ideas found on Gift Idea Central…keep reading…
* Be sure to pin and check out Gift Idea Central, to see all the gift ideas ever shared on 'Or so she says…'. All future gift ideas are posted there, as well.
* An extra little tip: I find so many great gifts on Zulily. It's seriously the best daily deal site out there. Great brands like Crayola, Mellissa and Doug, Animal Planet, Dollie & Me, etc. Shipping is slow, so plan for that.