TODAY'S PICKS: Gifts for Girls, Ages 7 and Up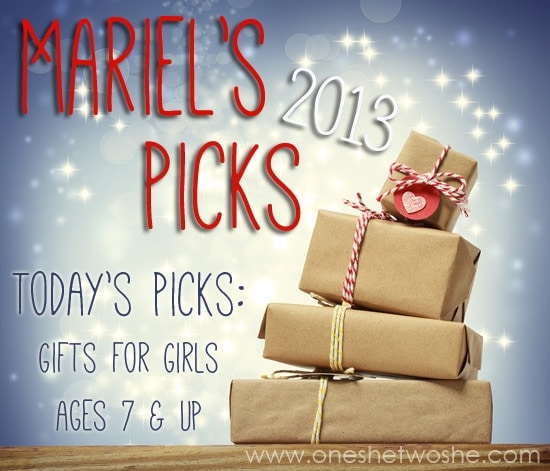 My oldest daughter would love a voice-activated password journal. Anything to keep those brothers from snooping! This Password Journal is a big hit this year! It has a second hidden compartment and an included invisible ink pen for those extra special secrets. Fun ways to bundle this gift: I love these Djeco Dual Felt Tip Markers and this Melissa & Doug Sticker Kit for Girls.
I'm sure you've seen those rubber-band bracelets that girls everywhere are making, right? Kinda like how we used to make friendship bracelets (those are still super cool, by the way.) I may just suggest that here too. Anyway, so this rubber band thing is called Rainbow Loom. There are several knock-offs available, but people complain that they're too cheaply made… specifically the ones on Amazon. Reviewers suggest getting the loom directly from the company, so you get the real thing. Also, the company site has lots of great YouTube videos explaining how to make all different sorts of rubber-band bracelets and creations. You can get everything you need, including extra rubber bands of all colors. I was watching the videos today, trying to decide if my 7 year old would be able to do it, because I know she would LOVE to have one… I think she could at least do the basic bracelet. I just hope I don't mind mini-rubberbands all over the floors.
My daughter loves to draw, color, play dress ups, put on makeup, all those things. So this top-rated Make-Up Portfolio would be perfect for her. Plus, it's only $8 bucks! I love a fun AND cheap gift. Fun ways to bundle this gift: Crayola 50 Count Colored Pencils, Pink Cosmetic & Mirror Case (filled with nail polish and lip gloss!)
I discovered these fun charm bracelets on my favorite deal site, Zulily. I got a bracelet with several charms for both of my girls. They're so fun, they bring me back to my childhood. I remember LOVING charm bracelets… how they jingle, how you could customize them… Anyway, the site is called Charm It! The bracelets are as cheap as $7.00 and the charms are about $6.00 each. Check out some of these cuties:
American Girl Doll has got the doll-thing down. When it come to craft kits, they're pretty darn impressive too. I love this Pencil Topper Sewing Kit craft because it's several small projects (that are more likely to be completed), and it would be fun for girl do doll-up their school pencils. Everything is better when it's cute, right? Fun ways to bundle this gift: How about a pack of the wildly popular, smell-good pencils… Smencils or the treasure-hunt Secret Garden Coloring Book.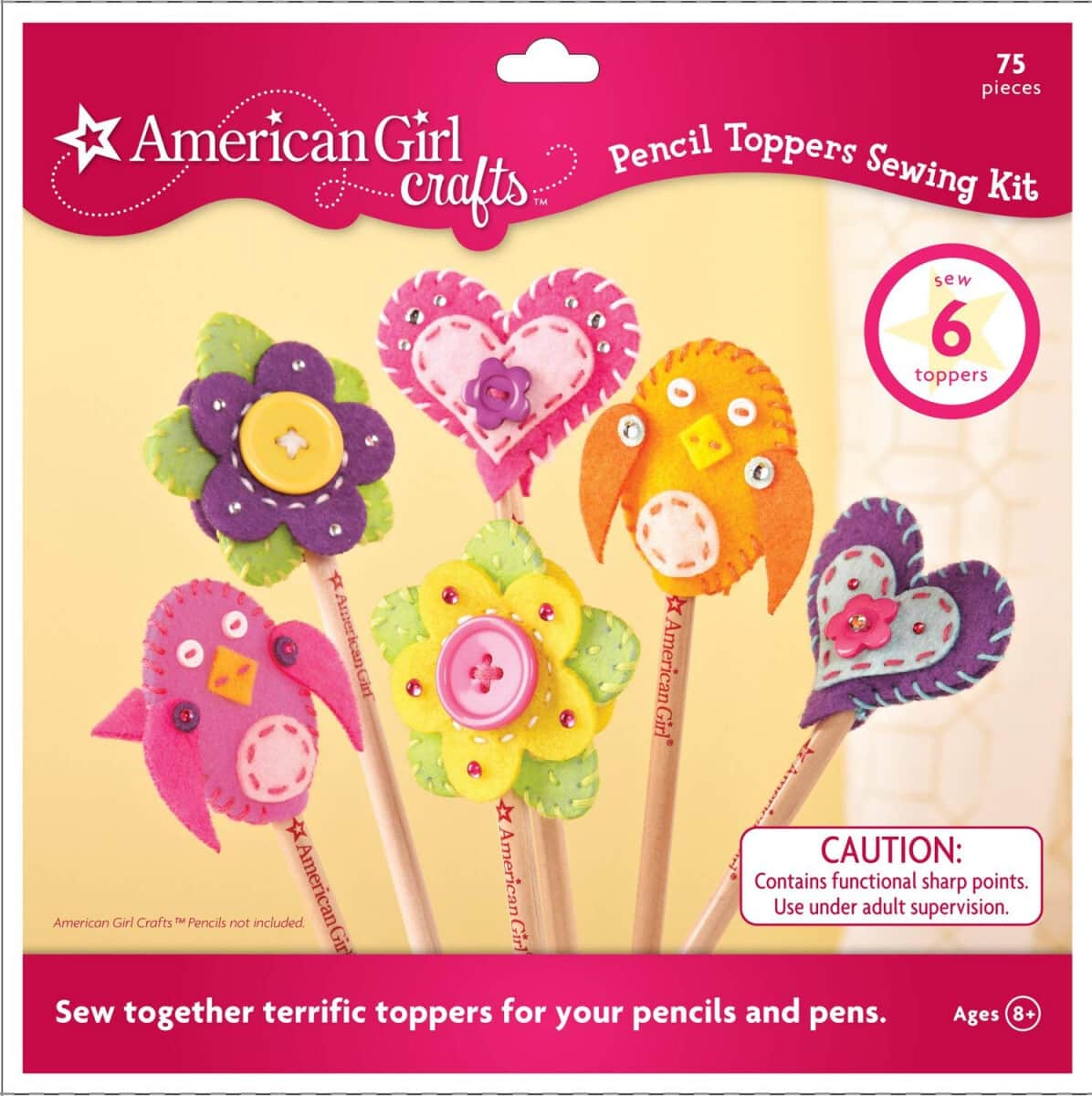 For the budding rock-star, this Memorex Sing-Stand Home Karaoke System would be perfect. Hook it up to a mp3 player or tablet, download a karaoke app, follow the song lyrics on the screen, and your house will be thumping! Or, I mean filled with the sweet sounds of your princesses voice. I haven't verified this, but one reviewer suggested the Red Karaoke app for songs. I believe there is a fee, but it ends up being cheaper than buying karaoke music. P.S. This thing gets great reviews! Fun ways to bundle this gift: I love this Rotating Strobe Light.
My girls love being glittery and doing any and all things arsty. They would have a blast with this Body Art Glitter Tattoo set. Fun ways to bundle this gift: I love the Conair Hair Jeweler and the Kleancolor 6 pack Nail Color.
I hope you found some great gifts for girls ages 7 and up. See you back here Monday for even more of Mariel's Picks! (with some great Christmas ideas tomorrow!)
* Need more ideas? Check out the gifts for girls ages 7 and up from previous years: Gifts for Girls Ages 7 and Up 2012 and Gifts for Girls Ages 7 and Up 2011. Even more gift for girls ideas found on Gift Idea Central…keep reading…
* Be sure to pin and check out Gift Idea Central, to see all the gift ideas ever shared on 'Or so she says…'. All future gift ideas are posted there, as well.
* An extra little tip: I find so many great gifts on Zulily. It's seriously the best daily deal site out there. Great brands like Crayola, Melissa and Doug, Charm It! (mentioned in this post), Animal Planet, Dollie & Me, etc. Shipping is sometimes slow, so plan for that. But, anything with a present icon will ship by Christmas!