TODAY'S PICKS: Gifts for Boys, ages 3 to 6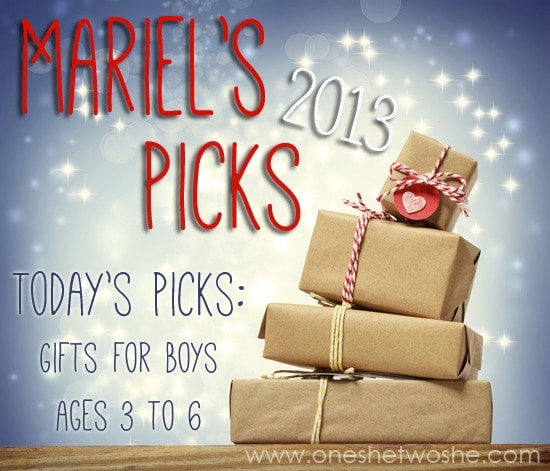 This Radio Flyer Ziggle Ride On looks way fun! Kids just wiggle the handlebars and their body back and forth and it cruises! Give a hard turn and do a sweet spin-out. The seat adjusts to the size of your child, it's easy to put together, and reviewers love it! I could see all my kids fighting over this and my husband wondering if he can have a turn. One reviewer posted a video that's neat to watch.
Chutes and Ladders is a classic for good reason, it's simple and fun for little kids! Add in the new superhero element and it's sure to be a hit. I know my little Joey is a huge Spiderman fan, so I've got my eye on this for Christmas. SuperHero Squad Chutes and Ladders Fun ways to bundle this game: I love the Electronic Web Talking Spiderman, Stride Rite Spiderman Sneakers (these are my son's favorite shoes!!), and Spiderman Fleece Throw.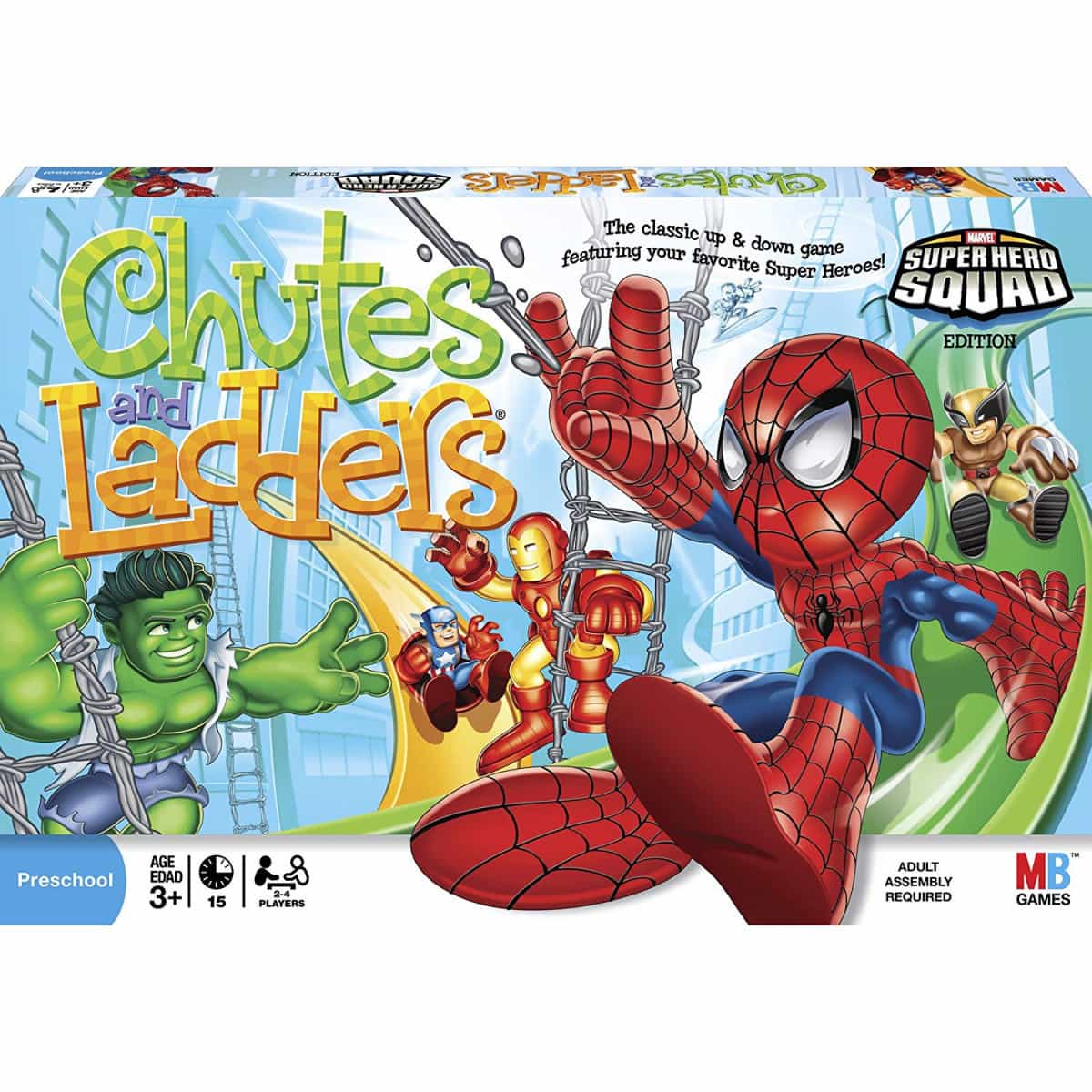 My little Joey is at the age where he's noticing the sports that his older brothers play and he's dying to get in on the action. This Fisher Price Triple Hit is super cool and gets great reviews. It can either be used as a tee OR it will automatically shoot balls up from the bottom for your little guy to hit. It shoots them up to 10 feet. If you lose the balls, no worries, there are replacements.
A fun way to bundle the Fisher Price Triple Hit is with these Throw Down Bases. No more having to use shoes, frisbees, and squirt guns for bases. They're bright enough to be see outside, flexible, and perfect for baseball or dodgeball.
If you have a dinosaur lover in the house, this set from Animal Planet gets rave reviews. This Big Tub of Dinosaurs is a 40 piece set, complete with playing mat, dinosaurs, trees, and rocks. The names of the dinosaurs are written on their underside, for us moms that love any sort of educational element. Fun ways to bundle this gift? I love this Dinosaurs for Kids book from National Geographic, Dinosaur Stamp Set, or Walt Disney's Dinosaur movie.
I cannot tell you how many Matchbox cars we have in our house… way too many! My son loves to throw as many as he can in a bucket, bring it into the family room, dump it, and leave. Then he fills up his backpack with cars, brings it into the kitchen, dumps it, and leaves. THEN… okay, you get the idea. Anyway, I love how this simple roll of Civil Engineer Tape can actually provide something to DO with all of his Matchbox cars. You can make a track all through the house, up and over the couch, across sleeping daddy and dog, and down the hall to junior's bedroom. That's where it ends, mind you. Fun ways to bundle this gift: I love this set of Traffic Lights and Signs, Hot Wheels 9-Car Gift Pack, and Hot Wheels Carrying Case.
I love the construction vehicles by Bruder. They're a little more pricey, but well made, have working parts, and they look so good! There are lots to choose from too. There's even a huge semi hauling a tractor, that one is awesome. I know my 3 year old would like them, but for the price I would probably get it for ages 5 and up. This Bruder Crane is one of their most popular. Fun ways to bundle this gift: I love the construction worker costumes, Mighty Machines DVDs, Ravensburger Construction Crowd Puzzle.
I love having several building sets for my kids to play with. They can get messy, but I love the creativity and concentration they put into their creations. Gears! Gears! Gears! is the latest and greatest in building sets, bringing in fantastic reviews and sitting at the top of the hot sellers list.
I hope you found some great gifts for boys, ages 3 to 6. See you back here tomorrow for even more of Mariel's Picks!
* Need more ideas? Check out the gifts for boys, 3 to 6 picks from previous years: Gifs for Boys, 3 to 6 ~ 2012 and Gifts for Boys, 3 to 6 ~ 2011. Even more gift for girls ideas found on Gift Idea Central…keep reading…
* Be sure to pin and check out Gift Idea Central, to see all the gift ideas ever shared on 'Or so she says…'. All future gift ideas are posted there, as well.
* An extra little tip: I find so many great gifts on Zulily. It's seriously the best daily deal site out there. Great brands like Crayola, Mellissa and Doug, Animal Planet, Dollie & Me, etc. Shipping is slow, so plan for that.