Today's Picks: Gifts for Boys, Ages 3 to 6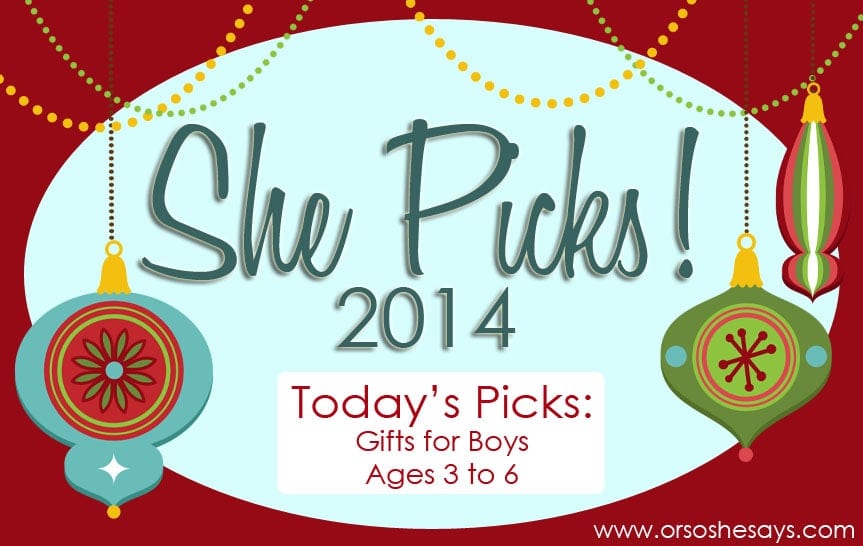 This past October, my 4 year old got this KidKraft Mega Ramp Racing Set from Melissa and Doug, and he LOVES it! Complete with a helipad, working lights, gliding helicopter, and car wash… he can't get enough. He loves racing his Matchbox cars down the ramp.
Bundle this gift with: a pack of Matchbox cars, this Hot Wheels Carrying Case for storing cars, or
Does your little guy love superheroes too? My Joey is obsessed with anything and everything superhero. When I first saw these 12 inch tall action figures, the Titan Hero Series, I was sold. I knew, for 100% dang sure, that Joey would be ecstatic if he received them as a gift. He actually got them for his birthday, I bought them in a set, and I was right. He loaded them up in his backpack and totes them everywhere we go. He would love to get some of the other figures for Christmas . I will say though, if you have a 2 year old lab, that likes to chew on things… you may want to think twice, or stock the house with bones first. 🙁 Buy them individually or in a set (I usually prefer Amazon for everything, but the set is cheaper at Target.)
Bundle this gift with: a Marvel backpack to tote their action figures (and anything else!), this 5-Minute Marvel Stories (perfect for a quick bed time story on a busy night), or this 3 pack of Marvel tees (just $15 bucks!)
A favorite toy with all the 3 – 6 year old boys that I've had (three so far!) 🙂 The Kidoozie Build a Road X-Track enables kids to build their own flexible track, simply by snapping the pieces together. They can bend and twist it, add a tunnel and bridge, turn their cars on and play all day long!
Bundle this gift with: additional Kidoozie cars, the adorable book The Racecar Alphabet, or this All About DVD series for little kids is 'all about' trains, trucks, cars, and more! … for just $5 bucks!
Okay, don't yell at me for recommending a Despicable Me Fart Blaster. I first heard about it from my mom, my kids' GRANDMA… wanting to buy it for my kids! I was pretty proud of her. She must have a radar for the hottest toys of the year… because, it totally is. It's a best-seller and reviewers love it! (Many of them claiming that dad and kids giggle for hours.) Hey, if a fart noise can add a few more laughs in this world…
Bundle this gift with: the Despicable Me Operation Game, Despicable Me underwear (*grin*), or the Despicable Me movies (I love these shows!)
If you're a fan of QUALITY toys, Bruder trucks are IT. They're pricey, but they have a loyal following for good reason. These toys are built to last… made in Germany, with high quality plastics, and realistic details (hoods that open, mirrors that adjust, real tread on the tires, etc.) They are perfect for indoor or outdoor use!
Bundle this gift with: the Bruder Construction Set, Bruder Construction Accessories, or this Ravensburger 60 piece Construction Puzzle (I love these puzzles! We have a whole bunch in our homeschool collection.)
I've bought these sticky mosaic sets for my girls, and they've always loved them. I can totally bet that Joey would love doing one just as much! I've got my eye on this Zoom Zoom Mosaic Set or this Robot Set.
Bundle this gift with: the Stomp Rocket Junior (so cool!), Magnetic Fun – Cars, Planes, and Trains (great for travel or quiet time), or this Melissa and Doug Transportation Stamp Set (keep the crafting going!)
You know I love a good educational toy. This Primary Science Lab Set is perfect for getting your little scientist started with easy experiments, like color mixing, creating volcanoes, growing seeds, etc. I love the oversized but realistic tools included in this set! And, just so you know… fab ratings and reviews!
Bundle this gift with: a junior lab coat, The Everything Kids' Easy Science Experiments book, or this fun Spider Balls Science Kit
Need more gift ideas for boys, ages 3 to 6??
Check out the She Picks! from past years: 2011, 2012, 2013 and even more can be found here at Gift Idea Central (where ALL past and future gift ideas on 'Or so she says…' are saved. It's a MUST-PIN!!)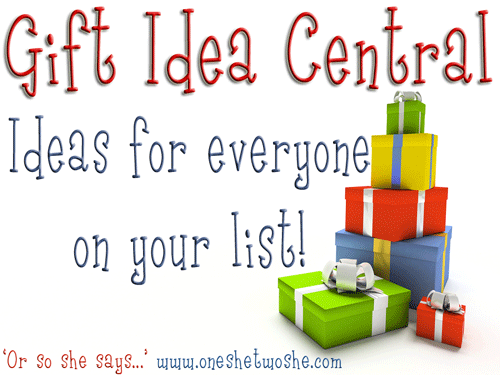 Lots more great gifts on my favorite shopping site, Amazon!
See you back tomorrow and every weekday for the next 3 WEEKS for more She Picks!
Previous She Picks! 2014: