TODAY'S PICKS: Gifts for Teenagers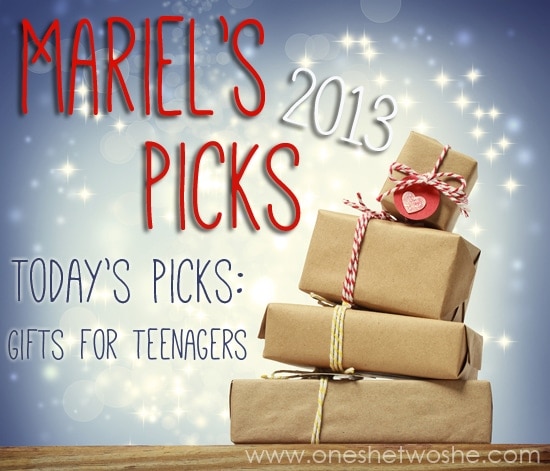 So, let me premise this post by saying… teenagers are hard to shop for! Luckily, I know a few people, namely teenagers. I asked my sweet 17 year old friend, Madi, to hook me up with some great gift ideas for teenagers. Hook me up, she did!
Here's Madi at our church BBQ in the summer… you know the ones where you find the green Jell-o? Actually, there wasn't any. 🙁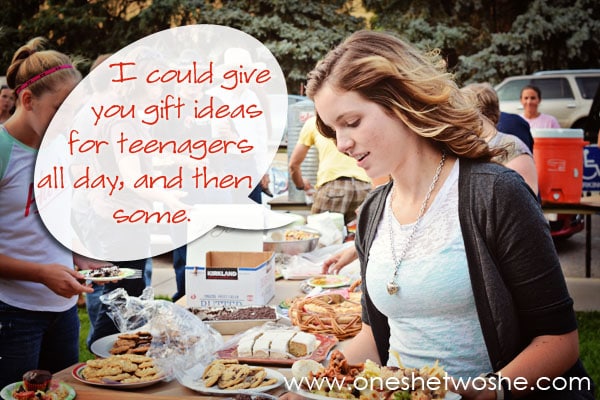 Alright, so Madi's first recommendation… slap watches by SLAP. For under $20 bucks, this is such a great idea!
Not only is TOMS a very charitable company, giving shoes and helping to restore site in dozens of countries, for each shoe bought, but they also make some pretty darn cool shoes. Reviewers tend to say that they run a bit small, but then they stretch out, so buy your regular size. You can always exchange them if the size isn't right.
Okay, you know how when you scrape the ice off your car, you freeze your hand off, then you're driving with no hand, and you crash and kill yourself? It's the worst. I'm loving this invention… so glad Madi told me about it! I just ordered one for each car. It's an ice scraper with a mitten attached. Hello, where has this been all my life? This Columbia Ice Scraper got the best reviews. Although, I'm kinda digging this Zebra Striped one. Fun ways to bundle this gift: I love this citrus air freshener for cars (top rated and best selling!), and this 4-pack of Eclipse Big E Gum to store in car cup holders.
Lots of teens love to read, so a book is a fantastic option. Madi loved reading The Books of Bayern series. My little brother, who's 15, loved Ender's Game. P.S. My husband and boys loved the movie! So, if your teen hasn't seen it, maybe the book with movie tickets would be a fun gift. Fun ways to bundle this gift: a big tub of licorice (Red Vines!) and a comfy cuddle-blanket (I love the NAP blankets from Brookestone!)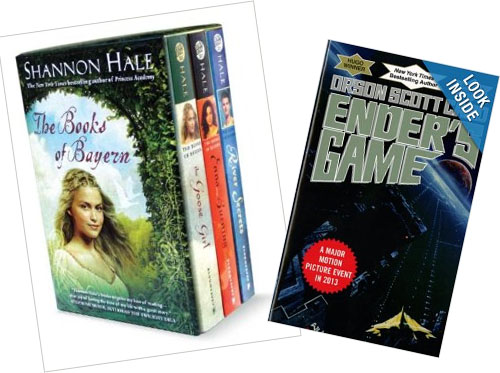 I've mentioned this in a Gift Ideas for Men AND a Gift Ideas for Women post before, and Madi suggested it for teenagers too… because they're so great… Fossil Wallets and Purses. They're way cute/cool and are well thought-out. All the sudden I'm doubting myself (aging myself?) saying 'cool.' Is that still a cool word? Or, is it 'sick' or 'stupid.' I'm so lost. I personally still like 'rad.' Back to Fossil… there are pockets and sleeves all over them and they're super quality. So, yes… that makes them more expensive, but it will last forever and for sure be a favorite. Fun ways to bundle this gift: Um, cash? Okay, how about for girls some EOS Lip Balm and a gift card to the car wash for guys.
I'm usually against using gift cards as one of my gift idea suggestions, but Madi had a great idea. She said that it's fun to get gift cards to the lunch spots near the school. Students can never travel too far for lunch, as they're short on time, and they're anxious to escape cafeteria food (although, I still have fond memories of the Peanut Butter Bars.) So, I love that idea! Stick them in their Fossil wallet or purse. 🙂
Madi has great taste, I'm telling you… I love this 5 Year Journal too! I talk about it all the time. It's a fun, quick, and easy way to record thoughts from you life, over the years. Every day, there is a writing prompt and a space to write a sentence or two. Underneath, there are spaces for the next four years, for the SAME question. So, each year you start the journal over and you get to see how your answers have changed. Fun, huh!?!
I hope you found some great gifts for teenagers. See you back here tomorrow for even more of Mariel's Picks!
* Need more ideas? Check out the gifts for teenagers from previous years: Gifts for Teenagers 2012 and 10 Great Books to Get Kids Reading. Even more gifts for teenager ideas found on Gift Idea Central…keep reading…
* Be sure to pin and check out Gift Idea Central, to see all the gift ideas ever shared on 'Or so she says…'. All future gift ideas are posted there, as well.
* Also, take a minute to enter the Linenspa Lucid Mattress Giveaway!
* An extra little tip: I find so many great gifts on Zulily. It's seriously the best daily deal site out there. They offer super deals on name brands, and I discover so many new shops that I've never heard of. Shipping is sometimes slow, so plan for that. But, anything with a present icon will ship by Christmas!