Every morning after I get our two girls (8 and 6) off to school and get our little boy (4) and baby girl (1) fed and dressed for the day, I very much look forward to a little me time. I love going through a couple of my favorite blogs and checking out what is going on with my Facebook friends.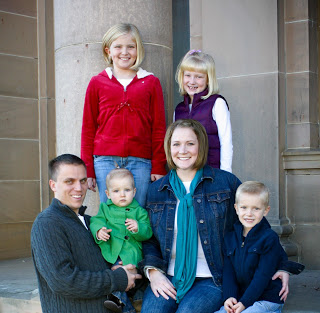 A couple of weeks ago our good friend, Mariel, sent me an email. I was excited and felt very important that someone of her stature (wink-wink, nod-nod) would be sending ME an email. Then I read it….GUEST BLOGGER!!?? Are you kidding me, I got the sweats thinking of the pressure and how I could get out of it, this is way out of my box so bare with me and know I'm out of my element.
My incredible amazing husband (you can tell he's helping me write this, can't you) and I racked our brains with some idea that may be able to help people, especially this time of year.
Many of us have to take a road trip to Grandma's house, this time of the year. We've lived in Kansas for just about 7 years now and have made the 1,100 mile trek back to Utah many times with our 2-3-4 children.
Here are ten
Traveling with Kids
tips we've found to help make your road trip to Grandma's house a little more enjoyable…..if that's possible. 🙂
1. Separate the kids as much as possible and by whatever means. We drive a Honda Odyssey and have 8 seats available to us. The more the better, I say!
We're able to put our oldest kids in the two back corners, the younger ones in the middle seats, and there is room enough between the front seats that my husband can't reach the treats that I bring special just for ME!
2. Two parts to this one. Bring your pillows from home. They have two purposes: one, to sleep and rest on and two, they work great as a barrier between the children.
3. Invest in some portable TV DVD players. If you're lucky enough to have them installed in your vehicle then cheers to you! If you don't have them, Wal-Mart has them for cheap…really though, they are priceless so cost shouldn't matter!!!! We've had ours for 3 years, 10+ trips, and they still work fine.
4. Our drive from Kansas to Utah is about 16 hours. Make sure you bring plenty of DVDs. Our secret is to put the kids in rotation. For example, oldest child picks first show next oldest picks next show and so on. Lay that rule down before you put the key in the ignition. Don't take all the cases to your DVD's. Get a little book of CD/DVD holders and load that up instead of adding to the clutter of the trip.
5. Take plenty of plastic bags for garbage and clutter. If you don't keep on top of the garbage, it will over come your vehicle by the end of the trip. EVERY stop get rid of the garbage. You also NEVER know when someone is going to get sick in the car. Ziploc comes so handy in times like these!
6. Every stop, EVERYONE goes to the bathroom. If you have to drag them out of the car to the bathroom, DO IT. 100% of the time they will have to go 10 miles down the road. It's worth the argument, like I said, just do it!
7. Many people rely on the GPS these days, while those are good and fine, we've found it helpful to have an atlas handy. If this road trip is going to be one you make often we've found it very helpful to make notes, lots of them. We note the exits with good food, clean bathrooms, and good hotels. For eating and restroom planning, we also like to note the distance and time between towns of the good exits. It is also fun for my husband to try to break the previous record of travel. (He thinks he owns the land speed record for I-80 between Utah and Kansas.)
8. A great place for travel ideas for the kids is
Moms Minivan
. They have ideas for kids, toddlers, and babies. They have a good collection of printable sheets for your kids to color and play games on as well. Although, we have long given up taking crayons with us (they just fall between cracks and get lost and melt into your car).
9. Time is of the essence. If your kid or kids have nap time, use it to your advantage. They can usually sit in their car seat for a while and be content, hopefully about the time they are getting annoyed they fall asleep. If they don't fall asleep see tip 3. If you have an infant and they don't fall asleep…well…good luck, been there done that. Everyone is going to have to be patient while baby cries themselves to sleep. If you dare or have enough drivers, driving through the night is a great way to have a peaceful trip. (However, when you find yourself pulling off the side of the road in Wyoming so your husband can run around the van a couple of times to wake up in the 2 degree weather at 2 am, you may think differently.)
10. Last but definitely not the least, have a sense of humor and TRY to be patient. It is not easy being in the car for a long period of time for ANYONE. The kids are hyper and excited to just be on a trip, let alone know they are going to see family and it is Christmas time. A few years back we turned around to see these cheesy kids just trying to pass the time. You can't hear the laughing, screaming, fighting, and yelling in the pictures though.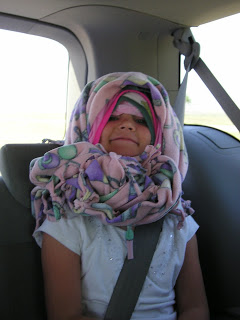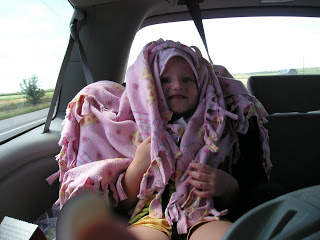 If you're planning on making a road trip now or in the future, I hope a couple of these tips help make it a little more bearable, because you know it is going to be a crazy mess no matter what. HA! Happy Holidays! See you on the road.
-Maria
For more travel games, tips, and activities, check out these posts: 20 Travel Game and Activities for Kids, Travel and Quiet Time Activities for Kids