This Honey Granola is a great addition to your pantry to have for breakfast or for a quick snack. It comes together quickly, makes your house smell divine while baking, is healthier than store-bought brands, and saves oodles on the grocery bill. Even your kids will love it!
Hi! Just wanted to take a quick minute to introduce myself. My name is Christina and I am SOOOOO excited to be a contributor this year here on Or So She Says. I blog with my sister-in-law, Tammy, at FoodApparel.com. We like to "dress food for every occasion" so that you can have a version that suits your time, budget, and tastes.
I'm also in the process of launching another blog for my one true passion: Chocolate. It's a club – you guessed it – the Chocolate Lover's Club. Because, I think chocolate is just cool enough that it deserves its own club. I'm excited to share some of my favorite chocolate eats and other fun stuff over there.
It's time to make New Year's Resolutions. You know, I used to be on a resolutions strike. I thought, why just make goals once a year that I'm probably going to fail at within two weeks time? I will just try to set goals when the need comes up throughout the year. While this kind of makes sense to me still, I finally came around last year and realized that I can spend a little time at the beginning of the year to focus on where my life is going – maybe not just for the year, but in general, and make some plans around that. Looking back, did I actually accomplish more? I can honestly say YES. So, I will stop going against the grain on this one and jump on the bandwagon!
Maybe you are looking to eat healthier and more natural (less processed ). And maybe you are looking to be better with your budget. Well, here's a simple recipe that can help you achieve both of those goals. Do I have your attention? Well, keep reading then.
You know what costs a lot of money to buy at the grocery store? Cereal. It does. Even with all of the coupon clipping, it can still get pretty expensive. And my kids can down a box of cereal in the blink of an eye. And guess what else? I don't even want to look at the ingredient list or the nutrition facts. Then I just start feeling guilty when I throw it at them for breakfast more than once a week. I mean it's not like I'm feeding them the marshmallows our favorite little leprechaun every day, but it's still not the best for them.
Well, awhile back I went to making some of my own cereal that I could feel a lot better about. This Golden Honey Granola is one of my favs because it is so simple to make and it's a really flexible recipe so you can really change it up to still get a bit of variety. I personally love the touch of honey for the sweetener, although you can change this up with maple syrup or even just a simple mixture of brown sugar and water. And what I love best about this granola is that it's not too dry. It's crunchy, but still has a little chewiness…..yaknowwhatimean? Oooooh it's good! I absolutely love it over yogurt, or I also love it for just a simple snack when I get the munchies!
What are your New Year's Resolutions for this year? Do you dare share? (I get scared because then I feel like someone is actually keeping tabs on me, but then it actually helps me stick to my guns.) Let us know in the comments below so we can help you commit!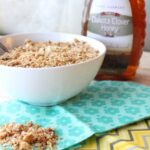 Easy Golden Honey Granola
Ingredients
4

cups

rolled oats

1

cup

coconut flakes

1

cup

wheat germ

1/2

cup

brown sugar

1/2

cup

powdered milk

1/4

cup

canola oil

3/4

cups

honey

1

teaspoon

vanilla

1/4

cup

sunflower seeds or other nuts

optional

1/2

cup

raisins

optional
Instructions
Preheat oven to 350 F.

In a large bowl, mix together oats, coconut, wheat germ, brown sugar and powdered milk.

In small saucepan, combine oil, vanilla and honey. Heat slightly over low heat until dissolved.

Add to dry mix and toss, coating evenly.

Add nuts and fruit (optional), and toss to coat. (You may also simply add these at the end after baking.)

Spread granola mixture onto cookie sheet.

Bake for 15-20 minutes, or until golden brown, stirring every 5 minutes.

Cool completely and store in air-tight container.
Recipe Notes
Change it Up:
1. If you don't have wheat germ, try wheat bran or oat bran, or simply add one cup of extra oats in place of the wheat germ.
2. Instead of raisins, try dried cranberries or blueberries (can add before baking, or after).
Dress it Up:
1. For cinnamon granola, add 1/2-1 teaspoon cinnamon to dry ingredients.
2. Add 1/4-1/2 cup slivered almonds to the mix before baking.
Dress it Down:
Eliminate all the nuts and dried fruit frills to keep it really simple. You can always just throw in a handful when you are serving anyway!
Need some other healthy breakfast ideas that won't break the bank?
Sweet Potato Breakfast Skillet
Honey Wheat English Muffins with Maple Butter
Other favorite granola recipes on 'Or so she says…':
Peanut Butter Chocolate Banana Chips Granola