Hey all this is Mindika
(most people call me Mindi)
, I blog over at
Mindika
Moments
. I'm thrilled to be guest blogging here at Or So She Says!
I am a full time wife and mom. Like most moms I work very hard and have to stay on top of my game to accomplish everything that is required of me. I don't always succeed, but I do my best and hope that it's good enough. I grew up as a military brat, traveling the world. I didn't get married until I was 32 and had my first child at 34. Prior to being a mom I spent my time working as a Marketing and Public Relations Director in Shopping Centers as well as an Advertising Agency. I've experienced a lot of wonderful things in my life that have shaped and molded me into the woman I am today.
…but enough about me…let's talk food! I typically blog about recipes, food, and cooking. It's been a passion of mine since I was about 5 and got my first Easy Bake Oven. But the truth is, cooking is in my blood. Both my grandmothers were amazing cooks. The majority of my childhood memories involving my grandmothers are centered around all the great food they made. My Grandma Woolf (mom's mom) was a particularly good baker, and most summers visiting grandma included homemade donuts!
When my grandma passed away two years ago, her daughters (all six of them) got together and made donuts in her honor. A year later my Aunt passed away, and the remaining sisters made a pack that they would make a greater effort to get together more often. So they created a new tradition of making donuts every year as part of a family reunion.
I obviously love this tradition, mainly because I get to participate in the "eating" of the yummy donuts, but also because I hope to carry on the tradition with my children and grandchildren.
So the first step in donut making is a really good dough recipe. You can find my grandma's recipe below. After you have mixed the dough and let it raise…it's time to cut them out. That's where you're going to need one of these. A donut cutter. You can find them just about anywhere. I bought mine at
Bed Bath & Beyond
for about $4.
Now for the frying! Heat about 2-3 inches of oil to 370 degrees in an electric skillet, deep fryer or straight-sided pan over medium heat. Cook in batches until browned for about 3 minutes, turning once. (Keep in mind when cooking the "holes", they will cook much faster.)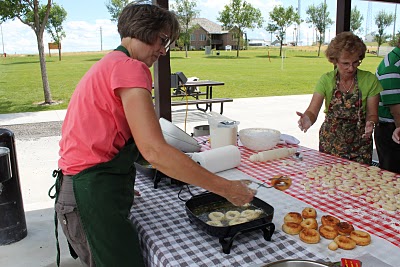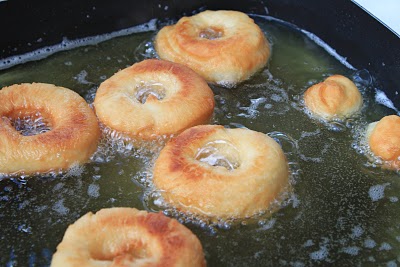 When you take them out of the oil, allow them to drain on a paper towel lined baking sheet or counter.
Once they've cooled…it's time for the good stuff! The frosting and toppings of course! This is where you can really be creative. Chocolate, vanilla, maple, strawberry; all yummy frosting flavors. And then there's nuts, coconut, sprinkles, crushed candy, crushed cookies…go crazy!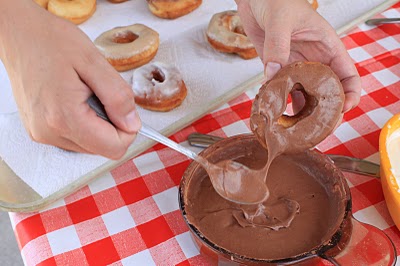 I hope I've inspired you to give donut making a try…or maybe start a family tradition of your own…or at a minimum, make a quick run to crispy creme!
GRANDMA'S DONUT RECIPE
(Recipe from Kathleen Woolf)
Maple Glaze
Ingredients
2

C.

confectioners' sugar

1

t.

pure vanilla extract

1/4 - 1/2

C.

pure maple syrup
Instructions
In a bowl, combine confectioners' sugar and vanilla.

Gradually whisk in enough maple syrup to make a smooth, thick glaze.
MAPLE GLAZE
2 C. confectioners' sugar 1 t. pure vanilla extract 1/4 – 1/2 C. pure maple syrup1. In a bowl, combine confectioners' sugar and vanilla.
2. Gradually whisk in enough maple syrup to make a smooth, thick glaze.
Click below for other fun and/or unique frosting recipes: