Browsing around the floral section of the craft store, I came across some rustic grapevine floral wire. I used it to make some cute wire pumpkins for the house. They would look so great in a fall tablescape or mantle!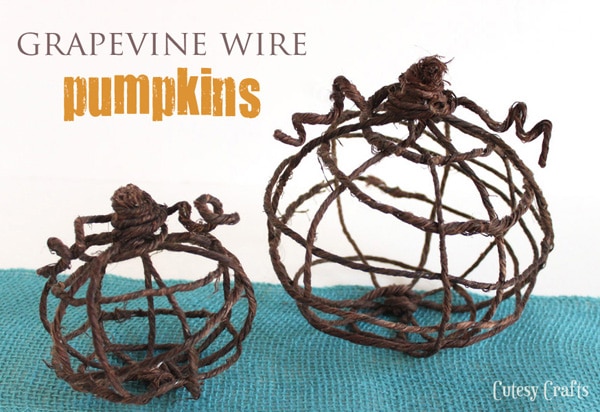 Grapevine Wire Pumpkins
To make the pumpkins, you just need grapevine floral wire, wire cutters, and pliers.
I actually used this same technique to make these pipe cleaner and pony bead pumpkins with my kids. Fun! Using your wire cutters, cut four strands of grapevine wire. I cut 14 inch strands for the smaller pumpkin and 20 inch strands for the larger one.
Make an "X" with two of the wires and twist them in the middle.
Wrap the other two wires around the middle the same way.
Bring all of the ends together and trim any that are uneven.
Use some pliers to twist the ends together. This will become your pumpkin stem. It's not going to be pretty yet. Just make sure it's secure.
Carefully pull and shape the wire into a pumpkin form.
Cut off a much longer piece of wire and wrap one end around the stem to secure it. Start weaving the wire in and out around the pumpkin. This part takes a bit of patience, especially at the beginning with the long wire. Just make sure to keep reshaping things as you go.
Take a small piece of wire and use your pliers to wrap it around the stem. It looks much better now!
Get one last piece of wire and wrap it around the base of the stem to make the vines.
Wrap the wire around a pen to make the vines curl.
And you are done!
Now go make five more!
They look especially cute grouped with these burlap pumpkins that I made. You can find the tutorial for those here.