When it comes to New Year's Eve…I'm usually super lame. Lame, as in go-to-sleep-at-10 pm-and-do-nothing-remotely-festive-lame. Christmas wears me right out and I'm pretty much comatose for a month following. But, since you crazy ladies like to party hard, I've got some super-fun group games for you!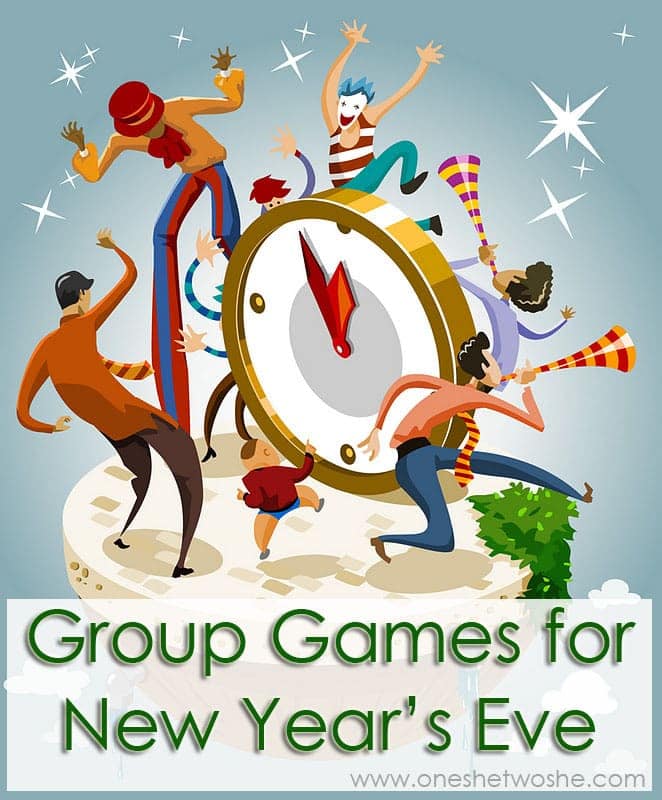 Secret Adverb
One person is chosen to be "it" and leaves the room. While they are out, everyone agrees on one adverb. Let me remind you…adverbs end in -ly, such as: quietly, annoyingly, suspiciously, sleepily, etc. Once the adverb has been chosen, "it" is invited back in and has to try and figure out the secret adverb. It is figured out by asking different group members to act out certain verbs in the form of their adverb, until they can guess what it is. Don't tune out, I promise…it's easy and seriously hilarious! Okay, so for example…let's say the group chose the word "grumpily." That IS a word, right? It sounds weird, all of the sudden. So, "it" comes back in the room and walks up to one of the group members and says the verb, "run." So, that group member has to run in a grumpy manner. If "it" doesn't know the secret adverb, he/she tries another verb with a different group member, like "cartwheel." The group member then precedes to do a grumpy cartwheel…don't ask me how. But, that's the fun of it! Once, "it" figures it out, someone else becomes "it" and a different adverb is acted out.
–
Word Nerd
To prepare, write every letter of the alphabet on a little piece of paper and drop into a bowl. Split the group into two teams. One player from each team comes up to draw a letter from the bowl. They then go over to the opposing team and have to name off as many words that start with their letter as they can, in 30 seconds. The opposing team will count up their words. Whoever, of the two players, had the most words, gets to subtract the loser's score from theirs. The resulting number is their teams score. For example, Joe got 40 words and Mary got 30. Since Joe won, he would subtract Mary's score from his and his total would be 10 points. His team would have that 10 points and the first team to 100 points wins!
–
Psychiatrist
One person is chosen to be "the psychiatrist" and leaves the room. Meanwhile, the rest of the group decides on their ailment that they all share. For example, maybe everyone says a color somewhere in their sentences. Or, maybe when they speak their first word always begins with the same letter of their first name. Or, everyone touches their head before they speak. When a disease has been decided on, the psychiatrist comes back in the room to start his diagnosis. He will go around the group and ask random questions to determine how the group is behaving. If he can determine the disease in 10 questions (or a different set number), he wins and it's another players turn. He might ask questions like, "What's your favorite color?" or "Where was your favorite vacation?" The diseased person will have to answer the question in the decided-upon manner. Other ideas for ailments: everyone lies in their answer, everyone answers the question asked to the person before them, everyone answers what they think the person next to them would say, everyone's answer starts with a certain letter or go through the whole alphabet, everyone says "um" 3 times when they speak, etc.
.
Need more ideas for group games?? Check out this post!
.
May I recommend a few appetizers & drinks??
Here's a post with 30 favorites! 30 Favorite New Year's Eve Appetizers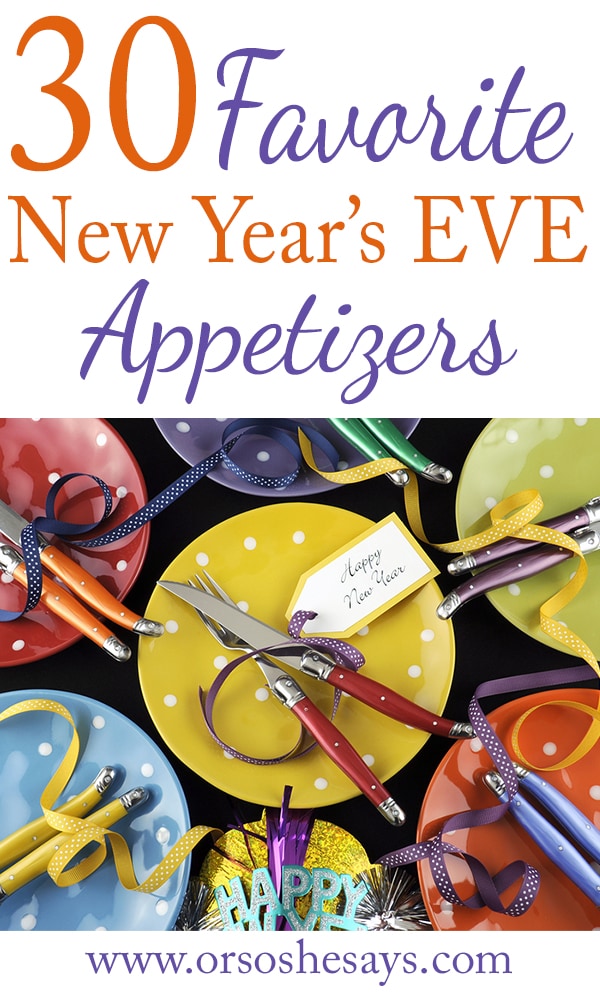 A great post from the past, "New Year's Traditions" by Melissa!
Have a great time!