Hi everyone!
I'm so honored to be here guest posting on Or so she says!! Thank you to Mariel for inviting me! My name is Michelle and I blog over at
Creative Food
. My blog is all about presenting food in a fun and creative way for my daughter, Eliana.
You see, my husband and I struggled with our little picky eater and didn't know quite what to do with her some days! Eliana would eat bread, honey and cheese all day, every day, if it were up to her. And some days that is all she eats.

Her picky eating inspired me to get creative with food and I started making her creative fun food in order to help her eat healthier and try new foods. Not only did it work, it also provided me with a creative outlet! She is still a picky eater, but her eating habits have improved tremendously, and I love how she gets involved in our family talks about eating healthy.
Today I'm sharing this fun and easy breakfast I made for Eliana: Halloween Ghost Pancakes!!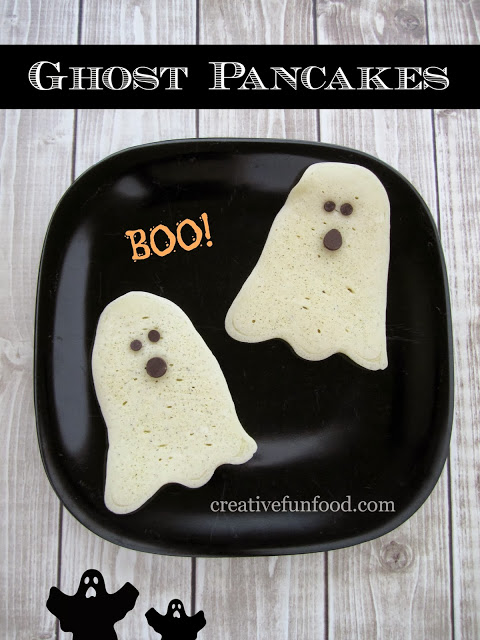 We love to make fun shaped pancakes in our house. My daughter absolutely loves them and she loves to help mix the batter and watch everything come together! While they might look difficult to make, they are actually not too difficult and whenever I have some extra time I enjoy making her some fun shaped pancakes. We recently made
Candy Corn shaped pancakes
and I
decided why not make some more simple Halloween pancakes for her 🙂
To make your Ghost Pancakes you'll need pancake mix, a squeeze bottle and some chocolate chips. You can find squeeze bottles in craft stores by the candy melts and cake decorating aisle.
First you need to start with your favorite pancake mix, homemade or boxed. In this case I didn't use my whole wheat mix, I made my pancakes with unbleached all purpose flour so my ghosts were were truer to color, but you can use whichever you prefer! You will need to mix your batter well so there are no bumps. Take the batter and pour it into your individual squeeze bottle and then you are ready to draw!
With your skillet on low heat you can begin by drawing the outline of your ghost. No two ghosts will be exactly the same and that makes it fun! For even more fun, if your kids are old enough they can make the pancakes themselves!
When your outline is almost fully cooked, completely fill in the rest of the ghost with the pancake batter. Let your ghost pancake cook until bubbly and almost fully cooked (like above picture). Gently flip your ghost pancake and cook it on the other side fully.
To make the ghost's face you can use two mini chocolate chips for the eyes and one regular sized chocolate chip for the mouth. (or you can use all regular sized chocolate chips!) Altogether you'll make some really cute Ghost Pancakes!
These ghost pancakes would be such a simple and easy Halloween breakfast treat! Serve with a side of fruit and enjoy!
Eliana loved them and I hope you do too!
Thank you again to Mariel for inviting me to guest post!
For more Creative Fun Food you can find me here: