It's the moment you've all been waiting for… the 10th of the month! Today we will be appealing to your naughtiest sweet tooth, because this month's blog hop is all about CANDY: candy crafts, candy recipes, candy printables… candy, candy, candy! So, pull up a seat and get ready to have your cravings triggered by 10 original posts, provided by 10 delicious bloggers. Pin your heart out, my friends.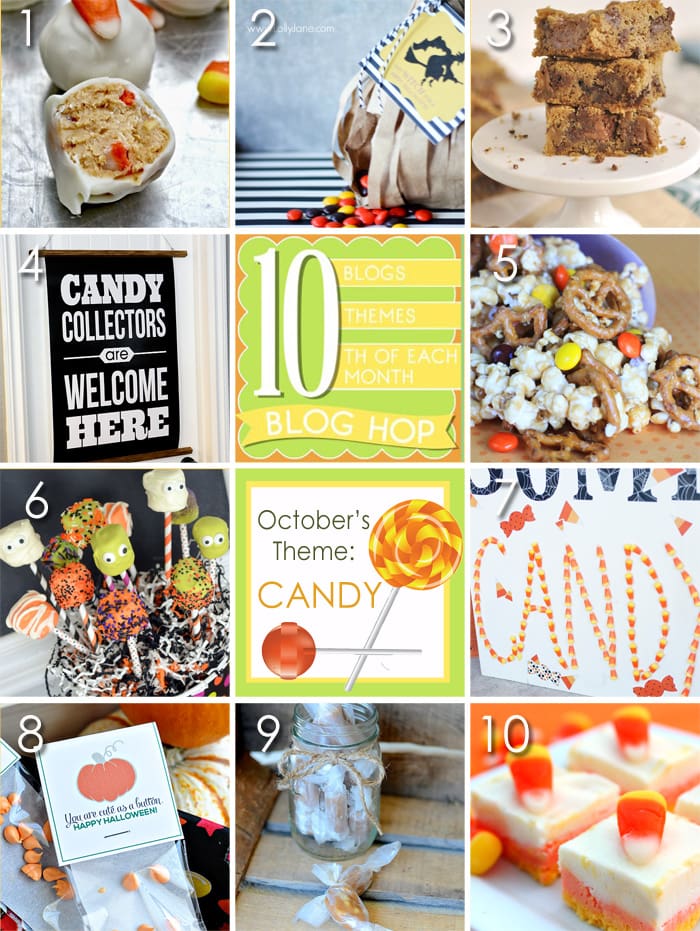 1. 'Or so she says…' sharing White Chocolate Candy Corn Buckeyes
2. Lolly Jane sharing Witch's Broom Candy Bag and Printable
3. Your Homebased Mom sharing Milky Way Bars
4. Eighteen 25 sharing Candy Collectors Halloween Printable
5. Landeelu sharing Reeses Pieces and Pretzel Popcorn
6. Little Miss Momma sharing Candy Covered Halloween Marshmallow Pops
7. Capturing Joy sharing Halloween Candy Porch Sign
8. Thirty Handmade Days sharing Halloween Candy Buttons and Printable
9. Simply Kierste sharing The Best Homemade Caramels
10. Six Sisters' Stuff sharing Candy Corn Fudge
Now, for the candy post contribution from 'Or so she says…': (provided by monthly contributor, Cathy of Lemon Tree Dwelling.)
White Chocolate Candy Corn Buckeyes are everything you love about traditional buckeyes….with a fun Halloween twist!
Well….it's just about that time! Time for Halloween!! Which, around here, means enough candy to last the rest of the year. I don't know what it is, but for some reason, my kids seem to come home with a bigger haul than I ever remember as a kid! And even though their dad and I go to town on it for a good week or so, there is always enough left over that I am convinced we will never need to buy candy again.
And, for a long time, we don't! Because after the first few weeks of candy-mania, we all tend to lose interest….and whatever is left in the bag is sure to be left there for a long time! But I'm thinking this year might be different. I'm thinking this year I'm going to have some fun with all the candy that's left come mid-November! Starting with these White Chocolate Candy Corn Buckeyes.
Buckeyes are always one of my favorite holiday candies, and now I have an excuse to make (and eat) them early! And, since there's bound to be candy corn left in the bag, I'll be all set! It's the perfect way to make use of our extra candy…. and the perfect way to spread the love to neighbors, friends, family, co-workers, teachers…you name it! Everyone loves buckeyes, and especially buckeyes with the delicious twist of candy corn mixed into the creamy peanut butter center. Just in time for your first round of holiday baking……Happy Halloween, Everyone!
White Chocolate Candy Corn Buckeyes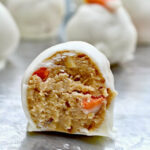 White Chocolate Candy Corn Buckeyes
Ingredients
1

c.

peanut butter

2

c.

powdered sugar

1/4

c.

butter

softened

1/2

c.

candy corn

pieces work well

8

oz.

white chocolate

I used CandiQuik
Instructions
In a medium bowl, combine peanut butter, powdered sugar, and softened butter until well-mixed.

Add candy corn and stir to distribute.

Roll mixture into small (1 1/2 inch) balls, using your hands, and set on parchment paper-lined baking sheet.

Melt white chocolate over low heat; roll peanut butter balls in melted chocolate to coat.

Set on prepared baking sheet to harden.

Once all balls are coated, place baking sheet in refrigerator to cool and harden completely.
Enjoy! Love candy corn?? Be sure to come check out another favorite treat, Sweet and Salty Candy Corn Oreos.