Hi there! My name is Sosae, the happy co-creator (along with my dashing husband, Dennis) of Virtue Natural! We spend our days hand-crafting natural and organic skincare for our online shop at Etsy. The rest of the time we're dreaming up new product recipes, having picnics along the Kern River, playing guitar and knitting the night away! (I do the knitting…) So, anyone want to learn how easy it is to prepare a homemade foot soak? Let's get to it!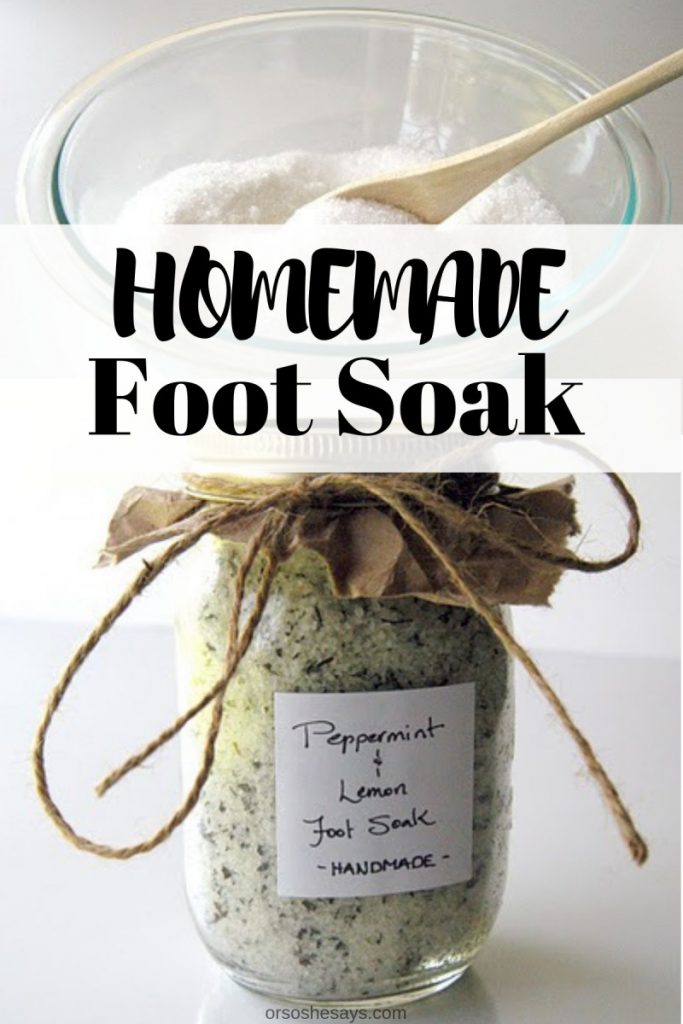 My goal when designing this recipe, was to limit the ingredients to what we could find in an average supermarket. It's just amazing how many lovely homemade skincare items we can put together with a simple supermarket shopping list!
Let's get started.
Here's what you will need to make your homemade foot soak:
– 1 cup sea salt (a great alternative would be Kosher salt)
– 1 cup Epsom salt (usually found in the personal care/pharmacy aisle)
– 2 Tbsp peppermint tea (Be careful not to confuse this with "peppermint flavored" tea: the tea should be 100% peppermint leaves. Tip: if you can't find it in bulk, buy a box of tea-bags, cut them open and measure!)
– 4 tsp pure peppermint extract
– 3 tsp pure lemon extract
– 1 tsp olive oil
– 1 tsp cornstarch
– 1 tsp baking soda
– measuring cups and spoons
– mixing bowl and spoon
When the two salts are completely blended, add olive oil, peppermint extract and lemon extract. Stir each time you add an ingredient, making sure to break apart any large chunks of salt with your spoon. Once these liquid ingredients have been fully incorporated, your salt mixture will look like moist sand (and it will smell pretty good too!)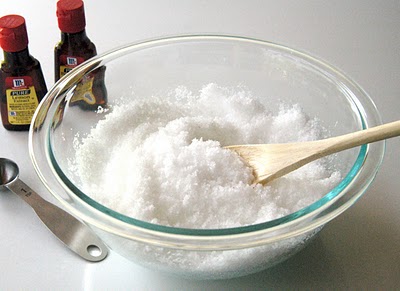 Now it's time to add the cornstarch and baking soda. Again, blend thoroughly, breaking apart any large clumps of baking soda or salt.Almost done! Now add the final ingredient – the peppermint leaves. (I add this last, because I've found that adding them early in the process causes the leaves to bruise and give off their green color to the salt.) Stir the leaves in until they are fully blended with the salt mixture. Go ahead and take a deep breath while you're at it – it should have a very refreshing scent!
At this point, if you're planning on keeping the foot soak for yourself, store it in an air-tight container so it stays fresh. If the container is not air-tight, the beautiful aroma of the extracts and the peppermint leaves will fade. (The soak will still be useful, just not as charming!)
If you're planning on giving it away as a gift, try spooning it into an ordinary Mason jar. Be creative. Ribbons, tags, whatever you want to add to give the soak a loving, handmade touch.
And how to go about soothing those tired tootsies? Fill a small basin with warm water and stir in ¼ to ½ cup of foot soak. Stir it to dissolve the salts, and soak your feet for 10-15 minutes. Ahhhh…
So what are some of the benefits of this homemade foot soak, you ask?
In my opinion, the best part is that it's all-natural! No chemical fragrances or artificial colors and preservatives (remember ladies, whatever you put ON your skin absorbs INTO your skin!) Secondly, it's very effecting at relaxing sore muscles (thanks in part to the magnesium-rich Epsom salts.) It's also refreshing (peppermint tea!) and softening (olive oil!) and aromatic. Being the all-natural skincare fanatic that I am, I've found this recipe to be a real winner, and I hope you do too!
More homemade beauty products:
Have you subscribed to the 'Or so she says…' newsletter yet? We send out emails with more great ideas, and your first one will include Mariel's five FAVORITE recipes from the blog. You can sign up by clicking HERE.
For gift ideas for everyone on your list, check out the Gift Ideas tab and be sure to pin Gift Idea Central, to keep the whole collection in one place.
This post sponsored by:
Our picks for making this homemade foot soak:
Ball Pint Jar, Regular Mouth, Set of 12, (16 oz)
DilaBee 12-Pack 8 Ounce Empty Large Elegant Refillable Clear Plastic Jars with Screw On Lids and labels, Round BPA Free Containers For Kitchen Use, Slime, Beauty Products, Cosmetic, Lotion and more
2 oz Round Glass Jars (6 Pack) – Empty Cosmetic Containers with Inner Liners, black Lids and Glass Sample Jars with lables (Amber) by THETIS Homes
Ball Mason 8oz Quilted Jelly Jars with Lids and Bands, Set of 12
Arm & Hammer Baking Soda, 5 Lbs
ARGO Cornstarch – 35oz – CASE PACK OF 2
Colavita Extra Virgin Olive Oil, 68 Fl Oz
Watkins Pure Lemon Extract, 11 Ounce(Packaging may vary)
Davidson's Tea Bulk, Organic Peppermint Leaves, 16-Ounce Bag
Watkins All Natural Extract, Pure Peppermint, 2 Ounce (Pack of 6) (Packaging may vary)
Traditional Medicinals Organic Peppermint Herbal Leaf Tea, 16 Tea Bags (Pack of 6)
Epsoak Epsom Salt 19lbs Magnesium Sulfate USP Resealable Bulk Bag
Minera Natural Dead Sea Salt, 5lbs Bulk – Fine Grain
Diamond Crystal Kosher Salt, 3 lbs
Sherpa Pink Gourmet Himalayan Salt, 5 lbs Fine Grain. Incredible Taste. Rich in Nutrients and Minerals To Improve Your Health