Hiya! She: Jocelyn, here.
In my previous life, I was a TV producer for CNN, but I left the job I loved four years ago to become a stay-at-home Mom. These days, instead of interviewing celebrities and politicians, I am the one answering a constant stream of questions–from my 4, 3, and 1-year-old children. I feel most alive when I am dreaming, writing, serving, or laughing. And I like it most when I can do all of those things at the same time. I love bringing great ideas to life, and I am always on the look-out for "my next big project". I blog about those projects over at We Talk of Christ, We Rejoice In Christ. And you don't know it yet, but you are about to be swept up into one of my big service adventures…Just trust me, you're going to love it!
This adventure involves making a simple journal…a really cute one like this.
And if you "can't sew", don't worry, you can do this…I'll hold your hand all the way through!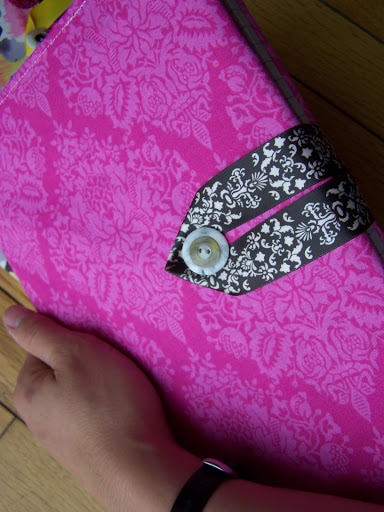 And here is who you will be helping:
My friend over at "I Make Stuff" is an Iraq War widow. Earlier this year, on the three-year-anniversary of her husband's death, she decided to start making journals to send to other women who have lost spouses in the war, to help them work through the grieving process.
She calls her cause the "Write It Out Project" and she currently needs help filling a request for 50 journals.
The journals are relatively inexpensive (the notebooks cost about one dollar) and as you will see in the tutorial below, they are very easy to make. This is a great first sewing project, so dust off that sewing machine you got for Christmas…and let's GO!
Also, I am in the process of putting together a HUGE giveaway as a Thank You to everyone who pledges to make at least one journal for the Write It Out Project and

send it in by May 31st…Memorial Day.
So, what do you say recruits? Will you join me?
Now let me show you just how simple it is to make these awesome journals.
==========================
Handmade Journal Tutorial
==========================
Optional: Craft Paper & Glue
(Before beginning cover any undesirable tables on inside cover with craft paper.)
Cut two rectangles of fabric measuring 25 x 13.5 inches.
Pin together, right sides facing.
Sew all the way around, leaving a three-inch opening.
Turn right-sides out and press. It will look something like this:
Now, fold the top and bottom down one inch.
The front should fold over about two inches.
The back should fold over almost all the way to the spine.
Press, pin, and topstitch in place.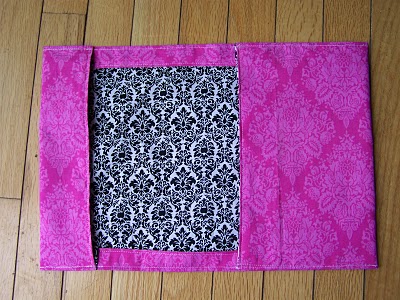 Be careful not to sew through your newly created pocket.
Wrap the ribbon around your button like this.
The ribbon should be long enough to reach to the middle of the back of the notebook.
(I know, mine isn't quite there, but you get the idea.)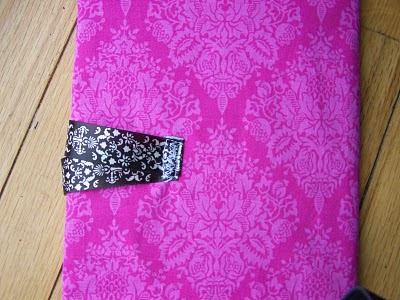 Heat seal the edges of the ribbon and pin in place.
Overlap the ribbons and carefully machine sew them to the fabric, making sure you do not sew through the pocket. First sew a box, and then a zigzag through the end of the ribbon to secure.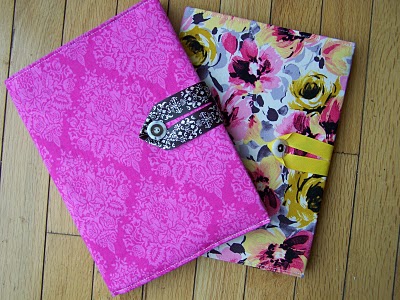 You're done. It's fabulous, no?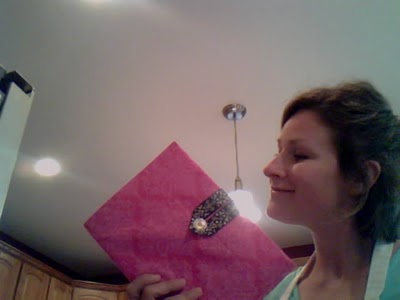 Here I am, looking extremely satisfied with my pinkalicious journal.
You too can feel this same sense of accomplishment and satisfaction! Simply gather your supplies and get sewing! Just think of the women you will be helping!
When you have made your journals, contact me, and I'll email you the address you'll need to send them to.
See…Service–not only can it be pretty painless, it can actually be fun!