It's always a good time for a happiness lesson! In the month of March we get to celebrate St Patrick's Day. It is such a cheerful holiday based on luck, pots of gold, and rainbows. I thought it would be fun to bring some rainbow magic into a Family Night lesson to teach our families about what brings true happiness into life. All it takes is planting a few Rainbow Seeds and helping them grow. Rainbows are bright, cheerful, and colorful. They remind us that there is always a new fresh start after the rainy days of life.
This hands-on happiness lesson will help the whole family see how beneficial it is to plant happiness. And it's pretty yummy too!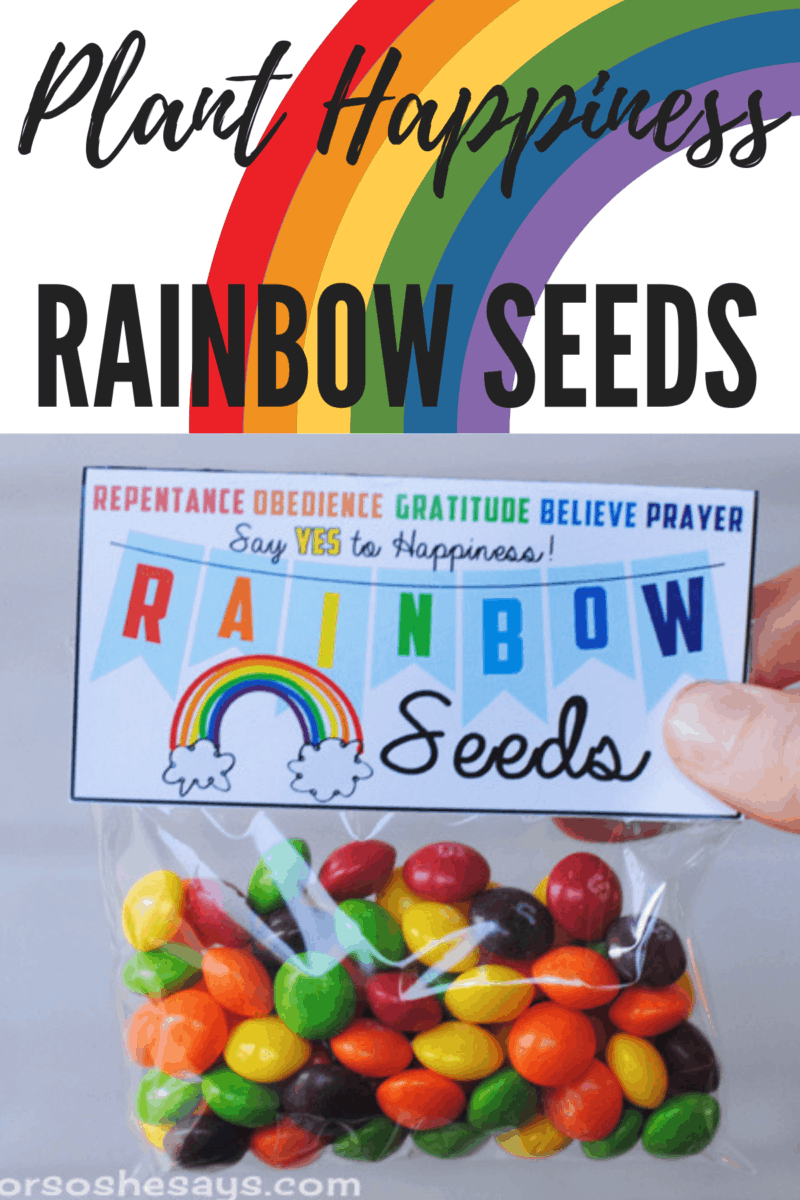 For this lesson you will need a pack of Skittles candy! They are colorful and (rumor has it) when you eat them you can actually taste the rainbow. There are a few fun printables in this post that you can use as well.
HAPPINESS LESSON:
Start the discussion by talking about rainbows. What do they look like? Are they beautiful? How does seeing a rainbow make you feel?
Rainbows symbolize happiness and peace. You can create happiness and peace in your life by planting rainbow seeds and helping them to grow. Rainbow seeds are special.
At this point in the happiness lesson, you can hand out a package of Rainbow Seeds to your family members. I packaged Skittles candies into clear plastic treat bags. Then, I closed the bags off with the Rainbow Seeds label that is available for free download at the end of this post. Fold the label over the top of the bag and then tape it or staple it into place.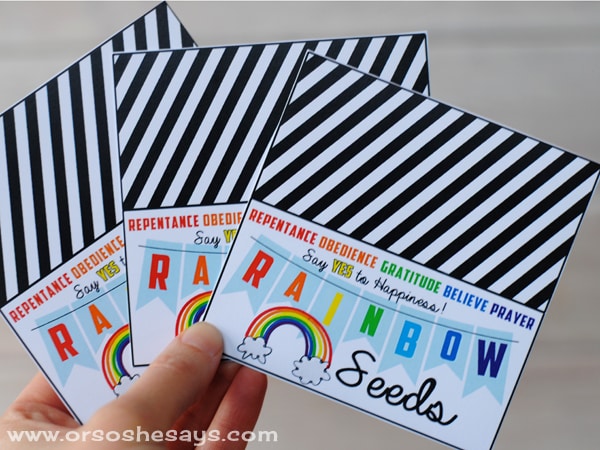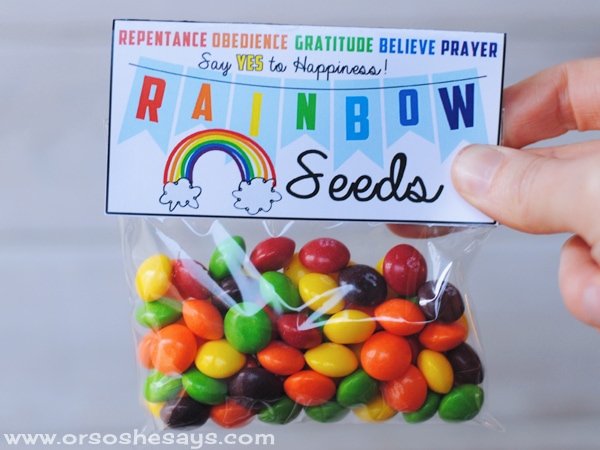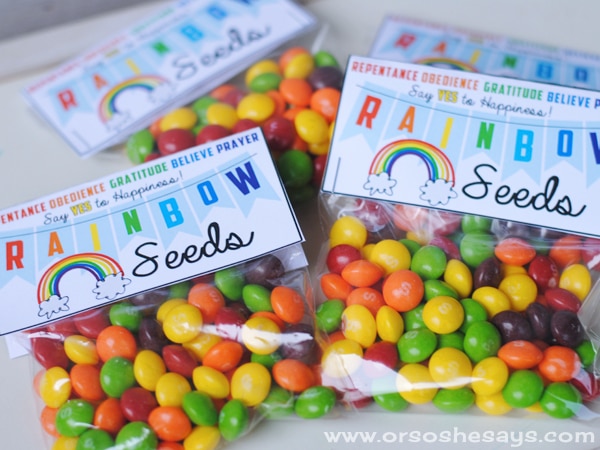 Each color of seed represents an action that you can take to increase the happiness in your own life. Talk about each seed and discuss what they represent. There is a special printable for this section of the lesson as well. I suggest hanging it on your fridge when you are finished with the lesson to remind your family about what you talked about during Family Night.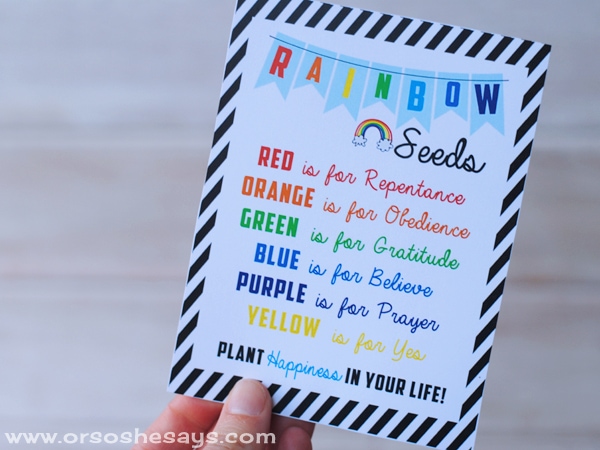 PURPLE: is for Prayer. Prayer is an important part of daily life. When we pray we get to speak to our Father in Heaven. Prayer reminds us that we have divine worth. We can give thanks for our blessings and ask for help with questions or problems in our life. Prayer gives us time to meditate and be still so that we can listen to the Holy Ghost. When we pray, we are drawn closer to Heaven. Prayer brings happiness by providing answers, peace, and direction.
"No one has failed who keeps trying and keeps praying." Jeffery R. Holland
ORANGE: is for Obedience. We have been given commandments from the Lord. Why do we have rules to follow? Is it to hold us back from enjoying life? Or, are rules given to protect us? When we obey, we are blessed for our obedience. We are saved from suffering from the consequences of sin. Choosing the right also allows us to have the Holy Ghost as our companion. The Holy Sprit brings joy into our lives. We have been taught that wickedness never was happiness. Obedience is happiness.
"Happiness comes from living the way the Lord wants you to live and from service to God and others." Thomas S. Monson
"It is by obedience that we gather light into our souls." Dieter F. Uchdorf
GREEN is for Gratitude. A thankful heart is a happy heart! When we can learn to be grateful in all things, nothing can take the joy from our lives. Express thanks daily to your Father in Heaven through prayer. It is also important to thank our friends, family, neighbors, coaches, and teachers for the things they do for us. Think of something you are thankful for. Share it with the group.
"The Spirit of Gratitude brings true joy and great happiness." Dieter F. Uchtdorf
RED is for Repentance. Everyone makes mistakes. It is part of life. Aren't we lucky that our mistakes can be wiped clean by the power of the Atonement? Jesus suffered and died for us so that we could repent and be forgiven for our sins. When we do something wrong it makes us feel bad and yucky inside. When we say sorry and ask for forgiveness, we can feel good again. Repentance is like feeling the sun on your face after a cloudy day. It makes us happy!
"One of Gods greatest gifts to us is the joy of trying again, for no failure ever need to be final." Thomas S. Monson
YELLOW is for Yes. Yes is a pretty important word. It means commitment. Each of us need to decide that we are going to plant these rainbow seeds into our lives. Can you say YES to be obedient and grateful? Can you say YES to living a life of gratitude and repenting when you make mistakes? If you commit to growing these rainbow seeds in your life then a bright and colorful life of happiness and joy will soon appear.
ACTIVITY
Set a dinner plate in the center of your table or on the counter. Let each person in your family plant a rainbow seed on the outside edge of the plate. Talk about what their color of seed represents and what steps they can take to make sure it is planted well into their life. For example: If they put a green skittles candy onto the plate, then they could say, "Green is for gratitude. I am going to say thank you to my teacher after class every day this week."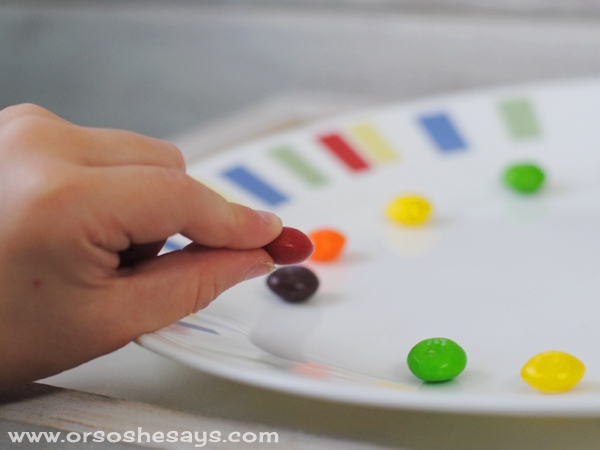 Then, pour about 1/4 cup of water into the center of the plate. Make sure the water reaches the edges of the plate.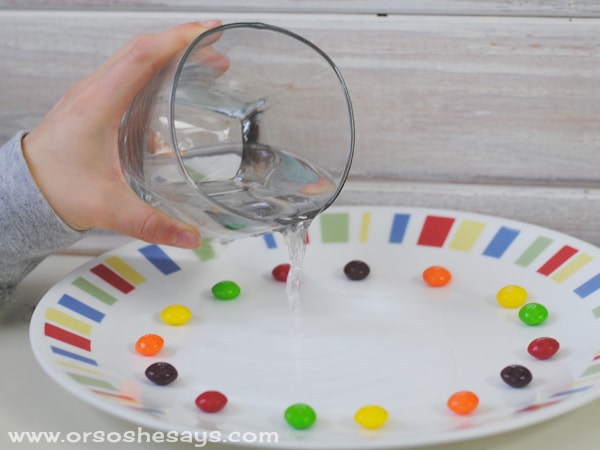 When you pour the water, tell your family that when they act upon all of the actions that the rainbows seeds represent then happiness is the result. Watch as the skittles and water combine to make a pretty rainbow design on the plate. My kids thought it was so exciting! I hope you enjoy it too.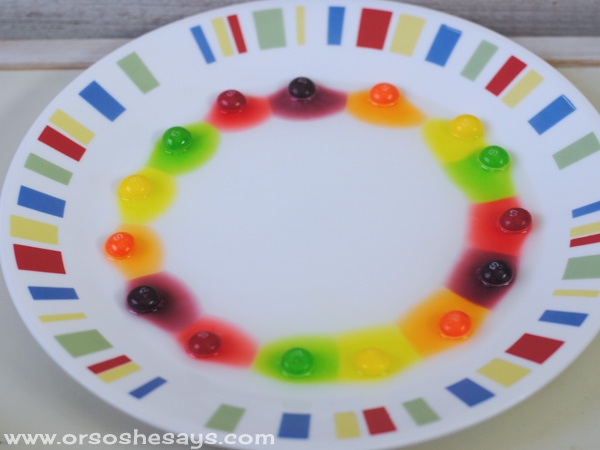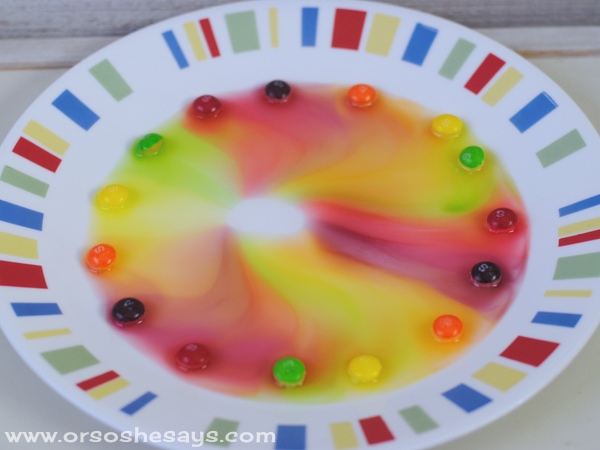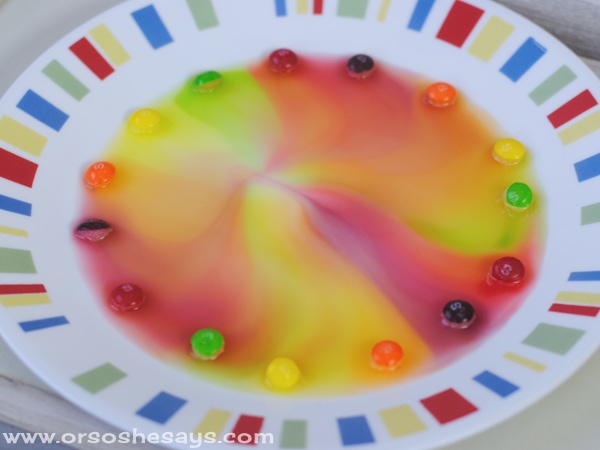 I hope you have a great time creating rainbows in your life. Watch the happiness increase when you plant your own rainbow seeds! Thanks for stopping by!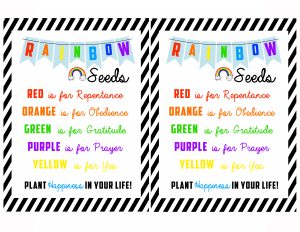 Download the free printable HERE with a free box.com account.
Download the free bag tags HERE with a free box.com account.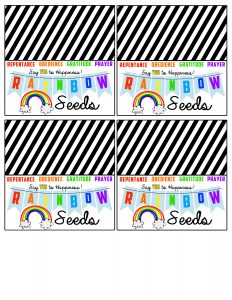 For more great posts like this happiness lesson, check out:
Heavenly Treasure Hunt- Family Night Lesson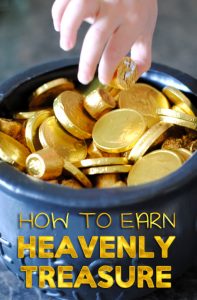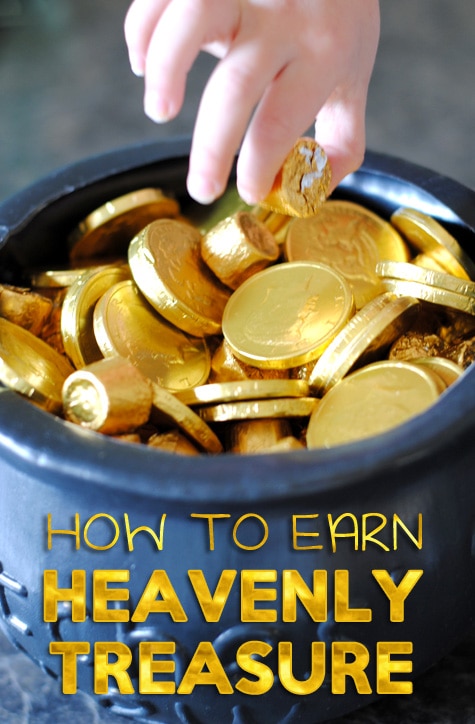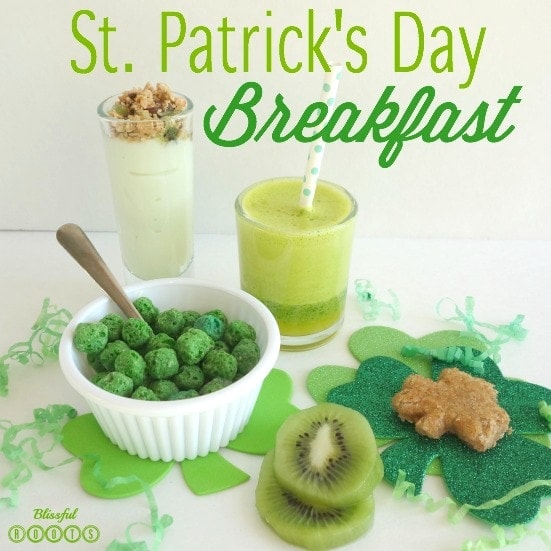 You're As Good As Gold – St. Patrick's Day Service Lesson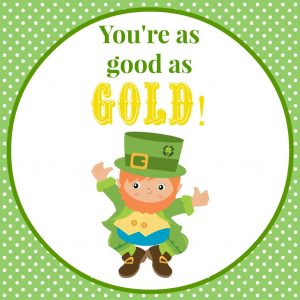 Some additional images for social saving and shares: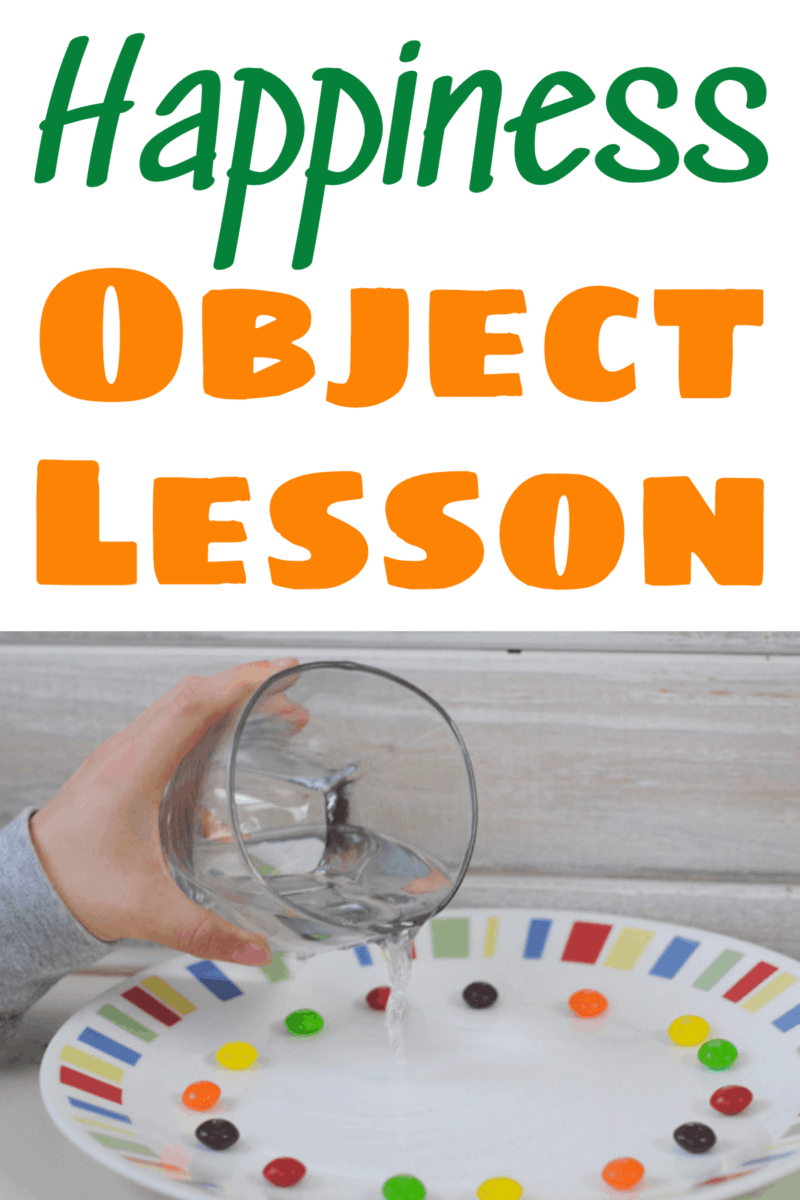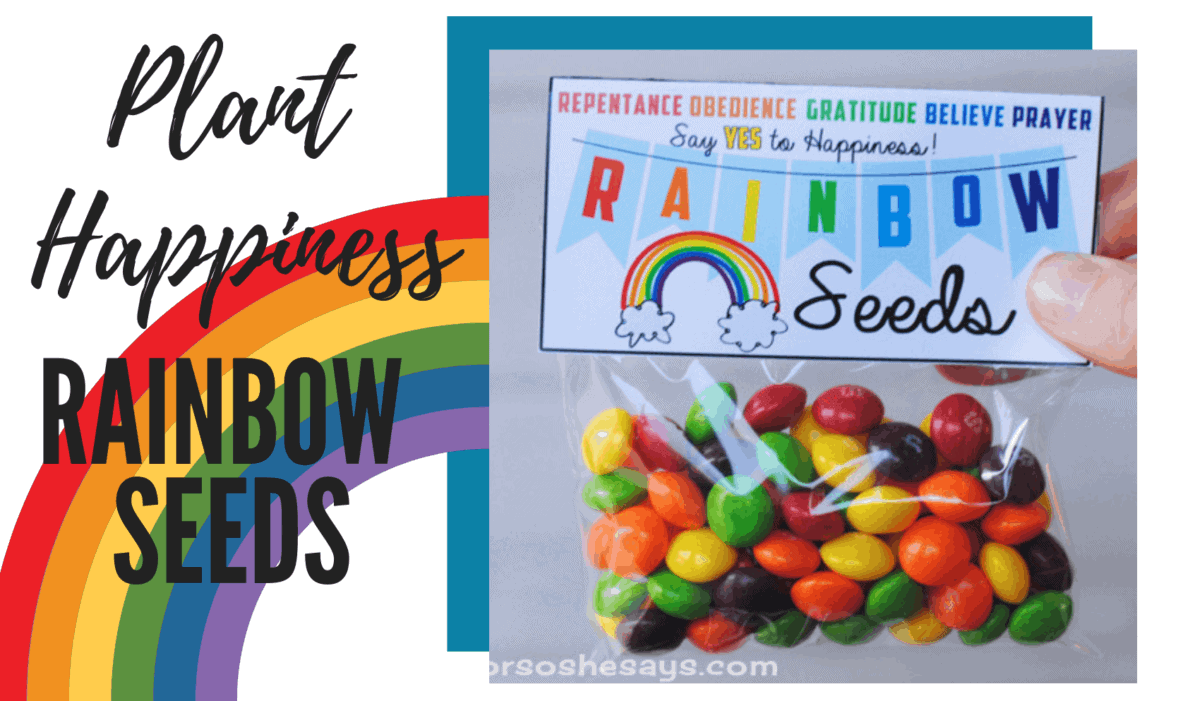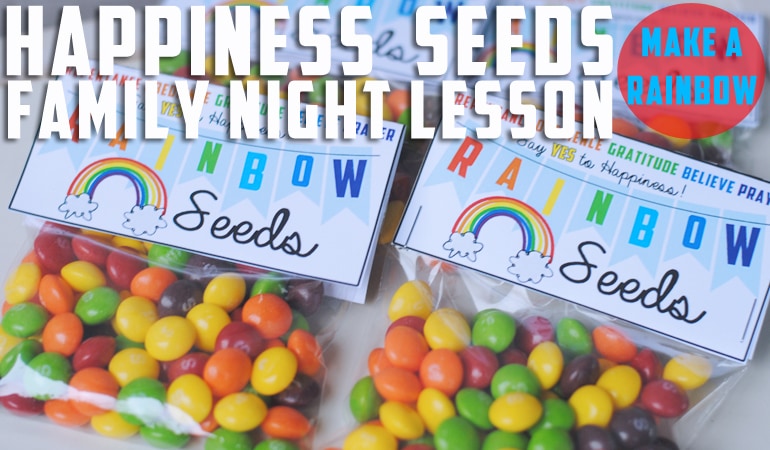 Save
Save